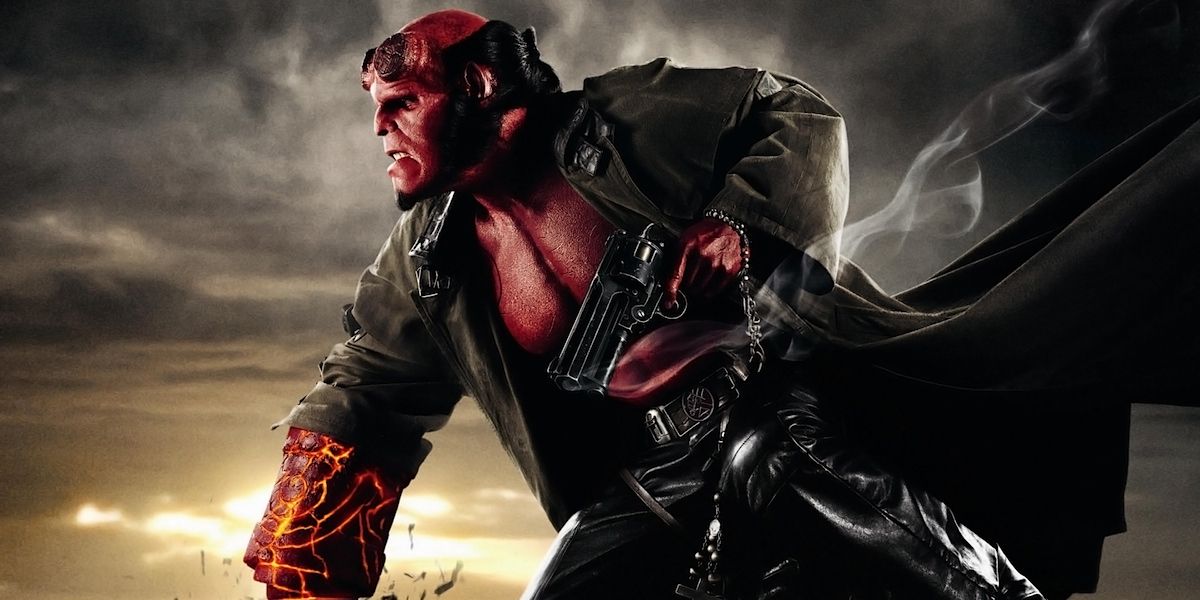 The world of Hellboy was an immersive one, with an astounding imagery and visual made practical by the Guillermo del Toro himself, adapted by Mike Mignola's comic series of the same name. It's a rarity to see a film make the most of it with such practical effects and the gorgeous designs. With only two films, being Hellboy (2004) and Hellboy II: The Golden Army (2008), it was certainly enough for a great appeal and fanbase, but sadly not enough to make the most of a continuation.
With the second film's downfall, it would have to be the tight competition against the beginning of the MCU films with Iron Man and the Godfather of superhero films with The Dark Knight (actor Ron Perlman even mentioned it in his own book "Easy Street: The Hard Way"). It might be even harder to bring it back with the domination of both Marvel and DC comic films as each season's guaranteed blockbusters and leaving little room for other independent comic book films to make a return (Dredd, Tank Girl, Spawn to name a few others).
Ron Perlman, the big red guy on screen,  is no stranger to keeping out in the open how much he wants a third Hellboy made, and with how perfectly he was made for the role, not even the fans feel more dire for a conclusive trilogy than the patron saint of badassery himself. He's trended several times over the years to bring interest in the film again, and knowing he's not getting any younger for the brutally fit role, the chances holding back are getting a lot more unlikely.
However, he sure as hell isn't giving up. Earlier this week, he was questioned by a fan on his Twitter on if anything will come by, and his stubborn ass gave a great response:
I'm working on another Hellboy movie. Nobody else is. But I sure am! https://t.co/bRoZ9ySaXl

— Ron Perlman (@perlmutations) September 20, 2016
Of course, Abe Sapien's Doug Jones and Liz Sherman's Selma Blair have also expressed great interest in previous interviews.  Jones spoke to enstarz back in 2015 on the previous media storm Perlman created:
It's Ron Pearlman's way of saying the studio isn't jumping to it yet, so let's show them that the audience is there, they're waiting, and they would love to have a Hellboy 3… it was just a way to show the studio the audience is there, they're holding money in their hand, they're ready to see part 3, so can we please make it."
In 2012's interview with IFC, Selma mentioned:
I heard that Guillermo said he would love to make it and I know it needs the funding. I know we all want to make it. I think that the third one would be the best…"
And continued with BloodyDisgusting, the cliffhanger that really hit us as much as her was brought up:
I mean it's all set up. 'Hellboy 3' is the biggest payoff and the biggest horror," she said. "I want to see what these twins are up to, if one's the devil and one's an angel. I want to see what Hellboy and Liz are up to! I know the film is the apocalypse and the apocalypse isn't cheap to shoot so we have to find some funding and get going with it!"
del Toro also appears enthusiastic to start again over the years of wanting to bring it back up in the air, but seems to be focusing on other projects at the moment, plus the word going around that budget is the problem. Hey, if Pacific Rim 2 could be made despite the first losing to Grown-Ups 2, there is definitely hope for seeing the Hand of Doom hit its way a third time to the silver screen. If fact, Legendary Pictures could definitely throw some money their way to make the film they want if Pacific Rim 2 ends up a success.