I love the Mad Max franchise.
I love it so much that it was my wedding invite theme.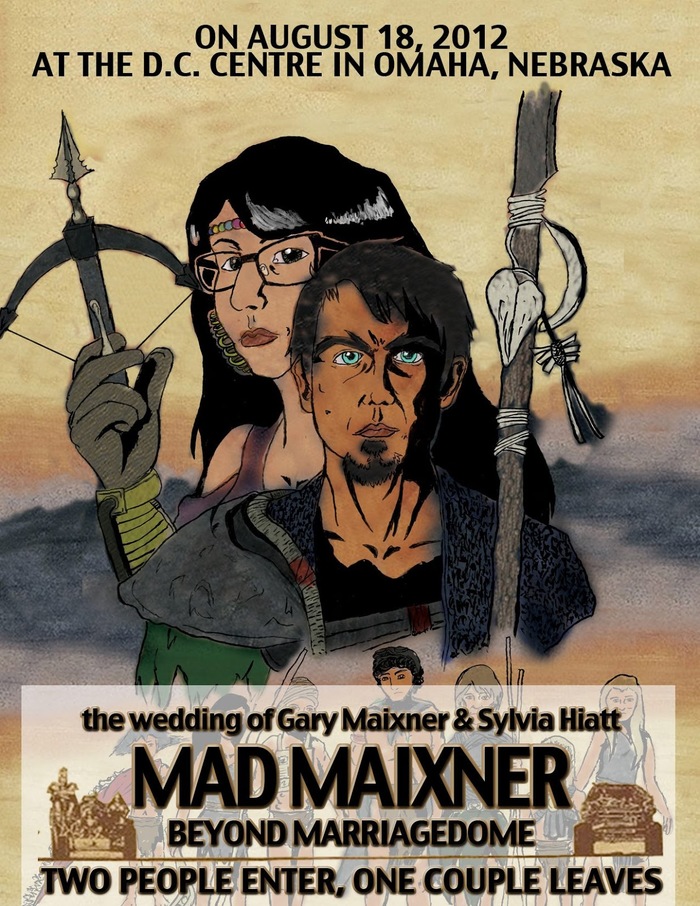 So, when I heard that George Miller, director of the original trilogy (also of Babe and Happy Feet, because he is a man of varied passions) was working on a brand new Mad Max, complete with not super crazy Mel Gibson, I about cried with joy.
I wanted so badly to love Mad Max: Fury Road.
I did not.
Don't get me wrong. I really liked it and I had a ridiculous amount of fun. But, I did not leave the movie theatre filled with love, and that made me a little sad.
Let's start with the good, though, because there is a lot of that.
Cars, Cars, Look At All The Cars
Oooooooooooooh my god.
Look at this amazing work of art:
Would you like another?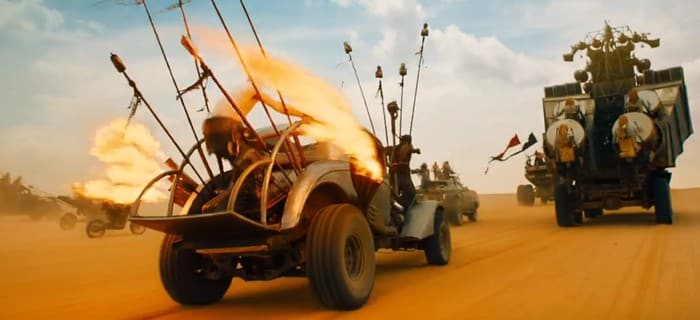 One more, I insist.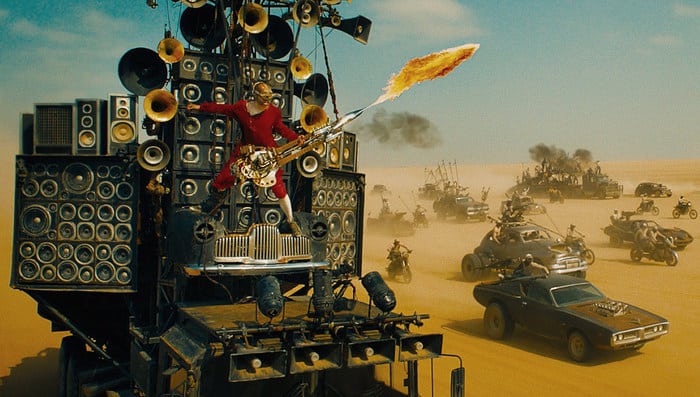 I feel like more words would only dirty the feelings you're now feeling, so let's move on to another topic.
Mad Max: Fury Road is Really Awesome As a Feminist Film
Viewed from a feminist angle, Mad Max: Fury Road knows how to treat the ladies. Charlize Theron's Imperator Furiosa is strong, fierce, and, in many ways, is the main hero of the movie, with Max as the twitchy, helpful framing device.
The greatest thing about the movie is that they do not make a big deal that Furiosa is a lady. The fact that she is a woman doesn't make a difference; she is both respected and feared, and treated as such a force that not one, but three armies are racing across the desert to take her down.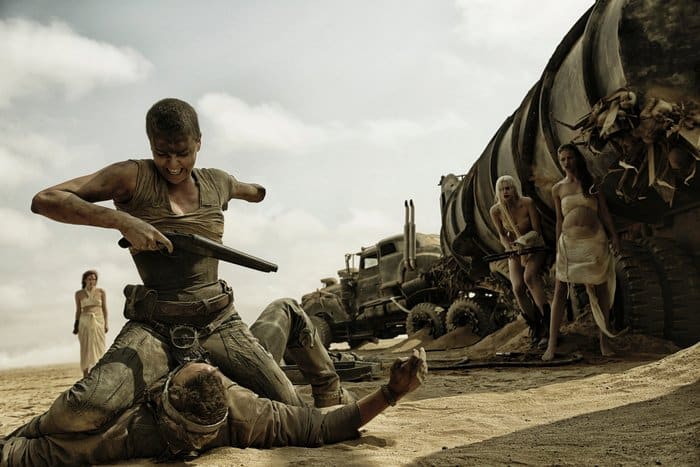 Plus, even though the main crux of film was a group sex slaves running away from their captor, sex was not a selling point. T & A was not a priority for Miller, which seems to be a refreshing new trend in a lot of our newest blockbusters.
Also, there are older women who do their own stunts. Like, walking on top of a tanker going full speed pistol whipping dudes stunts.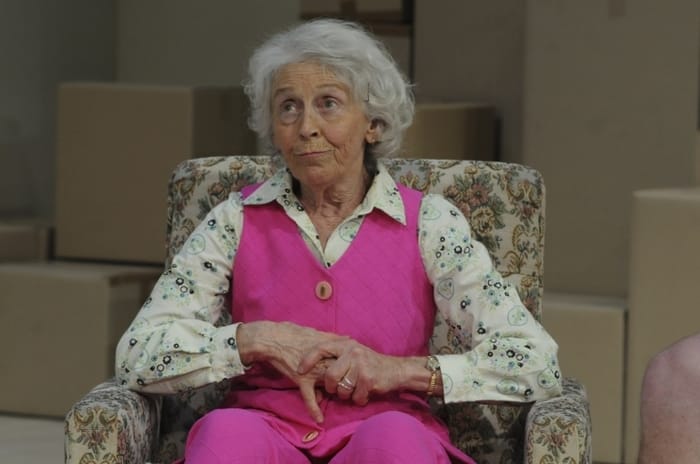 I felt really proud watching this film. Good job, cast and crew of Mad Max: Fury Road. This is how you do it.
Speaking of Stunts…
So you know how I mentioned there's a guy attached to a car made of speaker while playing a flaming guitar? Yeah, he's tame compared to the amazing things you will see in Mad Max: Fury Road. I am surprised that no one died in the making of this film.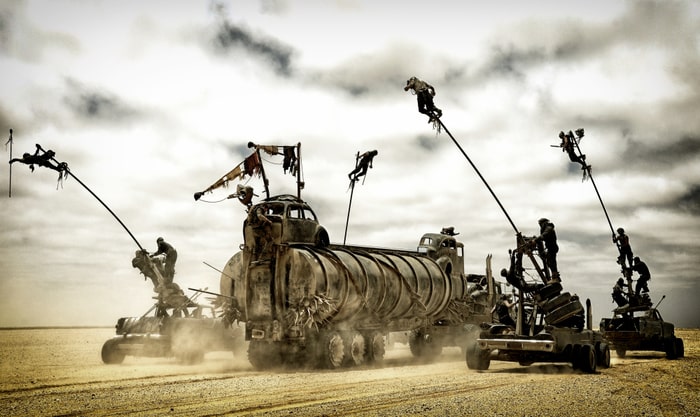 I am so happy they actually blew stuff up in this film. In this era of Michael Bay CG explosions, actually seeing real fire made the movie that much more thrilling. I literally felt like I could not breath in certain scenes, there was just so many awesome things happening and being destroyed.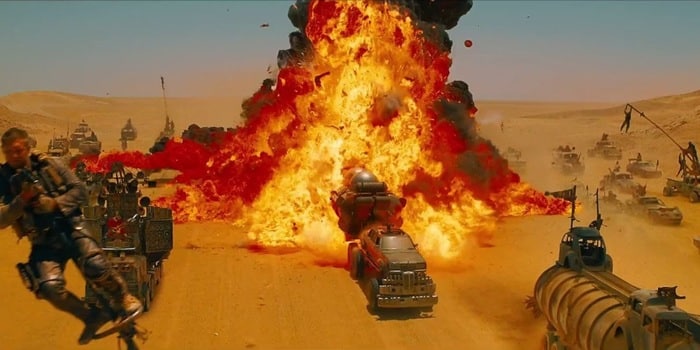 There a stuntmen flying off of motorcycles, grenades, BMX riders flipping through the air with the same ease as if skipping through a field of daisies (that are also on fire), and everyone is screaming. It is a non-stop, 2 hour long car chase with a billion things going BOOM and it is amazing to see on the big screen.
Last But Not Least, The Costumes and Makeup
I am not even exaggerating when I say the costumes and make-up in Mad Max: Fury Road is Oscar worthy. There are things here that I have never seen before, and as a huge consumer of the post-apocalyptic genre, that is a rare feat. There is a man who has an entire costume made out of bullets. Like, floppy hat and all.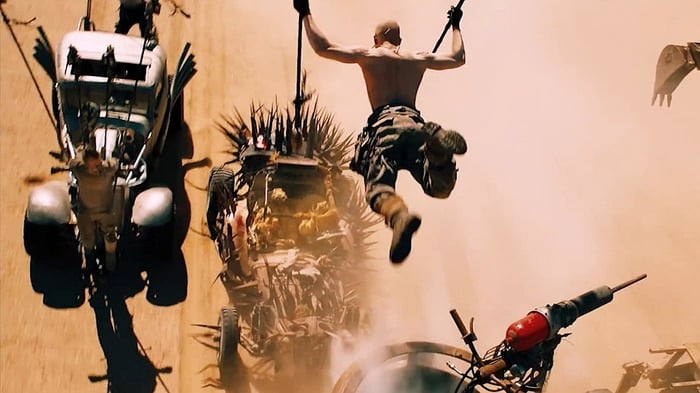 Also, check out Furiosa's sweet metal arm. And her collection of belts. I do not know why she needs so many belts, but seeing as she is very intimidating, I would never ask her about why she has so many.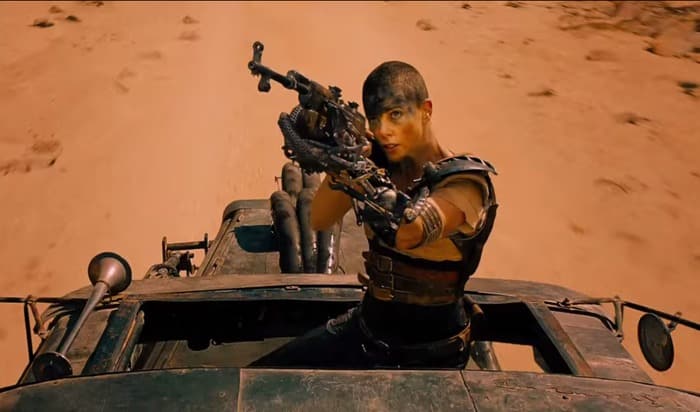 Trivia time! The guy who plays Immortan Joe, the main villain, also played Toecutter, a main villain in the original Mad Max. Also, the guy who plays the Bullet Farmer, who I mentioned before, also voiced a walrus in Happy Feet, which George Miller also directed, in case you forgot while reading to this point of my review.
Back on point; Immortan Joe's costume is also awesome. It's got this toad-like back thing, and a cool mask, and he's got this crazy hair. It paints the picture of insane warlord perfectly.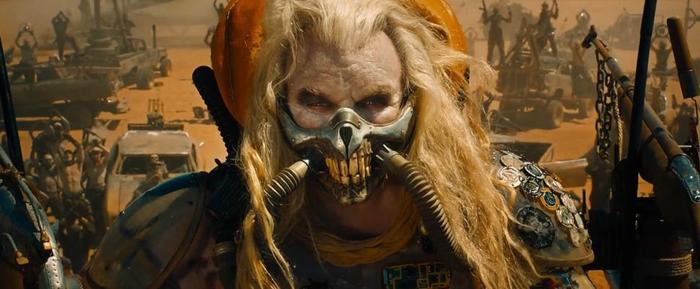 Just overall, every single actor, main and extra alike, looked super cool. The best part is that each faction had a similar look, but no one looked the same. The amount of work that must have gone into creating all those individual jackets covered in chains and button and bullet casing covered pants is astounding. Even the scars covering the extras bodies are insane; there was no part of this work that was half-assed.
I dunno what else to say…….so let's transition onto my main issue with this movie.
Flat Characters We Do Not Spend Nearly Enough Time With
I know, I know. People do not go to movies like Mad Max: Fury Road for intense character analysis or development. People go for the shooty shooty, and the cars going bang woosh! I understand.
That doesn't mean I didn't want more time with these characters. I didn't even know the names of all the wives until the credits, and they're the whole point of the film. It's a little hard to care about people if you don't even know their names.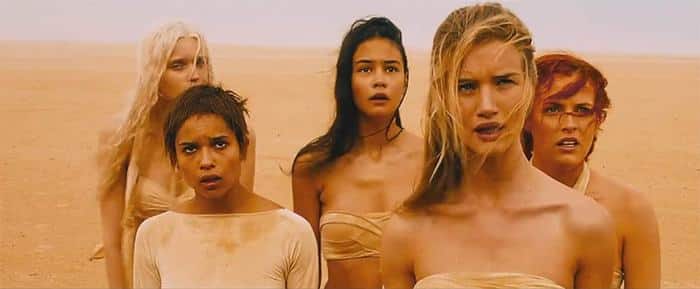 Honestly, I was hungry for about fifteen more minutes of dialogue. Just fifteen more minutes so I could get to know the wives, or even a little more about Furiosa or Max. Combine that with just okay performances from the majority of the cast, and I view it as a missed opportunity to give that much more of a kick to an otherwise kick ass movie.
One other thing I didn't know until the credits: there is a group called the Vulvalini, and at no point in the film is that word uttered from a single cast member, and I am really sad it was not.
Allow me to point out something. There is a reason that I really feel like the writers and director had the skill to create more interesting characters, and that is because they did it with just one person, and it was great.
Nux Is Adorable
I want a tiny plushie of Nux to have forever. Seriously, he's just goddamn precious.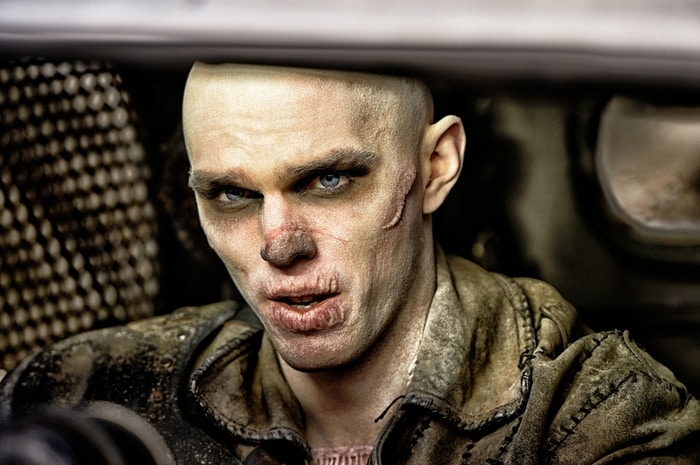 Behold, the only character in this movie with depth and development. Nicholas Hault kinda steals the show for me. He puts a lot of passion behind this role, and it is really, super obvious that he is having the time of his life on the set. He's infectious and his character actually grows, and proves there was no excuse for the blah treatment of the wives' characters.
Despite that, Mad Max: Fury Road was a thoroughly enjoyable movie. It could have taken a bit more care with the characters, but I, for one, am looking forward to any more movies from this universe. Truly, the future looks shiny and chrome.
The TLDR – A frenzied spectacle of a flick that excels in make-up, costuming, practical effects, and stunt-work, but deflated with a lack of fleshed out characters or good dialogue. Worth the ticket money, though, so go watch it anyways.
Grade: A-