Review: Me and Earl and the Dying Girl
Me, Earl and the Dying Girl is the 2015 sophomore film from director Alfonso Gomez-Rejon (The Town that Dreaded Sundown) and written by Jesse Andrews, based on Andrew's 2012 novel of the same name. It stars Thomas Mann (Greg AKA Me) RJ Cyler (Earl) and Olivia Cooke (Rachel AKA The Dying Girl). The cast is rounded out by Nick Offerman, Connie Britton, Molly Shannon, and Jon Bernthal.
The independent drama tells the story of Greg, a film buff and aspiring director, asked by his mother (Britton) to befriend Rachel; a girl diagnosed with leukemia. There, Greg begins to learn more about himself and his true potential is a filmmaker. I've always been a sucker for a good coming-of-age story using high school as a backdrop and I'm glad this one kept up with that pedigree.
The plot works well and doesn't let the idea of death get in the way of the character development. The story begins as Greg helps guide the audience into his mind and the world he lives in, like if you are the new kid on campus. Greg, being a teenager, is at first reluctant to become chummy with Rachel, but quickly changes his mind when their chemistry clicks.
Pause.
Now, when the word "chemistry" is used, the audience automatically thinks of a love story. Well, this isn't one of those. Greg makes sure to hammer that into the audience, but in a playful way. Earlier I had mention drama, and there is plenty of that in here. Along with some witty jokes and gags, you'll catch yourself laughing quite a bit. But I will warn you, don't forget the tissues at home. The words "Dying Girl" in the title isn't just for show.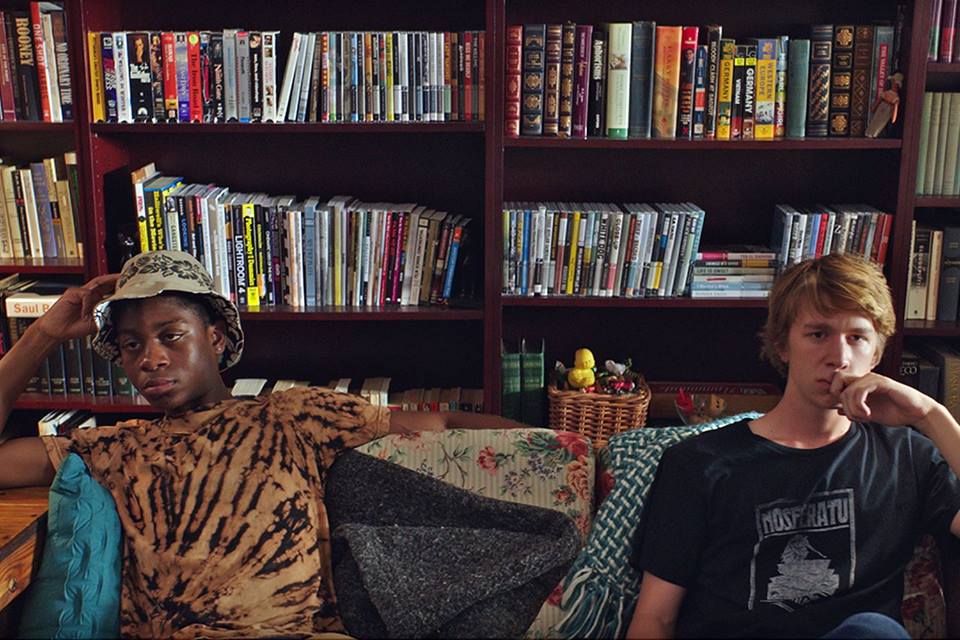 This being an independent film, you're going to have your share of memorable characters. Greg's Dad (Offerman) is first batter up. He fits the quirkiness that has been so common in these types of films, but doesn't take up too much time to steal any scenes from his fellow actors; just the right amount to give you a and bring you back for some welcomed seconds. Earl comes in as the voice of reason and adulthood that Greg is lacking and even gives him a nice punch in the gut (literally and figuratively) when it is definitely needed.
I have to give a shout out to Jon Bernthal for his role as Greg's wise teacher, Mr. McCarthy. His character is that one teacher we either had or wish we could've had in our high school years. The acting within each character is fun and believable, and each actor fits their roles well. Granted, I would imagine it's not that difficult for young people to tap back into their high school years, and for the older folks to give themselves a few weird quirks; without overly exaggerating their roles.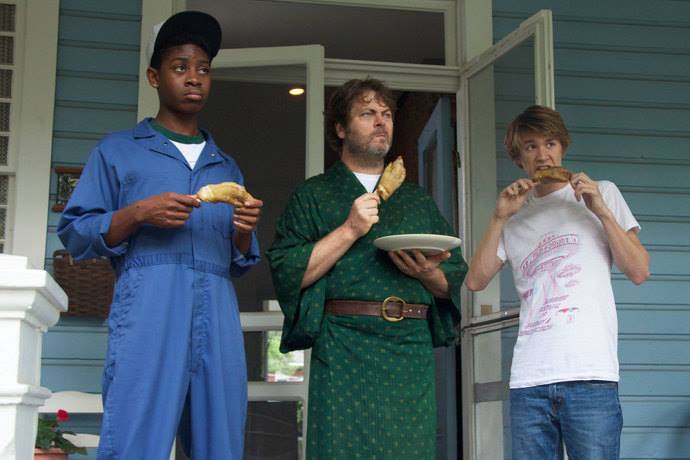 I did enjoy Gomez-Rejon's direction quite well. He really knew how to bring the best of each character in the right shot in order to convey the progress of the story. He allows his main character to narrate the story by breaking the fourth wall when it's needed, but not with a smug or smarmy attitude. It's kind of like he took a few pages from Wes Anderson's book of helpful film tips, without overusing them.
There are a few great parts when Gomez uses references of classic films to help convey Greg's emotion and what's going on in his head. There's one gag in particular that pops up from time to time, where we are giving a visual of Greg's guard being smashed for the affection of a girl he has a crush on. That, I'm not afraid to admit, hit a little bit at home for me.
My only really true gripe (which isn't that great) is the two lead character's personal voices. They click but sometimes they clicked too well. It was only when the story called for it that we got to see conflict between the two. And that was when it had to go to an extreme level of drama to show that maybe the two aren't as alike as what we thought.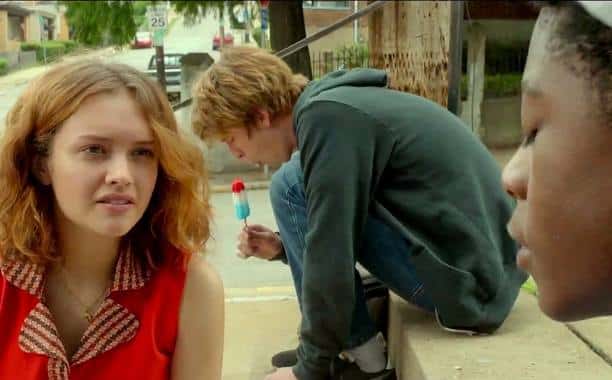 All in all, I would have to say that anybody that is a fan of Napoleon Dynamite or a good indie flick who doesn't mind having their heart strings pulled should definitely give this film a watch. It started a bidding war at Sundance, and maybe that's a sign we've got a serious indie hit on our hands.
Grade: A