Things just really aren't going well for the Fantastic Four reboot from FOX. It has debut to horrible reviews, fans bashing the movie in general (before it's even out) and now, the director has made it known that he's not responsible for the horrible reviews: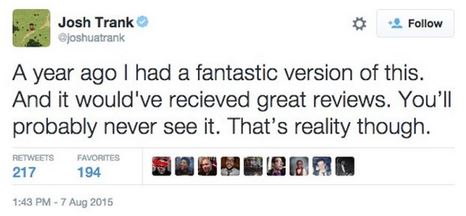 Who knows if this is true or not? He could be feeling bad that his movie is getting AWFUL reviews (9% on RottenTomatoes and a 4.1 out of 10 on IMDb) or he could be on to something. I feel like this movie was truly DOOMED (get it?) from the start anyway. Fans want characters like Silver Surfer and Doom back with Marvel and not with Fox.
I guess we'll see how it does at the box office.
What do you guys think? Be sure to sound off below!