If you're coming into Crimson Peak expecting a typical gory horror movie, you'll be disappointed. However, if what you want is a classic Gothic romance with sinister undertones, genuine suspense, and an absolutely gorgeous aesthetic, this is the film for you. The sets, costumes, and the actors themselves are nothing short of breathtakingly beautiful. Everything you see is so pleasing to the eye, it's hard to believe that there's anything ugly about this film. Just wait.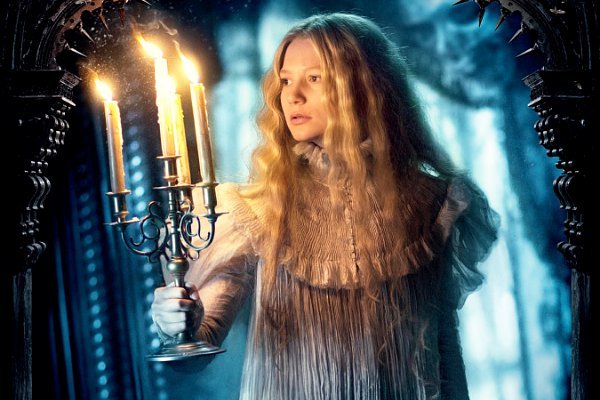 Mia Wasikowska stars as Edith Cushing, a young aspiring author. She dotes on her widowed father, works in his office, and spins tales of strong, independent women, just as she herself is. But, circa 1890, it's difficult for a woman to be taken seriously in most any career path. Fresh off of another publisher's rejection (for her handwriting being "too feminine"), Edith meets Sir Thomas Sharpe, an English baronet. Her opinion of him, based on his title and its implied wealth and status, is that he must be lazy, spoiled, entitled, and generally a worthless member of society. Her outlook changes, however, when she walks in on a business meeting, and he is giving an impassioned speech to her father, about dreams, hard work, and iron will. She is obviously quite taken with him.
Tom Hiddleston is Sir Thomas Sharpe, a man of great charm, charisma, and sincerity. He immediately sees Edith for the independent intellectual that she is, and knows that he must seduce her mind before all else. Asking her to accompany him in a demonstration of an English waltz for the gathered privileged class in attendance at a society dinner, he captures her imagination, and in turn, her interest. They spin in dizzying yet delicate circles, as his sister expertly plays the piano.
Lady Lucille Sharpe, portrayed by Jessica Chastain, is a study in ice-cold propriety. A venomous hatred exudes from her in every frame, while she maintains an air of pitch-perfect manners and high-born grace. Is she simply an overprotective older sister? Or is there more to the jealous anger that seethes from her at the sight of her brother dancing with Edith?
Following a whirlwind courtship and an unspeakable tragedy, Edith and Thomas are married, and decamp to his family home in England. Allerdale Hall is massive, extravagant, and crumbling. The once-beautiful mansion has fallen into disrepair. Nevertheless, it's a lovely dilapidation, and Edith enjoys exploring its many levels, halls, and rooms. With her dangerously curious writer's mind, will she stumble across secrets that should never be told?
Along with the impossibly exquisite sets, costumes, and cinematography, the standout feature of this film is the characters, and the actors portraying them. Wasikowska is perfectly believable as the strong willed, yet naive heroine. You genuinely like her and care what will happen to her. She's a very sympathetic character.
Hiddleston positively shines in period pieces, and this is no exception. As a romantic, idealistic aristocrat, he is charm and grace personified. You're convinced that he could fall through a crack in time, and no one in the 19th century would be any the wiser. And Chastain's portrayal of the sinister sister is beyond chilling. She takes the character so much further than you ever thought possible, and revels in her twisted madness. The final showdown between these three is a master class from director Guillermo del Toro in how to build suspense and mystery, and have it pay off with a massive bang.
In the end, I would say this film is definitely part horror, part romance, part Gothic work of art, but most of all, it's a look inside the lightest hearts and the blackest souls. You may not like what you see there, but you'll never forget it.
Grade: A