The Star Wars franchise is one of the biggest, if not, the biggest franchise in the world and it's only going to get bigger. Whether it was the original trilogy, the prequels, the expanded universe or any other of wide range of merchandise that the franchise has to offer, we've all been affected by its presence. We here at PTO are very excited for the release of Star Wars: The Force Awakens and so in tribute, we've decided to tell you how the franchise has affected us …
Star Wars to me…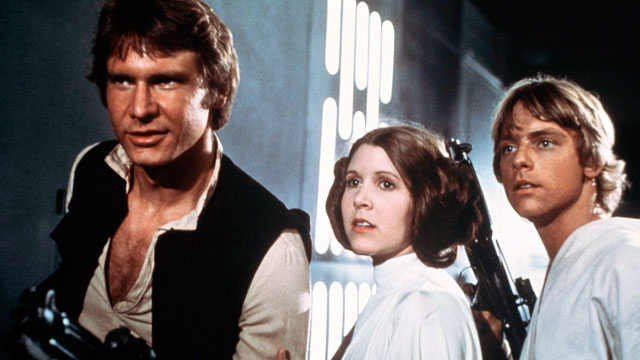 Star Wars to me, is that age old story of good vs evil. It's almost biblical in its storytelling. No matter what you've done, no matter how far you've lost your way, there's always a way back to redemption. There's always a way back into the light. It's utterly simplistic. However due to the simplicity of its message, it has been able to make an impact on people of all ages and all cultures. Its message is universal.
The original trilogy, still to this day, continues to dazzle audiences with its beautiful sets and imaginative storytelling. A New Hope is a timeless classic that set the bar for sci-fi. Many people in Hollywood have tried to replicate the formula of Star Wars with little success. And the reason for that is quite simple. George Lucas had a passion and a story to tell. He had created an expansive universe that he wanted to share with the world. A message that he believed in. Passion can't be replicated. Its impact on pop culture is unrivaled to any other franchise with books, comics, cartoons, video games and much more winning the hearts and minds of people all over the globe.
Now maybe I'm not one of those people however I've always respected the franchise from a filmmaking point of view. I remember watching A New Hope for the first time and finding it hard to believe that this was a film that was made in 1977 (although maybe George Lucas's tinkering had an influence?). I remember being amazed by the rather simple but devastatingly effective design of Darth Maul's lightsaber in Phantom Menace. I remember playing Star Wars: Knights of the Old Republic and being blown away by the option of turning good or evil and very recently I remember watching Star Wars: Clone Wars by Genndy Tartakovsky, which was an absolute visual feast for the eyes. Come to think of it … I suppose you could say that I am one of those people.
Jonathan Edwards
The standout moment…
The standout moment from the Star Wars Universe for me will always be the final sequences in Return Of The Jedi. As the original trilogy finally comes to a conclusion you get the sense that every single thing that has gone on before has been leading up to this exact moment. The audience's point of view is suddenly rapidly intercut between the three conflicts that have are unfolding. Luke and Vader's duel. Han and Leia down on Endor. Lando and Ackbar around the Death Star. Each individual battle is reliant on the other, and every cast member is now at the heart of the conflict. It's a trick Lucas tried to repeat in the Phantom Menace, but with ingredients of a far poorer quality to his original.
Return Of The Jedi is just blessed with the best elements of the series. The space battle pitching A-Wings and B-Wings against THAT Super Star Destroyer, sending it crashing into the Death Star. The Speeder Bike pursuit. The sail barge battle which doesn't end well for Boba Fett. All key up a genuinely breathtaking end to the ride that the audience has been taken on.
Simon Andrews
Confession time…
Confession time: I didn't watch any of the Star Wars movies until 2011, when I was 22. It was my greatest shame as a self-professed nerd for most of my life. I just didn't come from a movie family; we went to maybe ten movies in my childhood, and not one of those involved lightsabers and space traveling. That being said, I had the benefit of choosing how to watch the movies – either as they were released or episodically. I decided to go with the story, and shot gunned one through six as fast as Netflix could send them to me.
Phantom Menace? Not bad. A little childish, but the pod race was fun, and Darth Maul was pretty cool. Oooooh, but then the next two. The next two made me feel like giving up. They were just so bad. Painful. I had promised I would watch the whole series, but after those (nearly) five hours of horrible acting, weird CG, and friggin Jar Jar Binks, I had no idea what the point of it all was.
Then, A New Hope showed up in my mailbox, and awakened some love in my heart. It was imaginative, exhilarating, and had a sincerity that was obvious in every scene. By the end of this film, I got it; the fanaticism was suddenly understandable. This was solidified by what I consider to be not only the best film in the franchise, but one of the best movies, period. The Empire Strikes Back has it all; action, betrayal, romance, Sarlaacs. It's like The Princess Bride (minus the Sarlaacs, plus ROUS's) of science fiction. This film made all the pain of the new trilogy worth it. And I'm glad that I watched them in this order, so I could end my Star Wars experience on a high note.
…
Okay, I know that Return of the Jedi is the last movie, but I didn't like that one as much. Seriously, screw Ewoks, I hate their furry, boring faces.
Here's hoping Episode 7 is a throwback to the past, where acting and story meant more than badly aging CG and forced romance between Natalie Portman and Darth Vader.
Sylvia Maixner
Back in the days of my youth…
Back in the days of my youth, A long time ago, but alas not a galaxy far away, Star Wars occupied my mind on a daily basis. To me it was all about the adventure and more importantly, the characters we shared these adventures with. The first Star Wars film I saw was Return of the Jedi, and not 5 minutes after the film had finished I was in the back garden, or the planet moon of Endor as I saw it, fighting off the imperial troopers with my brother by my side and stick for a lightsaber. I was taken in by the lore, the vast expanse of the universe. The idea that there could be a planet of 2 foot high fur-balls or an asteroid with a giant space worm living inside. In my mind the universe could feature whatever the imagination could create.
As I previously stated, another of the big drawing points was the characters. In my eyes, the original Star Wars trilogy, does an incredible job of creating fully realized characters that we care about, and even though we may not be a Jedi or a smuggler or even a feisty princess, they are all people we can see part of ourselves in. When the Phantom menace came about, I was the right age to be taken in. Young enough to not notice the many, many flaws. Since viewing that 'film' and the other two prequels years later, I see the error in my ways. It never had the same spirit of the originals, always feeling slightly hollow. Despite this, I am going into The Force Awakens with that same sense of wonder I had in my youth. The excitement of entering that universe again and seeing all our favorite characters and I can honestly say, that I can't wait.
James 'Banky' Hadden
What Star Wars means to me…
What does Star Wars mean to me? Star Wars practically means everything to me. I literally cannot remember a time in my life before Star Wars; from my earliest memories, I had the images of droids, lightsabers, and Death Stars etched into my mind. Growing up as a young child in the late 90s and early 2000s, Star Wars began its biggest media onslaught since the original trilogy and continued it through my entire childhood. From "Shadows of the Empire" to the Special Editions to the Prequel Trilogy to Clone Wars to THE Clone Wars to The Force Unleashed, every single year seemed to be filled to the brim with new Star Wars content, no matter where you looked.
As I started to grow up, so too did Star Wars seem to fade. I was a huge fan of the comics like Knights of the Old Republic, Legacy, and Rebellion, but most of Star Wars looked like it was on the verge of extinction, starting around 2009. After ending most of its series, and committing travesties such as Star Wars Kinect, I realized Star Wars as I knew it was probably coming to an end. It was sad seeing such an important part of my life dissipate, but I would always be able to look back at the old material, and The Clone Wars was still giving hope for a brighter future. Then, suddenly, the Sequel Trilogy was announced, and there is a new multimedia assault. The Star Wars mania is apparently endless. Now that it's 2015, and the first movie in ten years is finally coming out, will Star Wars impact my adulthood as much as it impacted my childhood? Probably. And that's the part that excites me the most.
Ben Baker
A long time ago, in the village of Swanton…
A long time ago, in the village of Swanton, Nebraska, lived an elderly couple named the Krajniks. Us kids called Mr. Krajnik, "the mayor." Little did we know, the village was too small to even have a mayor. But all we cared about was their movie library. The same concept as a library of books, we'd check out video tapes. Sitting on their couch, eating homemade candy, we'd flip through a binder of titles. "I want number 237," we'd tell them. Mrs. Krajnik would go to the shelf, pull out the VHS, and look at the four or five movies recorded to the tape. "Happy Hooker? I don't think your parents would like you watching that." My cousins would snicker, and say "oh no, that has All Dogs Go to Heaven."
I would frequently check out Return of the Jedi. Jabba the Hutt and the Ewoks captivated the nine-year-old Allen. But it was the battle at the sand pit, with Boba Fett, that had me at the edge of my seat.
Thirteen-year-old Allen couldn't wait for the new set of prequels. Taco Bell, KFC, and Pizza Hut teamed-up to sell me cup-toppers and Pogs. Of course, those Pogs were actually tokens to collect for prizes. But all I cared about was adding them to my collection. I'm pretty sure I even have my Yoda cup-topper around here somewhere. But all those Pepsi and Mountain Dew cans….you know, with a character on each…..were smashed a long time ago.
My dad took me to see Episode I. Or more like I took him– that was the first time he let me drive. The dirt roads surrounding Swanton were great practice. Of course, by the time we reached the highway, he took over.
I never realized people actually hated those prequels, until I saw The People vs. George Lucas. I knew the hate on Jar Jar Binks. But as Lucas explained in the documentary, he created Jar Jar and the rest of the Gungans for the kids. And, indeed, they appealed to the kid in me. My favorite part was when Qui-Gonn and Obi-Wan swam down to their underwater world. As Neal Patrick Harris explained on How I Met Your Mother, if you were born on, or before, May 25, 1973, you would not appreciate Ewoks. The same goes for Jar Jar with the next generation.
Now, there's a new generation of Star Wars for this new generation of kids. What will be their Ewoks or Jar Jar Binks? I know I'll feel like a kid again when I watch The Force Awakens. So I'm eager to find out.
Allen Lyons
Star Wars was a definite fixture in my childhood…
Star Wars was a definite fixture in my childhood. I remember collecting the action figures and storing them in my Darth Vader molded carrying cases. My mother would find the robe to my toy Yoda figure just lying around and reminded me that Yoda would probably freeze if he would to ever visit Hoth without his coat.
As I got older and stopped mimicking the actions of the characters with my toys, I began to see the deeper meaning within the trilogy's story and scenes. One that sticks to me the most was Episode One (The real episode one, A New Hope. Not that Phantom Menace bullshit). In the scene Binary Sunset, Uncle Owen drops the hammer on Luke and his desire to leave to join the academy. Luke walks out to the surface level and sees the dual sunset. He stares off in the sky and John Williams hits that emotional note, tagged along with Luke's expression of defeat that punches you right into the feels. Everyone has had that moment when you feel stuck with no hope out. You see a world out there that will lead to a great journey in life and you desperately want to be a part of.
That is what Star Wars is to me. Not just a sci-fi fantasy adventure, but a deeper meaning about life, love and hope.
Mark Salcido
I've always loved Star Wars…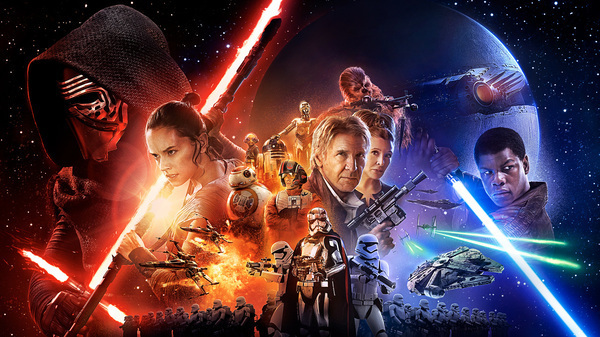 I've always loved Star Wars for the obvious reasons – great characters, cool effects, and a story that took my little imagination to new places. Born in 1982, I grew up watching the original trilogy. And I watched them oh so many times. Empire was always my favorite. Being in the middle of the story, it dropped you right into the action without preamble. It had humor, romance, danger, and the timeless "I am your father" moment. Pretty much the quintessential movie for a growing geek girl.
But I'd have to say that its biggest impact on me was the introduction to The Good Guy. Growing up on action and sci-fi, I'd seen a great deal of snarky, gun-toting anti heroes. But Luke Skywalker was different. He was entirely benevolent, wanting only to do what was right and protect the ones he loved. There were no ulterior motives, no willingness to step on someone else for his own personal gain. He was just good, kind, and fair. Not to mention brave. His willingness to fight for what he believed in, even though it meant risking his own life, made him the ultimate hero in my young eyes.
So many girls loved Han instead. Brash, cocky, and too handsome for his own good, he's the type many women end up falling for, and then getting hurt by. But I honestly believe that Luke Skywalker colored the way I would view men for the rest of my life. I hope that other young girls who view these movies take away the same lesson – the good man is the best man. Settle for nothing less.
Jennifer Huneycutt
What does Star Wars mean to you? Tell us below!