The Oscar Race That Sci-Fi Fans Should Be Paying Attention To
Now that 2016 has begun, Oscar season has entered full swing. This usually doesn't matter a lot of folk who would normally frequent a site like Peel The Orange, but that's because many years the only movies that got nominated were independent or small dramas that not many people have seen. While I loved many Best Picture nominees in 2014, the highest-grossing Best Picture nominee at the time of nominations was Grand Budapest Hotel, with only a $59 million gross.
This year, however, good old Hollywood blockbusters are back in the scene, which hasn't really happened on this level since 2012. In addition, the sci-fi genre is attempting to dominate the conversation after many years of exclusion. For sci-fi fans, this year is something of a watershed moment.
Right now, the most-predicted Best Picture nominees include limited-release movies like Spotlight, Room, Brookyln, Trumbo, and Carol. But they also include sci-fi movies Mad Max, The Martian, Star Wars, and Ex Machina. While the Oscars have occasionally recognized sci-fi movies such as Gravity, Inception, and Avatar, it's very rare for them to get significant awards attention. Last year, movies like Interstellar, Dawn of the Planet of the Apes, and Snowpiercer, despite winning many smaller awards, were almost completely snubbed from the Academy Awards. So for four separate sci-fi movies to be in the running for several major awards makes this year extremely unique.
So what Oscar races should you be paying attention to if you're a sci-fi fan, and what movies are involved in each category?
Best Picture
Of course, this is the big one. Simply being nominated for Best Picture is one of the most prestigious honors a movie can receive. Ever since the rules change in 2011, the nominees number from five to ten, based on votes; whoever gets at least ten percent of the vote gets nominated. In the four years this has been done, there have been either eight or nine nominees.
The Sci-Fi Contenders – Mad Max, The Martian, Star Wars
What Are Their Chances? 
The Martian is a lock for a nomination. It has been nominated in several awards circles thus far, including the Critics Choice Award and Golden Globes, and has been in the conversation similar to Gravity in 2013.
Mad Max hasn't been quite as certain, but it has several wins for Best Picture in smaller awards, especially in critic awards such as the Chicago Film Critics Awards. It was even nominated for the Golden Globe for Best Motion Picture – Drama, which seems strange for an action film.
Star Wars, because of how late it opened in theaters, was excluded from some awards, but has been retroactively added to the Critics Choice Award Best Picture nominees. However, because Disney also has Bridge of Spies to worry about, they may not push as hard to get this one nominated. Star Wars getting in might be tough.
Best Director
The Sci-Fi Contenders – Mad Max, The Martian, Star Wars
What Are Their Chances? 
Ridley Scott and George Miller are almost certainly going to be nominated for this award. Neither of them have won the award in the past; Ridley Scott has been nominated three times (for Thelma & Louise, Gladiator, and Black Hawk Down), while George Miller has never been nominated once. Both are highly-respected directors who the Academy will want to recognize for their careers full of great and diverse films.
JJ Abrams probably won't be nominated for Best Director, but his direction for Star Wars was highly lauded. He will probably be nominated for many smaller awards.
Best Actor
The Sci-Fi Contender – The Martian
What Is Its Chance? 
Matt Damon is pretty much the "filler spot" for most Best Actor predictions. Because Leonardo DiCaprio is pretty much certain to win the award, the rest of the nominees are pretty much just filler, but the much-praised efforts by Eddie Redmayne, Bryan Cranston, and Michael Fassbender are good enough that they are all locks. While Damon's performance was also praised, it wasn't on the level of any of the other four. Expect him to get in, but don't be too shocked if some other movie swoops in and gets the last spot out of nowhere, sort of like Robert Downey Jr. got a nomination in 2008 for Tropic Thunder because of Heath Ledger's dominance in the Best Supporting Actor category.
Best Actress
The Sci-Fi Contender – Mad Max
What Is Its Chance? 
Unlike in the Best Actor category, the Best Actress category is much more wide open. There are about ten actresses that could plausibly get in. And because of a weird glitch in nominations, there could be an opening for Charlize Theron to drive to a nomination. Rooney Mara and Alicia Vikander, for their performances in Carol and The Danish Girl, are being campaigned for Best Actress by their studios, but the smaller awards have been nominating them for Best Supporting Actress. This weirdness could split the vote and cause both of them to lose out and for Furiosa to get in an open spot.
Best Supporting Actor
The Sci-Fi Contender – Star Wars
What Is Its Chance? 
Harrison Ford's performance of Han Solo has been hailed as one of his best ever. With Star Wars's massive money-making, it has propelled him into the race more than anyone ever expected. Even so, because of strong support from ensemble films Spotlight and The Big Short having multiple potential nominees in this category crowding everything up, it's unlikely that he will be nominated. Plus, the Academy is more likely to nominate the similar comeback performance by Sylvester Stallone for his role as the Italian Stallion in Creed.
(Side note: Why the hell is Oscar Isaac not being immediately nominated for this for Ex Machina? It's unthinkable.)
Best Supporting Actress
The Sci-Fi Contender – Ex Machina

What Is Its Chance? 
Ah, finally, an award that Ex Machina has a chance for. Remember that Best Actress weirdness? That reverberates here, because Alicia Vikander also has Ex Machina to potentially be nominated for. Because voters might be confused which category to nominate her for for The Danish Girl, they may simply go to Ex Machina, where some argue she was even better. It isn't very likely, but it is certainly possible. Sadly, actors cannot be nominated twice in the same category, so she can't get both, no matter how much she deserves it.
Best Original Screenplay
The Sci-Fi Contender – Ex Machina

What Is Its Chance? 
Extremely good. The screenplay for Ex Machina was probably its most praised aspect (though practically everything about the movie was praised in some way), and it seems that most of the best movies from 2015 were adapted screenplays, apparently. While Spotlight or Inside Out will most likely win the award, Ex Machina will at least get a nod.
Best Adapted Screenplay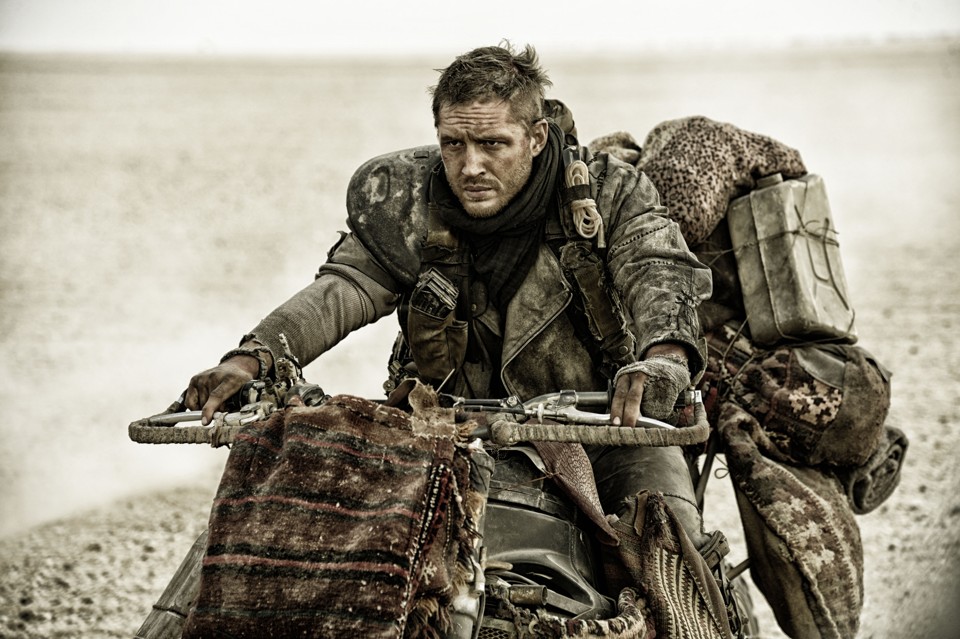 The Sci-Fi Contenders – The Martian, Mad Max, Star Wars
What Are Their Chances? 
Well, The Martian's going to win this one, so we don't have to worry about that. (I said this last year about Gone Girl, though, so who the hell knows…) Star Wars and Mad Max, which are for some reason in the Adapted category, probably won't get anything.
The distinction between Original and Adapted is confusing, though. So I don't really understand that.
Best Cinematography
The Sci-Fi Contenders – The Martian, Mad Max, Star Wars, Ex Machina
What Are Their Chances? 
As is often the case with sci-fi movies, all four of these movies had great cinematography. However, so did The Revenant, The Hateful Eight, Carol, and Sicario. There can only be five nominees, which means that this award might come down to a very metaphorical fistfight. Mad Max has the best shot of them all, and is probably a lock. The Martian and Star Wars may duke it out for a final spot, though there's a chance that neither will even get in at all. Ex Machina is unfortunately relegated to that "if-only-your-movie-made-more-money" spot that contains movies like Crimson Peak and The Walk.
Best Costume Design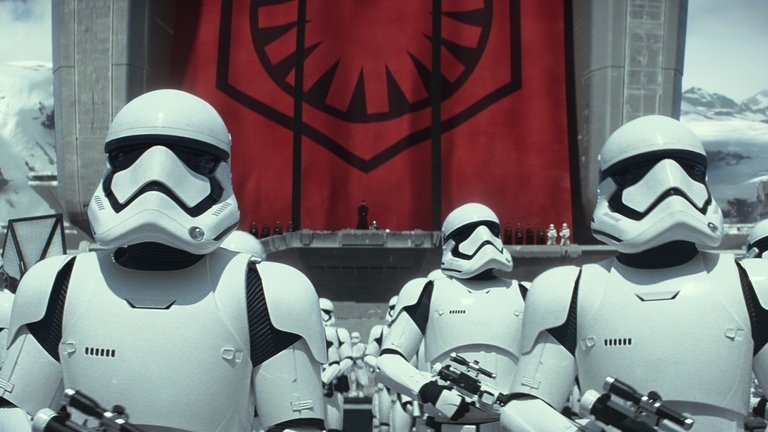 The Sci-Fi Contenders – Mad Max, Star Wars
What Are Their Chances? 
Costume Design is always a hard one for sci-fi to get into, because there are so many period piece movies that take up all the spots. For example, this year has Carol, Bridge of Spies, The Danish Girl, Brooklyn, Crimson Peak, and Trumbo— all period pieces. Mad Max has a chance to get in, though Star Wars is probably boxed out.
Best Film Editing
The Sci-Fi Contenders – Mad Max, The Martian, Star Wars
What Are Their Chances? 
Good editing is a hallmark of good sci-fi films, which is probably why Mad Max and The Martian are essentially locked-in for nominations in this category. Star Wars has an outside shot at getting in, but it's unlikely.
Best Makeup & Hairstyling
The Sci-Fi Contender – Mad Max
What Is Its Chance? 
This doesn't even count as an Oscar race to "pay attention to", honestly. Mad Max is going to be nominated for this award. It is also going to win this award.
Best Production Design
The Sci-Fi Contenders – Mad Max, Star Wars, The Martian, Ex Machina
What Are Their Chances? 
This award was formerly known as "art direction", and if that tells you anything, it should tell you that Mad Max is probably going to end up winning this one hands-down. Star Wars will likely also be nominated. However, considering its production design was about as good as  the prequels, none of whom were nominated, it could be snubbed.
Best Score
The Sci-Fi Contender – Star Wars
What Is Its Chance? 
Hahahahaha. As if John Williams isn't going to win for The Force Awakens— Oh no. Ennio Morricone?!
It's going to come down to Star Wars and The Hateful Eight for this award; a battle between two titans. However, Morricone has never won an Oscar, and hasn't been nominated for fifteen years, while John Williams has won five and has been nominated more times than Meryl Streep. It will be an ugly fight.
Mad Max had a very good and very unique score, but it will most definitely be snubbed, so I won't rank it as a contender.
Best Sound Editing/Design
The Sci-Fi Contenders – Mad Max, Star Wars, The Martian
What Are Their Chances? 
All three of these are locks for sound awards. These are the categories that sci-fi dominate in the most. Which one will actually win is a completely different story and not one I can answer with confidence (though it'll totally be Mad Max in the end). Weird though that none of the other sci-fi movies of this year are considered contenders for sound awards. I guess it's since there's only five nominees, and these three suck up all the air in the room.
Best Visual Effects
The Sci-Fi Contenders – Mad Max, Star Wars, The Martian, Jurassic World, Ant-Man, Ex Machina, Tomorrowland, Avengers 2
What Are Their Chances? 
Best Visual Effects, of course, is the category where sci-fi films not only dominate, but are usually the only nominees at all. There are ten films shortlisted for the award, and eight of them are sci-fi (the other two are The Walk and The Revenant). When ten gets trimmed to five, though, which ones will be remaining? Well, the Oscar Trio of Mad Max/Star Wars/The Martian are definitely getting in, and Jurassic World is as good as gold here as well. The Walk's Empire State Building sequence is reportedly astounding, but few people actually went to theaters to see it, so it might get a resounding snub, leaving an open spot. Could Ex Machina take a surprise nomination? Probably not. I think it'll be Ant-Man, if anything.
And there you have it. Sci-fi fans should be rejoicing right now, because damn if sci-fi movies aren't being celebrated to hell at awards this year. Let's just hope that these predictions and early awards actually translate to Oscar success.
What do you think about this year's Oscar season? Sound off in the comments!