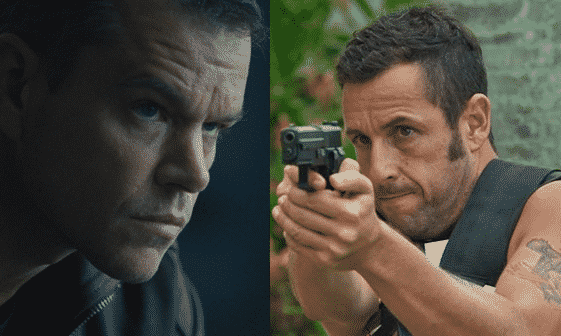 A lot of trailers hit the web. We critique some of them for you.
Jason Bourne

This franchise sells itself, and the trailer backs that up completely. There have been new plot twists every step of the way, but the last film seemed to be it for Bourne. Now there's a fifth one coming, and the intrigue is as strong as it has ever been. Jason Bourne (Damon) finally remembers his past, and Nicky Parsons (Stiles) is caught up in trying to help. Along with the familiar faces in unfamiliar situations, the trailer is put together in a way that perfectly captures the seriousness of Jason's story. I can't wait to get caught up in the action when the movie releases this summer. – Kelsey Mejiarodarte

Equals
Equals stars Kristen Stewart and Nicolas Hoult in a love story set in an emotionless utopia. The film gives off a mixture of Gattaca, Equilibrium and THX 1138 with a young adult twist. The film comes from studio A24 and they have been known to push the limit of intriguing and thought provoking stories. Plus, Stewart finally gets the call for her "resting bitch face" and won't come off as poor acting or just mean. I'm mildly interested to see how the film will turn out mainly because it also includes great actors Guy Pearce and Jacki Weaver. – Mark Salcido

The Founder


The All-American fast food joint. A fixture in history that still endures in present-day. McDonald's has memories for most of us. It's where my dad would take me for a special treat sometimes, and I always got the chicken nuggets and sweet and sour sauce. Every time I've gone to one, I've seen a little plaque with the name "Ray Kroc", which obviously holds some significance to the mammoth franchise. Yet, after watching this trailer, I am sitting here wondering what significance, really? Ray was an opportunist. The trailer doesn't even make him seem like a good businessman on his own merit. I am definitely curious about this film's version of history. Though the beginnings of the venture might have been a "Kroc", this trailer is anything but, and I hope to be one of the first in line for the release. – Kelsey Mejiarodarte
Independence Day: Resurgence


Trailer #2 of the 1996 sequel, Independence Day, was released this week and it shows the massive scale of the alien attack its predecessor dared to try. In the drama heavy version, we get a glimpse of why Will Smith's character is no longer with us and paves the way for its younger stars Liam Hemsworth, Jessie Ushe and Makia Monroe. The film takes place 20 years after the events of the first movie and the aliens are not fucking around this time on their quest for revenge. Most of the veterans who didn't die make a return such as Jeff Goldblum, Bill Pullman (rocking a mean ass beard), Vivica A. Fox, Judd Hirsch, Sela Ward and…is that Brent Spiner?
Well the movie is heavily CGI to the point that some of the newer actors probably didn't share the same room as the veterans. But still, I loved the first movie and will most likely check this one out as well in theaters because its world destruction the way director Roland Emmerich is best known for. – Mark Salcido
The Do-Over


Happy Madison did it again. Wait. "Oops" should have come before that statement… While I'm certain the scenarios that were showcased in the trailer were at least slightly original, the idea behind the movie isn't. Charlie (Spade) and Max Kesler (Sandler) are old high school buddies that meet up by chance in their later years in life. Charlie plays it safe and is bored with life and Kesler looks like he still owns his high school wardrobe, dated leather jacket and all. They start hanging out, Charlie mentions his life problems, and Kesler makes a lifestyle change for them both without consulting Charlie. He faked their deaths and stole the identities of two other people who, unbeknownst to them, seemed to be running from trouble.
Adam Sandler films seem to follow the same equation; Sane person + Insane person + Outrageous situation = Funny. Except the equation doesn't take into account how unfunny something becomes if it is done too many times. Add that to the fact that he uses the same people in his movies, who also happen to be his pals. It's almost like a secret fraternity, but for tired jokes. All they're missing are the letterman's jackets. I usually have a lot of optimism for films meant to make people laugh, but I am completely disinterested in seeing this. – Kelsey Mejiarodarte
Hands of Stone


For Jonathan Jakubowicz first feature length film, he has decided to tackle the world of boxing and the life of professional boxer Robert Duran who started at the ripe age of 16 and retired at 50 in 2002. He's got a couple of heavy hitters like Edgar Ramirez playing Duran and legendary actor Robert De Niro as his trainer Ray Arcel. The film looks like a typical rag to fame story as Duran would eventually bout for the WBC welterweight title with boxing great Sugar Ray Leonard played by User. Yup, R & B singer, Usher. The teaser looks "alright" and doesn't really spark a whole lot of interest but it's just a teaser trailer. With the resurgence of boxing films, I hope this wasn't made as a quick cash grab for the studios and gives the audience a good story. – Mark Salcido
The Magnificent Seven


Generally, remakes are iffy because certain ones have been done so many times or they have a bad run of producers and writers that have a chance of disappointing fanatics of the classics being remade. Not this one.
We already know the story. Emma Cullen (Bennett) enlists the help of a bounty hunter, Sam Chisolm (Washington), to get revenge for the murder of her husband. Sam finds six other men, including Josh Farraday (Pratt) who has a gambling compulsion and a love for explosives, to help and leads them in the venture. The trailer really only shows the three actors I've already mentioned, though other cast members include Ethan Hawke and Vincent D'Onofrio.
Director of Training Day, Antoine Fuqua, takes a crack at this western that could make or break it more than a lot of other genres. I saw just the right amount of mix drama, goofball antics, and action; all the ingredients that make up a good Western. I am definitely to brave the packed seating of a newly released film to see this when it comes out.
– Kelsey Mejiarodarte

The Ring vs. The Grudge


Who asked for this?! Really…who wanted to see this? Oh it's a straight up Asian horror film. Let's check it out. So someone decided to pit Kayako Saeki of Ju-on against Sadako Yamaura of Ringu in a battle for the soul of another innocent Japanese Girl. The new trailer released, oddly enough, didn't have any subtitles so I didn't know what was going on. There were plenty of shots of the vengeful spirits but nothing really showing their confrontation with one another. This one looks primed for a drinking game I so I wouldn't mind picking up an import copy wherever I can find it. – Mark Salcido
What'd you think of these? Sound off below!