If you don't want any spoilers for next year's installment, then avert your eyes.
First James Bond, and now Mad Max. According to MakingStarWars, Tom Hardy will play a Stormtrooper in Star Wars: Episode 8.
The report says that he'll play a First Order Stormtrooper, who knew Finn from training. I guess not all his buddies died in the battle at Starkiller Base. It is said that Hardy's Stormtrooper will recognize Finn, walk up behind him, and slap him on the ass. I'm so glad that there's humor in these new ones, that are not in the form of Jar Jar Binks.
In Force Awakens, Daniel Craig, better known as James Bond, supposedly played a Stormtrooper. Though, Disney/Lucasfilm won't confirm it. He is, however, listed in the cast list on IMDB.
Way back with Episode 1, Samuel L. Jackson begged George Lucas to have a role in the first of his set of prequels. He didn't care who he played; he told Lucas that he'd even play a Stormtrooper, with a helmet covering his face. Of course, the godfather of Star Wars had a much larger role for him, as his frontrunner, Tupac Shakur, had died.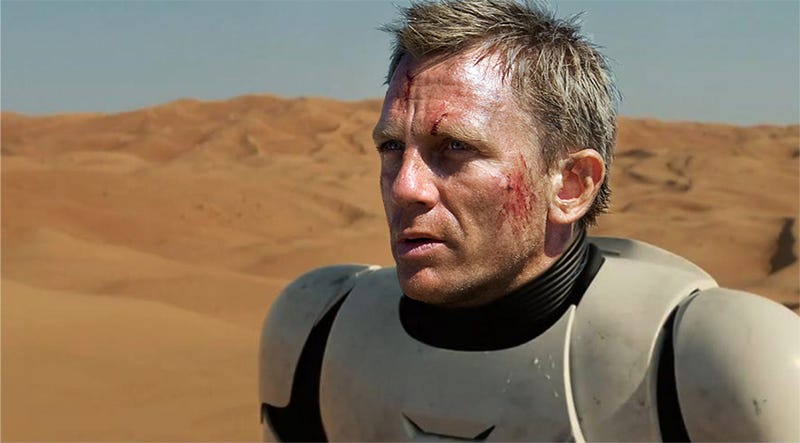 Now that the sequel trilogy is getting made, there are high-profile actors who want roles – and they don't care either if their faces are hidden. Lucas gave the role of Mace Windu to Jackson, so that his talent went into an important character.
What I like about The Force Awakens, was that the anonymous Stormtroopers were just as important as the Jedi. Finn, one of those anonymous Stormtroopers, originally named FN-2187, had a role just as crucial as Rey's. Therefore, even though these big name actors are playing cannon fodder, leaving the audience ignorant of their presence until they hit the internet later, they still have a presence as big as their name.
Try to spot Mad Max under that white helmet when Star Wars: Episode 8 arrives December 15th, 2017. But if that's too long of a wait for your insatiable Starwoid appetite, you can snack on Rogue One: A Star Wars Story, on December 16th, 2016, to hold you over.
Source: MakingStarWars