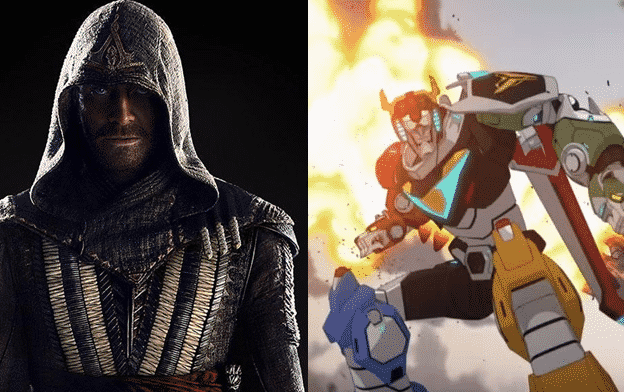 Modeling Demons, Swiss Army Men, a movie about a book, a movie based on a video game, Kevin Smith's next attempt at a stoner laced horror film and lots more in this week's Trailer Round Up. You've been warned.
The Neon Demon (Red Band Trailer)


Ellie Fanning definitely shows her acting chops in this horror thriller written and directed by Nicolas Winding Refn. In the trailer, it shows a hopeful Jesse (Fanning) interviewing with someone at a modeling agency in Los Angeles. It is clear that she has beauty and talent, and some of the other girls she encounters are jealous.
Seems like a pretty straightforward drama, until things take a turn. One of the girls in the trailer asks in a pretty nasty tone, "Who wants spoiled milk when you can get fresh meat", and the scenes that follow are dark and somewhat bloody. Girls can be mean and nasty all on their own, but the end of the clip suggests that maybe Jesse isn't the innocent modeling hopeful she appears to be. The whole undertone of what the movie has to offer is mysterious, and I am very curious to see where the twists and turns are.
-Kelsey Mejiarodarte
Voltron: Legendary Defenders


You see that? It's millennial nostalgia in the sky. And it looks like a Super Robot carrying a sword, flying through the sky to remind you who is the Defender of the Universe. The original series, back in 1984, featured a team of five young pilots that controlled five robot lions that could be combined and create the Super Robot known as Voltron. Set in the future the team was tasked in protecting the planet Arus from the evil King Zarkon, his son Lotor and the witch Haggar. King Zarkon would send Robeasts to terrorize the people of Arus. This has Saturday morning cartoon written all over it.
The Netflix produced show seems to follow the same formula as the original with a few changes. The animation is done by Dreamworks Animation Television and has that Legend of Kora style to it with a touch of cell animation as well. It looks fun, exciting and taps into our inner childhood that doesn't come off as cash grab. Now excuse me while I dig up my old Voltron action figure in wrap myself in my Voltron blanket.
-Mark Salcido

Swiss Army Man (Red Band Trailer)


Hank (Dano) is stranded on an island. He is close to taking his own life, to the point that he has a noose around his neck and is committed to the act. But then he notices a body where the water meets the shore. The man is dead. Or is he?
This trailer is multi-faceted in that it combines weird creativity, comedy, drama, and a sort of realism that all generally don't mesh, but seem to make it work with ease. I couldn't imagine a scenario where someone would create a film about a suicidal man and a zombie (Radcliffe) that is learning to talk and has flatulence issues (yes, he farts a lot, okay?) that become friends and go on a great adventure, let alone that the story would interest me. We've all seen films or shows dabble in that kind of humor and fail miserably. I think this one will take a fart-fueled catapult ride to the top of film scuttlebutt when it is finally released.
-Kelsey Mejiarodarte
The Woods


Little is to be said on what the film is truly about during the trailers, but so far the story seems to follow a group of hikers in a remote forest that find themselves in danger. Not a whole lot to give us but it lets you know that the movie is going to be terrifying
Cue the slowed down, melody-like remake of a classic 80's pop song and now you got yourself an extra bit of creepiness in your horror film teaser trailer. People are in the woods, they are enjoying themselves in the moment, it gets dark, they get lost; then scary shit happens. An unseen force is snatching our campers in horrific ways and putting them in tight situations that give you that feel that there is nowhere to hide, even in this vast forest.  The film gives you just enough to pique your interest and shows some promise of it being a great horror film. Hopefully, the reviews that splashed out at the beginning of the teaser weren't just for show. Horror fans know their shit and don't like being led on.
-Mark Salcido
Hell or High Water


This has Western written all over it, though it is set in present times. Written by Taylor Sheridan, who also wrote Sicario and had a hand in Sons of Anarchy, it stars Chris Pine, Ben Foster, and Jeff Bridges. The trailer reveals the story as being about two brothers living in Texas who are forced into robbing banks to save the family farm. Two Texas Rangers do everything they can to track the brothers down and stop the string of robberies.
The story isn't especially original from what I gather from the trailer. It really captured my interest, nonetheless. The chemistry of the characters as they go through their ordeal comes through so strong, I was able to pick up on it right away, even though it is just a short clip. The brothers are very close and would do anything to make sure their family is taken care of, and the Rangers show how much wisdom and experience they have, while maintaining their sense of right and wrong. It's true. I am a sucker for a good story set in the West. Acting and setting combined, I am excited for this to be released in August so I can get my fill of Southern values and justice.
-Kelsey Mejiarodarte

Assassin's Creed


Before you lose your shit, this is an original character set in the world of Assassin's Creed. So put down your pitchfork. The story follows career criminal Callum Lynch that is rescued from execution and is forced to participate in the Animus Project to relive the memories of his ancestor, Aguilar de Neraha, an Assassin during the Spanish Inquisition.
Generally, videogame to movie adaptations are a miss. The only example of film showing the true and awesome nature of a videogame was Scott Pilgrim VS. The World, and that was based off a comic book. Well, it looks like they might have cracked the code with Assassin's Creed. It's interesting that they decided to follow the story placed around the area of the second Assassin's Creed instead of the first one. Plus, I would love to see how they explain why the main character is being played by Michael Fassbender, even though his ancestor's last name is Aguilar. The added Kanye West song for this trailer is a big hiccup because it's trying to sell the idea of how "cool" it is. It's Assassin's Creed; the idea is badass as it is. The action looks pretty good and I like how they are really going to incorporate the parkour portion that made the game so great. We'll just have to wait and see how this one turns out.
-Mark Salcido

Inferno


It has been seven years since Angels and Demons was released, and it is time for the third installment. All the usual players have come back to reprise their roles. Let's go through the reception of that film, and The Da Vinci Code, before we delve into the latest one in the series.
When The Da Vinci Code came out in 2006, the critics hated it, but the general public was exceptionally curious. It fed their need to know what conspiracies might actually be valid where the church is concerned and did much better than what the critics thought it might do. While Robert Langdon did an awful lot of talking in that film, he did as much in Angels and Demons, though he was much more active, which improved the possibility of capturing the audience's attention.
Inferno looks a lot like the previous films in production value. All that is really given in the trailer is that it involves Dante's Inferno (hence the name of the film, Inferno). Everything else has quite a few looks of epiphany or bewilderment on the character's faces followed by bits of action. I am not completely sold on this one, and I do think the decision to move the release date back from the December release of the latest Star Wars film was wise. Maybe it'll be worth watching in 3D. Fun fact: It would be Tom Hank's first film in 3D.
-Kelsey Mejiarodarte

Yoga Hosers


Follow me if you will. Kevin Smith directs a movie where the story centers around two 15-year-old yoga enthusiasts named Colleen Collette (played by Lily-Rose Depp) and Colleen Mckenzie (played by Harley Quinn Smith) who work at a convenience store called "Eh-2-Zed". A small army of ancient evil little monsters called "Bratzis" (little Nazis made out of bratwursts) begin to cause trouble in their small town and the Colleens call for the aid of legendary man-hunter, Guy Lapointe (played by Johnny Depp) to aid in their battle.
What the fuck is Kevin Smith smoking now? I was one of those hardcore fanboys that followed Smith at the beginning of his career with Clerks all the way up to the present. He showed us that he had potential to do something new with Red State, but took a big stumble back with Tusk. I can forgive him for Cop Out, that wasn't his script. Yoga Hosers looks like he continues to not give a fuck in the quality of film he makes. The jokes fall flat and the effects look like shit. I know it's more than likely not the completed film with all the fixings, but come on man. Put the joint down and focus on your lighting, cues from the actors, and stop thinking your stoner driven rants are something we want to be turned into a movie. But of course, he has his defenders and maybe I'm the one who just doesn't get it.
-Mark Salcido
All the Way
President John F. Kennedy gets a lot of the glory and screen time when political thrillers of that era are made. This clip makes it obvious that this story follows Lyndon B. Johnson and his involvement with civil rights and Dr. Martin Luther King Jr. It's about time, too. Not that I don't like JFK, because I do. But what happens after that should get a little more time in the limelight.
LBJ (Cranston) is thrown into huge and unexpected responsibilities as the new President of the United States after JFK's assassination. That time in our nation's history is dark, uncertain, and full of turmoil, both within our borders and out. The task of getting and keeping all of the issues under control is daunting. LBJ wants to buckle under the pressure of the encumbrance, but the Civil Rights Movement is also underway. Dr. Martin Luther King Jr. (Mackie) refuses to let LBJ falter, as his vision for equality in America is an important one.
I am excited for this to be released. Cranston is a great actor, and I would like to see how he portrays such an influential figurehead. More importantly, I would like to see the events play out on the big screen. This political drama doesn't seem biased. Hopefully, this one goes over big and gets a good reception.
-Kelsey Mejiarodarte