News
This Week In Trailers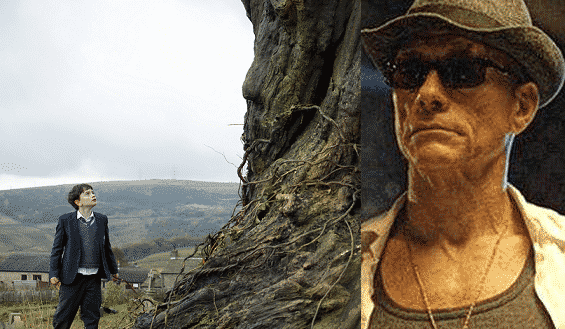 We took some time off but the trailers haven't stopped. A different type of musical, an animated film voiced with Liam Neeson, a fight for love, kickboxing, and a few other trailers you might like to see. Sit back and enjoy the previews:
A Monster Calls

I got from this trailer a powerful sense of someone trying to make a statement. It presented itself as a movie about a boy named Conor O'Malley (MacDougal) who is about to lose his mother to terminal cancer, only to find himself in an even worse situation. No one understands him and he is bullied daily. Unable to relate to the people around him, he turns to the art that bonded him and his mother so strongly. Be true to yourself, right?
Yes. However, it goes into a magical-type story when one of the creations his mother helped him make suddenly animates. He becomes the boy's coping mechanism, and the story takes on a grander scale than just the feel good story it could have easily been. One thing I'd like to mention. The monster looks like Groot. Not sure how I feel about that. But I definitely need to see this with my kids when it releases in October.-Kelsey Mejiarodarte
La La Land

Damien Chazelle came on the film scene with 2014's Whiplash that was a critical hit and earned J.K Simmons a much deserved Oscar. Chazelle is back and he might have another one on his hands with La La Land. The film stars Ryan Gosling and Emma Stone as two lovers in the city of Los Angeles. It might sound like a typical boring love story but the way the trailer plays out is that it might be something more. Chazelle is using Gosling's voice to sing a sober tune over scenes that give off a musical vibe with people dancing in sequence, reality shifting to a dream like state with a little bit of camera tricks in a modern contemporary world that doesn't look corny or cheesy. If the teaser looks this good, imagine what the full length trailer will give. – Mark Salcido
Rules Don't Apply

I'm sure they really don't apply to Warren Beatty. He has written, directed, and stars in this film, set to release November 23rd. Beatty plays Howard Hughes, whom he has been obsessed with since they met in the 70's. It doesn't follow him alone, though. There is an up-and-coming actress, Marla Mabrey (Collins), that has everyone's attention. Set in Hollywood, where all the actresses are of the same mold but she's different. Drama ensues when she starts seeing a businessman, who she works for as well, under Hughes's employ. The rules for working under Hughes are that none of his employees are to date each other. You might see where that poses a problem for the two lovers.
It has a flair about it like old black and white comedies might have had back in the day. Collins seems to fit the part like a glove. I'll check this one out, if nothing else, because it is different than everything else out at the moment. -Kelsey Mejiarodarte
Loving

This film was the Official Selection at the 2016 Cannes Film festival and judging from this trailer, I get an idea why. Jeff Nichols directs Loving stars Joel Edgerton and Ruth Negga as a bi-racial married couple sent to prison just for being married in 1958 Virginia. The trailer is filled with plenty of tension as the two fight for the right just to stay together without persecution. This film has Oscar nomination written all over as the two leads are in top form in their acting.  Nichols has already an impressive filmography with Mud, Take Shelter and Midnight Special under his belt and he looks to continue that trend with Loving. – Mark Salcido
The Hollars

The name of the movie had me thinking it was another run-of-the-mill chick flick. Crappy actors and weak story but this one seems very different. It follows a guy who is not very close to his family. His mother is in the hospital and he has come back home to help and show some support. There are a lot of relationship faux pas between him and just about everyone else in the film, it seems.
The chemistry between everyone in the film seems almost perfect. There were too many characters for me to gather exactly who was related to whom and in which way just from the trailer, but I got the gist. It doesn't seem to have such great ratings on some of the known critic sites, but I would love to see this when I want to watch something a little more lighthearted and upbeat. It releases August 26th. – Kelsey Mejiarodarte
Kickboxer: Vengeance

Kickboxer is one of those 80s action films starring Jean-Claude Van Damme that helped the action star become a household name. Now in the vein of Hollywood, it's about time this classic gets the remake touch with Kickboxer: Vengeance. The story is somewhat the same, as Kurt's (Alain Moussi) brother is murdered by the ruthless Kickboxing champion, Tong Po (Dave Bautista). In order to do that get his vengeance, he must call to the aid of Master Durand (Jean-Claude Van Damme) to train for the fight of his life. I love the original and enjoy the fact that Van Damme is going back to some familiar territory. Hell, they even decided to bring some actual MMA fighters in the mix with the likes of George St-Pierre and Gina Carano. Alain Moussi better do a helicopter kick or splits at some point in this film, if not, this movie is invalid. – Mark Salcido
Rebirth

Intense should be the title of this movie. The story follows white-collar suburban father Kyle (Fran Kranz) as he's convinced to join a weekend long new exciting self-actualization program called Rebirth. Blindfolded and taken to a secret location, Kyle must journey down the mysterious and bizarre rabbit hole of seduction, violence, and psychodrama. You get a sense that Kyle is trapped with so many doors promising exits only resulting in it being a lie and later being told that the only thing keeping him there is himself. The story looks fast paced and keeps the viewer interested in what's going on. Netflix, you're doing some good work. – Mark Salcido
Which ones will you be watching? Let us know below!