News
This Week In Trailers: Comic Con Edition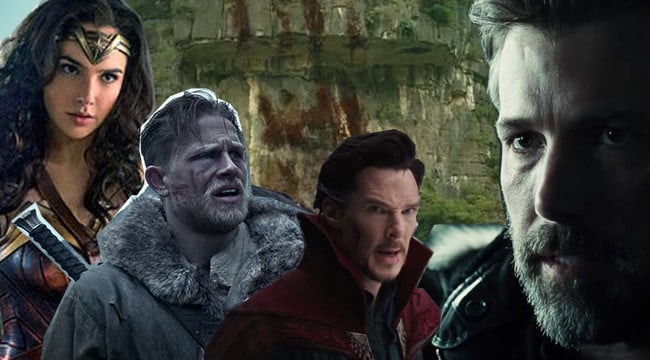 Still suffering from a Comic Con hangover? Well, let us remind you of all the trailers that came out over the week and the weekend. There are a few independent films, action, horror, and documentaries, but we filled 'This Week in Trailers' to the brim with Comic book films and TV shows galore. You might want to plant yourself down; it's going to be a long one.
The Edge of Seventeen

The story follows a teenage girl, Nadine (Steinfeld), who has written a suicide note. Her teacher played by Woody Harrelson, gets a hold of the note which he doesn't take seriously. He makes her see the drama in her words and you start to see the teacher as somewhat of her confidant. Nadine has the typical issues a teenager might have, including a having a crush on someone she is too nervous to talk to, and her best friend is dating her brother.
The feel-good types of movies with a long and winding road full of pointless situations and bad acting. Not where this one seems to be headed. I usually steer clear of this type of film because they're boring or badly written. I actually laughed out loud watching this, and really want to watch it when it releases September 30th. – Kelsey Mejiarodarte
Ash VS. The Evil Dead Season 2

There are sissy trailers for new seasons of TV shows and then there are those that are too gory for Comic Con, red band banned Ash Vs. Evil Dead season 2 trailers. This trailer knows what you love from the first season and throws it back in your face in all its blood glory. The new season starts off with Ash and his buddies in Jacksonville, Florida, enjoying non-stop partying with plenty of beer and babes to go around. But when the evil deadites are coming back to ruin his good time, it's time for Ash to grab his handy chainsaw and boomstick, and go back to his home of Elk Grove to stop the evil that's setting up shop.
This trailer looks amazing, chaotic, ridiculous, funny, and everything else in between. If you've seen any of the Evil Dead films, then you know what you're getting into. If not, get with it you lame brain and ready yourself with a damn good time. – Mark Salcido
The Walking Dead Season 7

This past spring, The Walking Dead threw down the gauntlet for one of the most ball busting cliffhangers in television history, when viewers were shown Jeffrey Dean Morgan's charismatic maniac, Negan brutally beat one of the show's main characters to a bloody pulp. Now to get us prepared for the show's return, a teaser trailer has been released for the upcoming seventh season. But does it offer up any clues as to who is getting up close with Lucille, continue on to find out.
Two trailers were released. A teaser and a full trailer.
Understandably, the trailer is very much lacking in new footage as not to give away the big reveal. But it does do a good job of recapping the dire situation that our heroes were left in when we left them in the Season Six finale. It also gives us a rundown of everybody in the firing line, which is pretty much all but two characters. While we will be saying farewell to at least one member of the cast, we will be gaining four others in the form of Jeffrey Dean Morgan's Negan, Xander Berkley's Gregory, Tom Payne's Paul 'Jesus' Rovia and Austin Amelio as Dwight.
Those of you left disappointed by this teaser trailer will be happy to know that the full trailer was just released – along with a release date of October 23rd! – James Hadden
Marvel's Legion

Premise: David Haller, a man diagnosed with schizophrenia, has struggled with mental illness since he was a teenager. But everything changes when he meets the girl of his dreams—a fellow patient—and is confronted with the possibility that the voices he hears and the visions he sees might be real.
Well this seems interesting. FX has officially released the first trailer for Marvel's Legion which stars the charismatic Dan Stevens in the leading role of David Haller. Based on the character of the same name by Chris Claremont and Bill Seinkiewicz, Legion will consist of eight episodes and will be its own separate entity, having no ties to the X-Men universe. Created by Noah Hawley who's responsible for the critically successfully Fargo TV series, it seems as if this'll be another hit, with a variety of talent and some great visuals on show. – Jonathan Edwards
XXX: The Return of Xander Cage

The trailer released for this film is just a teaser. Being as short as it is, it's a bit hard to decipher the plot. With the name of the movie implying that Xander Cage is back, all the Vin Diesel fans will be flocking to see this. It does, however, show a lot of women, guns, and stunts. Who doesn't love that? This is set to release January 2017. Still a while to wait, but go ahead and make it your New Year's resolution to watch it. – Kelsey Mejiarodarte
Luke Cage

Marvel dropped a much needed new teaser for Netflix's Luke Cage and it looks like they'll have another hit that may be on the same level as Daredevil. Not a whole lot is given as in the plot of the series, but it shows the strength and powers of the indestructible Power Man. Plus, you got Ol' Dirty Bastard's 'Shimmy Shimmy Ya' playing the background? God damn that trailer is lit.
Sorry, back to being professional. Luke Cage is coming this year bringing us one step to Netflix's The Defenders and it's sure be another show everyone will binge watch as soon as it comes out, sweet Christmas. – Mark Salcido
Doctor Strange Trailer 2

As the Marvel Panel continues at San Diego Comic Con, Sherlock actor Benedict Cumberbatch apparent end on stage ready to treat the crowd a look at the upcoming Doctor Strange film, and luckily the studio has also released it to us fans who aren't able to attend.
Joining Cumberbatch on stage was the film's director Scott Derrickson, The Ancient One actress, Tilda Swinton, Chiwetel Ejiofor who is set to play Mordo, Mads Mikkelsen who is portray the villain of the film Kaecilius, Rachel McAdams who will be portraying one Strange's coworkers from before the accident and Benedict Wong who will be playing errrr…….Wong.
You can check out the trailer below, which offers up a lot more footage than we saw in the previous trailer as well as giving us a better look at how the magical powers will be portrayed in the film, which looks incredibly accurate to the comics themselves. It also shows more of the supporting characters including Wong, Mordo and the film's villain Kaecilius. – James Hadden
Fantastic Beasts and Where To Find Them (New Trailer)

Isn't Comic-Con great? Well, it just got a little better for some of you Potter fans as we've now been given yet another trailer for Fantastic Beasts and Where to Find Them.  Directed by David Yates, who already has four Harry Potter films to his name, Fantastic Beasts is a prequel which takes place 70 years before Harry's started.
Many fans will be familiar with the source material of which it's based on, although it's been confirmed that this will be just the first in a trilogy of films which will see Eddie Redmayne portray Newt Scamander. Full of wizardry and wonder, this'll surely give Potter fans the fix they've been craving since the series had ended. – Jonathan Edwards
For the Love of Spock

This is a documentary film about Leonard Nimoy and his journey in becoming Spock in the original Star Trek series. Most people knew him as Spock, and love him for that. That is why the name of the documentary seems so fitting. However, not too many people knew what type of person he was outside of his work and what he sacrificed for his commitment to that character. It features many familiar faces, and his son, who has a lot of love and respect and who also came up with the idea for the documentary before his father's passing. This will be available through Video On Demand on September 9th of this year. I am sure it will be a very popular documentary. – Kelsey Mejiarodarte
Iron Fist

The next member of The Defenders is up to bat and it's The Immortal Iron Fist. Iron Fist had been in development at Marvel for some time and was thought to be scrapped at one point. Judging from this trailer, I sure as shit am happy that the news was false. The teaser gives us a few glimpses of an introduction to who Danny Rand is and a small taste of his power. He looks raggedy and disheveled like any homeless person, but man, he can take out a large portion of wall with ease. I can't wait for Danny Rand to meet Luke Cage and have their legendary banter from the comics grace our viewing devices. The Defenders are almost here. – Mark Salcido
King Arthur: Legend of the Sword

Well so far we've been treated very kindly by Warner Bros. with a slew of DC related news … however things have just took a turn for the worse. The new trailer for King Arthur: Legend of the Sword has arrived and it quite frankly looks terrible.
Taking inspiration from Game Of Thrones (along with a couple of its actors) mixed with a bit of cockney banter, Guy Ritchie has created something utterly bizarre. Starring Charlie Hunnam who's looking as if he's just came out of Camden with the lads, swaggering about, wheeling and dealing and Jude Law looking camp as Christmas, this new incarnation of the legendary tale looks to be a bit of a mishmash of genres. Judging from the trailer alone, one can't quite grasp the tone of Guy Ritchie's latest venture. I suppose for the meantime we'll just have to reserve our judgment until the movie has been released. – Jonathan Edwards
Suicide Squad

I know we've had the Suicide Squad trailer before on our list, but we got to mention it again because it's another awesome trailer that only gets us even more hyped for the film. This specific trailer being titled "soundtrack remix" hits with more shots of how action packed and fun the movie will be. It fires on all cylinders as we get a rapid succession of shots of the Suicide Squad batting their way to save the world from whatever destruction is coming. We get more of the group's chemistry and dynamic in this go around, along with a few more shots of Jared Leto's Joker.
You will see this movie when it comes out; otherwise you're just a person who doesn't like fun. – Mark Salcido
Kong: Skull Island

When it comes to the San Diego Comic Con, often times the non-comic related film's often get lost in fray of all the DC and Marvel news that comes out of the weekend. However one film is looking to make a 'big' name for itself, is latest reboot of the King Kong franchise, Kong: Skull Island and that's exactly what it did in Hall H this afternoon.
As part of Warner Brothers presentation, Director Joran Vogt-Roberts and the cast of the film were on hand to give us some details on the film, as well as debut the first trailer for the monster epic. Joining Roberts on the stage was Brie Larson, Tom Hiddleston, John Goodman, Corey Hawkins and Jason Mitchell.
The trailer itself is actually fairly light on the main man himself, but what we do see is very impressive. Kong definately looks a lot bigger than the last incarnation we saw in Peter Jackson's 2005 film, King Kong, this is likely due to the release of Godzilla vs King Kong which is set to be released in 2020, although despite this it still looks like the great ape may come up a little short…..pun definitely intended.
The film's plot, which is set in the 1970's revolves around a military team, whilst attempting to explore an uncharted region of earth heading to the titular island, before everything goes to hell and the main characters find themselves fighting to survive. Samuel L Jackson and Tom Hiddlestons both look to be portraying military types, with Hiddleston's character being a tracker of some sort. Brie Larson is set to play a photojournalist who deals primarily with war, whilst a very svelte looking John Goodman playing a government official in charge of the expedition. – James Hadden
Operation Avalanche

I'm sure just about everyone out there has heard at one point or another about the moon landing being a fake. There are actually people out there who think we never actually made it there. The pictures and everything that went along with it were all manufactured. So here is a film that takes the idea and some of the conspiracy theorists' ideas, and put it into visual motion so we can see for ourselves what a faked landing on the moon might have looked like. With the footage in the clip looking dated, it adds some realism to the idea. I'm definitely curious about this one, though I don't ascribe to the whole landing conspiracy thing. There isn't currently a release date set for a wide audience, though it has already been shown at the Sundance Film Festival. – Kelsey Mejiarodarte
American Gods

Neil Gaiman's American Gods was an amazing book that spoke volumes on society and our obsession with materialistic things that we hold close to godlike level. Starz finally gave us a first look at the TV adaptation of his novel and it looks pretty good. There are a lot of great shots with little on what the plot is but if you've read the book, you pretty much know what's going on. I'm actually surprised on the style of the show as it fits the modern western kind of feel to it. We'll see if the series is worthy of holding the title of American Gods or if it'll just be another dud adaptation. – Mark Salcido
Justice League

We've already learnt that Ben Affleck will be helming the solo Batman movie and seen the first trailer for the Patty Jenkins directed film, Wonder Woman and with the cast of Justice League taking to the stage, we may just be seeing our first look at the anticipated Team-Up flick.
As part of the Panel, A trailer was shown to the crowd which has now been officially released online and can check out below.. The most interesting thing to be officially released from Warner Brothers however is our first look at the characters as a team, including our first close up look at the costumes for Cyborg and The Flash. What's also interesting is that they don't look to be hiding the fact that Superman is back after his altercation with Doomsday at the end of Batman vs Superman: Dawn of Justice. – James Hadden
Wonder Woman

Well here it is, the first Wonder Woman trailer has arrived. After leaving Thor: The Dark World due to creative differences, Patty Jenkins has delivered an impressive first trailer for one the worlds most famous heroines. With a handful of jokes, adrenaline fueled action sequences and stunning set pieces, this'll surely be one of the most anticipated films of next year. It's been a long time coming to have a woman superhero on the big screen however it seems as if the wait is almost over.
Supported by the charismatic Chris Pine, who will be playing Steve Trevor, the chemistry between the two leads seems to flow as naturally as Woman Woman's acrobatic fighting style. Some may also be happy with the news that DC has taken on board some of the criticism from their two previous superhero movies by implementing a dash of humor within the trailer and although some quips may raise a smile, one does have to hope that DC won't be following Marvel's footsteps by jam packing a bunch corny one liners throughout. – Jonathan Edwards
The Flash Season 3
https://www.youtube.com/watch?v=5LGQRbPERaU&feature=youtu.be
After the amazing second season of the The Flash, audiences were starving for more when the show would be leaning to the Flashpoint Paradox comic book storyline. Well, it looks like October 4th is when we will see how much Barry Allen has affected the timeline and what consequences will occur.
There are a ton things that have changed with this new timeline. Barry's mother wasn't murdered on that faithful night by The Reverse Flash (obviously), Barry doesn't have that family connection with Joe and Iris West, and Cisco Ramon owns a successful scientific lab. Yet in this timeline we are introduce to Kid Flash and another speedster that might be the DC villain Black Racer. The only ones who are aware of the Flashpoint are Barry and Reverse Flash himself, Eobard Thawne. What other Earth shattering events have occurred due to The Flash's meddling with the timeline? We'll find out with the new season premieres. – Mark Salcido
Blair Witch

It's been no secret that Adam Wingard had directed a new movie titled The Woods which was about a "group of college students on a camping trip who discover they are not alone."
However, it seems that the film was actually a secret sequel to The Blair Witch Project and has been renamed Blair Witch!
This coincides with early rumors that the film may have been such a sequel, but now we have an official confirmation including a new trailer with the new name attached. – Jacob Dressler
What was your favorite trailer this week? Tell us below!