News
New Video Surfaces of Former WWE Superstar Jeff Hardy Fighting A Kangaroo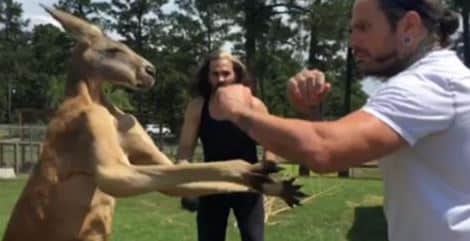 Longtime wrestling fans know brothers Matt and Jeff Hardy to be one of the greatest tag teams of all time. Their extreme, high-flying style (especially Jeff's complete disregard for his own physical well-being) made the crowd start up the "HOLY SHIT" chant on many, many occasions. They've never been what any of us would call normal or boring. But, ever since leaving WWE for TNA a few years ago, things got stranger. And I mean a LOT stranger. From a cackling Matt destroying Jeff's intricate lawn designs, to fighting each other with fireworks in a homemade ring, their bizarre promos take WTF to a whole new level.
And now there's this. Matt, currently going by the name "Broken Matt Hardy," caused a lot of head-scratching on Twitter yesterday when he posted this message:
"My personal Zoo debuts on #ImpactOnPop. I'll introduce you all to George Washington, Smokin' Joe and more…….Delightful!"
Yeah, that's weird enough – who knew Matt Hardy had his own personal zoo? – but believe me when I say we've just boarded the crazy train, and it's picking up speed.
You see, Matt has been training his younger sibling Jeff, aka Brother Nero (Jeff's actual middle name), using all kinds of strange methods, in preparation for his Delete or Decay match. The aim is to teach young Nero how to be an actual fighter, rather than what he calls a "spot monkey." To that end, the elder Hardy decided to put his brother in the ring with the ghost of Smokin' Joe Frazier.
Yeah, you read that right. And it gets even better. Nero's opponent is not the specter of the legendary boxer, but rather a kangaroo possessed by his spirit.
Don't feel bad, I can't believe I'm writing this shit either.
Lest anyone think it was your run of the mill boxing match with a poltergeist, Matt explained in a bit more detail:
"Not the "ghost" of Smokin' Joe Frazier. It is him – his ESSENCE. I collect VESSELS that ENCAPSULATE great SOULS."
Thanks, Matt. That makes so much more sense.
If your brain has twisted itself into a pretzel and is currently in a corner weeping, you're not alone. But if it's still breathing, check out this video of the training session, shared on ProWrestlingSheet.com.
My Personal Zoo debuts on #IMPACTonPOP.

I'll introduce u all to George Washington, Smokin' Joe & more.. DELIGHTFUL! https://t.co/Cdcn2CBuRA

— #BROKEN Matt Hardy (@MATTHARDYBRAND) September 6, 2016
If there is anything besides "What in the actual fuck did I just see?" to be said about this, please put it in the comments below.