News
The Internet Has Lost Its Mind Over Batman's New Tactical Batsuit
In what continues the ongoing saga of "Let's Hate Anything Zack Snyder Does For No Real Reason", the internet has erupted (some bad, some good) over the latest picture the director posted of Batman.
Homestretch. Last day filming Batman in the new Tactical Batsuit.#JusticeLeague #Batman pic.twitter.com/GMJ9aoYVKJ

— Zack Snyder (@ZackSnyder) September 14, 2016
We went ahead and picked out some of the most interesting ones – and we'll start it off with this moron:
— Dat Redhead Akasan (@akasan) September 14, 2016
Don't worry, he was quickly owned:
1st. Stop with the fake laugh, no one is buying it. 2nd. You obviously know shit about comics. pic.twitter.com/o0JZqLCDHn

— Justice League News (@JusticeLeagueN1) September 14, 2016
Here are some others:
The new Batman suit is dumb. I don't like it. But please keep the Batshades

— Brandon or Squirrelz (@SirSquirrelz) September 14, 2016
https://twitter.com/shellscreams/status/776161902133141508
Hey Batman, Nite Owl called, he wants his "tactical suit" back.

— Felix Vasquez Jr. (@FlixtheCatJr) September 14, 2016
Wow, that tactical Batman suit looks….awful…just terrible. Ignoring the goggles, its just not aesthetically pleasing to look at.

— June-Themed Nuts (@Batnut92) September 14, 2016
Batman's new tactical suit from 'Justice League' looks dope pic.twitter.com/ZOOxvYcXDW

— James Grebey (@jgrebes) September 14, 2016
I like the new Batsuit goggles. It means Batman won't be spending as much on mascara, and fits more with a Batman who built a mech suit

— Kieran Golding (@Goldman2504) September 14, 2016
"I love that new Batman Tactical suit…"-Optimus Prime

— Josh Macuga (@JoshMacuga) September 14, 2016
Batman's new suit looks like Nite Owl. He fought Superman who got his powers from the sun. Batman = NiteMan

— Simon Eustace (@chad_einstein) September 14, 2016
OWLMAN! I mean… BATMAN! Check out the new tactical suit from the #JusticeLeague set! Thanks, Zach. #batman… https://t.co/wD4B6HAdM2

— Derek Easley (@fortressofderek) September 14, 2016
Really don't like the tactical batman suit. Maybe it'll grow on me @ZackSnyder @justiceleaguewb @ThatKevinSmith @marcbernardin

— Damien Cornejo (@damien_cornejo) September 14, 2016
— Anthony (@BLUmanatti) September 14, 2016
So, the biggest complaint seems to be that the new suit looks too much like Nite Owl from Watchmen: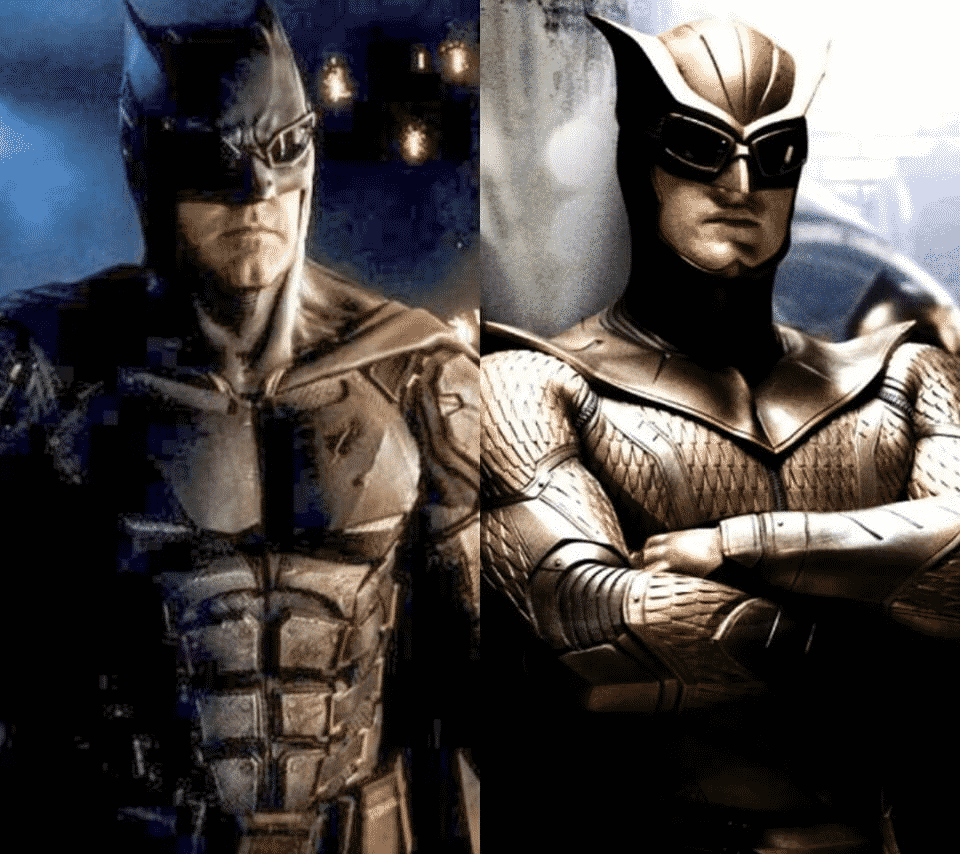 To that I say:
Shut up.