Avengers: INFINITY WAR Could Feature TV Characters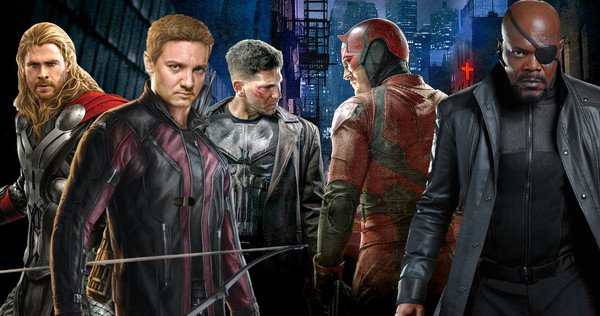 With The Mad Titan, Thanos set to finally leave his throne and cause mayhem in 2018's Avengers: Infinity War, Earths Mightiest Heroes may require all the help they can get from every corner of the MCU. But will the heroes from the Netflix series join the fight? What about the most recent hero to join, Captain Marvel? The directors of the film have revealed some information on the matter.
Speaking to the Toronto Sun, Captain America: Civil War director Joe and Anthony Russo were asked about whether we can expect any involvement from Daredevil & co in the upcoming film, to which Anthony explained:
We do consider everyone, We don't want to get too specific about what's going to happen with these movies. We want these movies to be a surprise for audiences."
It sounds as though it's not outside the realm of possibility.
They also spoke a little about recent addition to the franchise, Brie Larson and the possibility of her character Captain Marvel making her debut in the film ahead of her 2019 solo film. About the character Joe revealed:
"It's an incredible piece of casting. You couldn't ask for better."
Before adding:
Not only is she an amazingly talented actor but she's a wonderful human being. We're really looking forward to the opportunity of re-teaming with her…"
The last sentence certainly seems to imply that we'll be seeing the character joining the Avengers in their battle against Thanos.
With all of these additions to the roster, many fans are concerned that characters may not be receiving the screen time that they deserve. Luckily, Anthony was on hand to reassure fans that this won't be the case telling the publication:
What we did in Civil War is exactly what we want to do in the Avengers — no matter how much screen time a character has, you can still have a lot of ambition for what you do with that character while you have them."
Given the success that the duo had with Captain America: Civil War this past summer, it definitely sounds like they would definitely be able to handle the characters. It would also be great to see the characters from the Netflix universe join the wider MCU as a whole. Can you imagine Steve and Matt discussing New York, or The Punisher coming to blows with Spider-Man. The possibilities are endless.
We'll find out for sure when Avengers: Infinity War hits theaters May 4th 2018.
What do you think? Would you like to see these characters appear? Who would you like to see join the fight? Let us know below!
Source: Toronto Sun