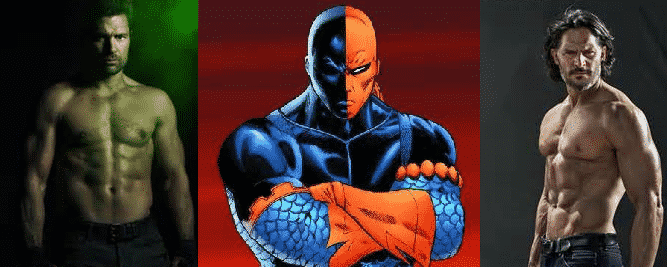 It's always awkward when a new actor takes on a previously established role, and it's especially awkward when that actor has been well-received, as is the case with Manu Bennett, who portrayed Slade Wilson aka Deathstroke on TV's Arrow. It was announced late August that True Blood star Joe Manganiello would be donning the eyepatch as the big screen iteration of the character and until now Bennett had been quiet in regards to his replacement, until today that is. Read on to find out what he said.
After a fan posted a gif of Bennett dancing in an overly seductive way, the actor responded by throwing his hat (or should I say ripped tank top) into the ring for Joe's role in the Magic Mike franchise. Telling his followers 'Ok if Joe is playing Deathstroke I'm gonna Magic Mike.' You can check out the exchange below.
Ok if Joe is playing Deathstroke I'm gonna Magic Mike 🙂 https://t.co/cqs3Mv3RoZ

— Manu (@manubennett) September 15, 2016
@Liam_J_McIntyre for you, Liam 😉 pic.twitter.com/KbNsbCpzIW

— tiny t⎊ny (@woIvern) August 6, 2016
Given that in the past, when a character that was appearing in the Arrowverse was given the big screen treatment, it usually saw the small screen counterpart written out, Benett may need to start working on his sexy dance moves although judging by the GIF above he doesn't require much practice. Unless of course the character does make an unexpected appearance in a future season.
In the meantime you can check out Bennett in The Shannara Chronicles when it returns to screens next year whilst we can expect to see Joe Manganiello suit up as Deathstroke in next years Justice League before taking on Ben Affleck's Batman when his Solo film hits theatres 2018.
What do you think? Are you glad to see there is no hard feelings? Would you like to see Bennett join Channing Tatum and Crew? Let us know below.
Source: CB