Film & Television
Complete Timeline of Upcoming Films In The Marvel Cinematic Universe
The Marvel Cinematic Universe continues to grow in its ever expanding cycle of films within its respective world since almost 8 years ago. With many film-goers, both comic fans and newcomers alike, it can be quite the task having to check multiple titles and updates for so many different names to come out. To prepare for what Phase 3 and the future has in store for us, we decided to compile an easy thread to what is to come and what we know about it. Starting with the upcoming Doctor Strange and finishing off with as far as "Avengers 4", here's everything that's currently known:
Doctor Strange
MCU introduces the mystic arts with Benedict Cumberbatch playing the Sorcerer Supreme Stephen Strange. Once a neurosurgeon, Strange discovers magic and must protect the world from inter-dimensional threats. Director's chair holds Scott Derrickson, who is moreso known for writing and directing supernatual horror films such as The Exorcism of Emily Rose, Sinister, and Deliver Us From Evil. Among Cumberbatch's co-stars are Tilda Swinton (We Need To Talk About Kevin, Adaptation) as The Ancient One, Chiwetel Ejofor (12 Years A Slave, Children of Men) as the villain Baron Karl Mordo, Hannibal's very own Mads Mikkelsen as Mordo's messenger and disciple Kaecilius, Rachel McAdams (Mean Girls, Sherlock Holmes) as an ally and love interest of Strange (as well as the future Night Nurse), and Benedict Wong (Marco Polo, Prometheus) as the ironically-named Wong, who is portrayed as a sidekick to the good doctor. The characters Tina Minoru, Jericho Drumm (Brother Voodoo) and Dormammu also have been hinted to appear, most notably from screenshots of last-minute rewrites done by Dan Harmon (Community, Rick and Morty). It will be released this November 4th.
Fun Facts:
One of the screenplay writers is C. Robert Cargill, whom some may recognize better off as "Carlyle" from the Spill.com animated film reviews
A Doctor Strange film was been attempted as early as 1986, about 30 years already. Bob Gale (Back to the Future), Wes Craven (Nightmare on Elm Street, Scream), David S. Goyer (The Dark Knight trilogy, Batman V Superman: Dawn of Justice) and even Stan Lee himself tried to make this work but never went past pre-production.
Benedict Cumberbatch originally turned down the role due to scheduling conflicts, but because of the film's push from July to November, Cumberbatch came back very conveniently. He taught English in Buddapest to prepare for the role and cites his interest is in the spirituality of the film's theme.
Guardians of the Galaxy Vol. 2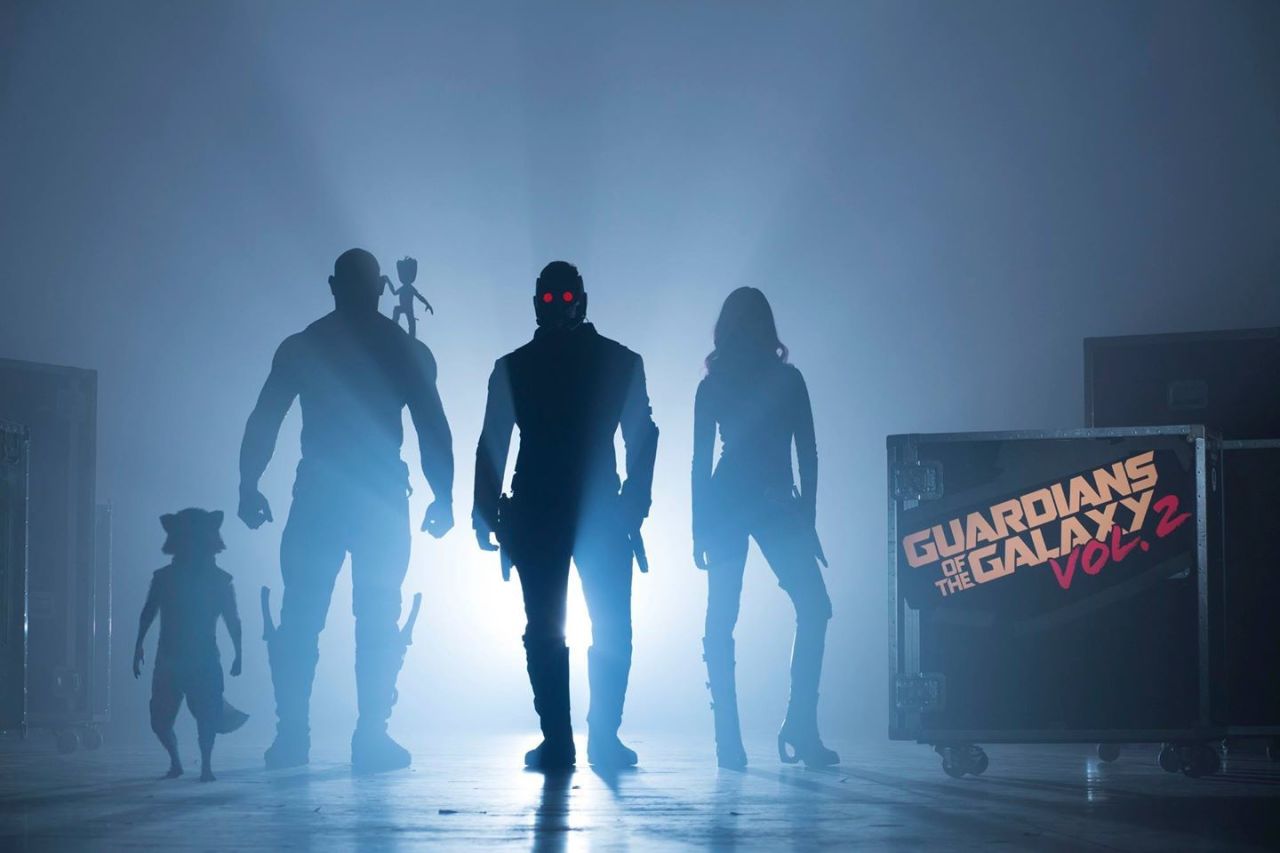 2014's surprise success following the ragtag intergalactic team are back with Chris Pratt, Zoe Saldana, Dave Bautista, Vin Diesel and Bradley Cooper reprising as the stars. James Gunn will be directing and writing again, and Kurt Russell (The Thing, The Hateful Eight) will be playing Peter Quill's father, Ego (which, in the comics at least, is a living planet). The film is slated for a May 5th, 2017 release.
Fun Facts:
-Unlike Marvel's usual sequels, the new film will feature less characters than the previous, with James Gunn citing he is going with quality with character depth over quantity.
–Sylvester Stallone (Rocky, Rambo) is heavily rumored to appear as a cameo in the film. Despite nothing known about his role, what we do know is his costume bears a resemblance to the uniform he wore as the Lawman himself, Judge Dredd, in the 1995 film of the same name.
-Rhomann Dey of the Nova Corps (John C. Reilly) and The Collector (Benicio del Toro) will not be returning in the sequel. However, there will be a new character debuting.
–David Bowie was slated to have a role planned for him before his untimely death earlier this year., according to James Gunn.

Spider-Man: Homecoming

Straight out of his big-time debut in Captain America: Civil War, Tom Holland will continue swinging as the wall crawler in his spin-off film Spider-Man: Homecoming. Despite so many cinematic appearances before under the Sony label, this will be the first in a Sony/Marvel Studios joint partnership to allow the fan dream of including Spidey to the same world as Iron Man and Captain America.
Marisa Tomei (The Wrestler, The Lincoln Lawyer) will be returning as her role of Aunt May from Civil War, while Zendaya (Shake It Up!) will be indicated as a love interest for the young Parker. What we do know is it will feature three villains much like Spider-Man 3 and The Amazing Spider-Man 2 did, with Shocker, Tinkerer and Vulture to be the threats Spidey will face in the film. Robert Downey Jr. will also be crashing the party as Iron Man, and leaving it at that, should be quite the spectacle. It will be written by Vacation writer Jonathan Goldstein and Horrible Bosses writer John Fancis Daley. Directed by Jon Watts (Cop Car, The Onion News Network) and described to having the aesthetics of "a John Hughes 80s film", fans have quite a surprise to look forward to next summer's July 7th, 2017.
Fun Facts:
With Spider-Man 3 being released in 2007, that means in less than a decade there has already been three attempts at a new Spider-Man film series, with Tobey Maguire's (2002-2007) and Andrew Garfield (2012-2014) as the originals.
During Captain America: Civil War, HYDRA's brainwashing of Bucky had certain words that had The Winter Soldier controlled, with one of them oddly being the title of the new Spider-Man film, "Homecoming". Whether it's any indicator or just an Easter egg for the future movie at the time remains to be seen
If Michael Keaton's heavy indicated rumor of playing Vulture remains true, it could just as well be the third time he's playing a winged superhero-themed character, the first being Batman in the 1989 Tim Burton film of the same name, and the Alejandro González Iñárritu movie Birdman (which he got an Oscar nomination for).
Thor: Ragnarok

Chris Hemsworth holds his hammer high again with the third film in the Thor series. Other key players coming back are Tom Hiddleston's Loki and Idris Elba's Heimdall, as well as Anthony Hopkin's Odin, who may have a key part in the plot of the film. Our very Dredd Karl Urban will be coming on board the film as the Asgardian known as Skurge. With the involvement of Skurge, It is strongly believed Enchantress (not to be confused with Suicide Squad's villain of the same name) will be the villain in this film. Mark Ruffalo returns after a long hiatus of films as The Hulk and his duo time with Thor is described to be like "a  cosmic road trip movie".  The film will be directed by Taika Waitti (What We Do In The Shadows, Hunt for the Wilderpeople) and will be released November 3rd, 2017.
Fun Facts:
This isn't director Taika Waitti's first shot at Thor. Earlier that year he also directed the mockumentary Team Thor, depicting what the Norse god of thunder has been doing during the events of Captain America: Civil War.
Natalie Portman will not be returning for the sequel as Jane Foster, and was hesitant finished the previous film, Thor: The Dark World eve though bound by contract. Idris Elba has also expressed in wanting out to expand on other roles.
In retrospect with Hulk's return in this film, Thor's first on-film appearance was in the 1988 film The Incredible Hulk Returns.
The Thor trilogy is not the only Marvel film's Volstagg's Ray Stevenson has appeared in. Stevenson once held the skull insignia of The Punisher in 2008's Punisher: War Zone.
Black Panther

Spider-Man isn't the only one coming with their own film fresh out of the Civil War boat. The Wakandan hero Black Panther will also be having his own film with Chadwick Boseman returning.  Ryan Coogler (Creed) will be directing, bringing his Creed star Michael B. Jordan as the villain Killmonger. Lupita Nyong'o  (Star Wars: The Force Awakens, The Jungle Book) will play Nakia/Malice, and Danai Gurira (The Walking Dead) as Okoye are also starring in the film.
Fun Facts:
A Black Panther film was originally in the works to be released before Civil War, with Av Duvernay (Selma) in the directing chair. Creative differences arose from her artistic vision for focusing on the cultural tone of the film. Aside from her, F. Gary Gray of Straight Outta Compton fame was also in talks of directing.
John Boyega, best known for playing Finn from Star Wars: The Force Awakens, was once considered for the role of Black Panther.
In the comics, X-Men member Storm was a romantic partner of Black Panther. Due to Fox's ownership of the X-Men franchise however, it likely won't be implemented.
Kilmonger was mentioned by Jordan himself not to be the main villain. That leads high implications that Andy Serkis's character may in fact be Klaw.
Avengers: Infinity War

The reign of The Mad Titan Thanos is finally here in time for the third Avengers film, played by Josh Brolin (W., No Country For Old Men). Originally slated for two film parts, Infinity War will only hold one part and be named something else in the second film. Sources explain that unlike other Marvel stories, it will be based on not one, but two Marvel comic stories, those being Infinity Gauntlet, with Thanos obtaining all the Infinity Gems (Stones in the film universe) for his tyrannical power for his gauntlet, and Infinity War, including new Marvel characters Adam Warlock and Magus into the fray. Motivations indicate that Thanos is to destroy half of all life to appease his love for the female personification of Death, whom would likely have a presence in the film.
The film will cross over both The Avengers and The Guardians to work together to take down Thanos. Samuel L. Jackson is also returning as Nick Fury. It will be directed by the Russo brothers following their fame of the last two Captain America films and returning to writing are Christopher Markus and Steven McFeely. May 4th, 2018 is when the cosmos will be at war with this film.
Fun Facts:
According to the Russos, there will be "68 main characters". Rumors are in the air that it may also include the televised characters from the Netflix shows to also be involved (Daredevil, Punisher, Jessica Jones, Luke Cage).
Al Pacino (Godfather, Scarface)has expressed interest in being involved in the MCU, leading many people to believe he may play Adam Warlock.
The Marvel comics include Deadpool and Death having a romantic fling, something that would enrage the Mad Titan horribly. Thankfully for the heroes, Fox's ownership of the character won't allow this to be a thing.
This will be the first non-documentary film to be filmed entirely in IMAX.
The film will be released in time for the 10th anniversary of MCU.
Ant-Man and The Wasp

Paul Rudd returns as Ant-Man along with director Peyton Reed for the sequel to Ant-Man. With the title confirming this, Evangeline Lilly will return as Hope van Dyne and finally don The Wasp costume and Michael Douglas comes back to reprise Hank Pym. The plot is believed to center around the quantum realm from the last film. July 6th, 2018 is when small is the new big again.
Fun facts:
Janet Van Dyne, the wife of Hank Pym, is believed to be in the film as she was lost in the quantum realm. Michael Douglas would like to have his wife Catherine Zeta Jones (Chicago, The Mask of Zorro)  play her, while Evangeline Lilly wants to see Michelle Pfeiffer (Batman Returns, Scarface) as the character.
Ultron may return as the main villain. Originally in the comics, Ultron was a creation by Hank Pym instead of Tony Stark.
This film will mark as MCU's 20th film.
Captain Marvel

Brie Larson (Community, Room) will be portraying Carol Danvers/Captain Marvel, who receives accidental alien powers. No director attached  and still a long way with a March 8th, 2019 release date, but writers Nicole Perlman (Guardians of the Galaxy) and Meg LeSauve (Inside Out) are currently penning a script.
Fun facts:
This will be MCU's first solo female film. The first Marvel series, however, goes to the Netflix series Jessica Jones.
Much like Spider-Man and Black Panther in Captain America: Civil War, Captain Marvel may be debuting in a collaboration film, that being the previously-mentioned Avengers: Infinity War.
DC's Shazam was originally named Captain Marvel up to 1967 but was renamed to Shazam so confusion wouldn't be frequented between both properties.
Avengers 4

The Russo brothers are directing the fourth Avengers film with McFeely and Markus writing once again. No plot is known, but a May 3rd, 2019 release date is confirmed.
Fun facts:
Previously known as Avengers: Infinity War – Part II, but renamed to be its own entity
This will be Robert Downey Jr's last film under his Marvel contract. However, a new contract may be signed as he stated he may plan to be involved longer.
Rumors indicate that Chris Evans as Captain America will be done after this film.
So there you have it! Which film are you looking forward to the most? Be sure to sound off below!