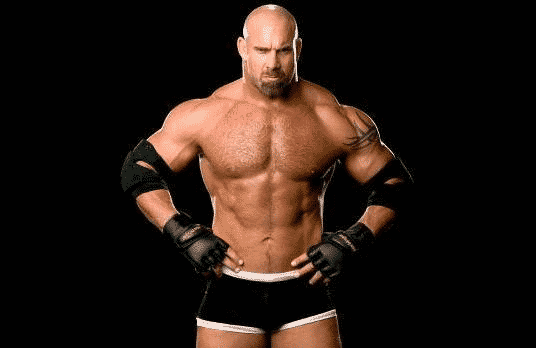 When wrestling icon Goldberg was added to the video game WWE 2K17 a few months ago, it started a lot of head scratching. Most of his legendary career took place in rival promotion WCW, with only a short stint in the 'E before retiring in 2004. His last match was at WrestleMania 20.
So what's the point if adding him now? Unless………. We all know that wrestling retirements are about as permanent as soap opera deaths. So the rumor mill started up, and it hasn't stopped since. In fact, the flames have only been fanned by both Goldberg himself, and part-time wrecking crew Brock Lesnar, as well as Lesnar's hired mouthpiece, Paul Heyman.
After trading veiled insults and threats via Twitter for weeks, Heyman finally got to the point and issued a challenge to Goldberg on last night's Raw.
"What if there's just one more spear? What if there's just one more jackhammer? What if, even if it's only for one night, what if we could experience Goldberg?" Heyman asked the audience.
Goldberg is still one up on Brock Lesnar. Which is why I have been authorized to cone out here tonight and let the entire WWE universe know: Goldberg, you sir are hereby challenged to a fight, one on one. Beast vs myth. Icon vs icon. Anywhere, any place, any time. Brock Lesnar vs Goldberg. And you can remain, in the fantasy of WWE 2K17, the one blemish on Brock Lesnar's WWE career. Or, Goldberg, you can step into this ring, and be beaten, victimized, and conquered by Brock Lesnar. Because, in suplex city, you're not Goldberg………you're next."
Heyman then dropped the mic and walked away, leaving the ball in Goldberg's court. And before Raw even went off the air, he had responded.
Booking my flight to answer that big mouth @HeymanHustle 's challenge next week in person on #MondayNightRaw #WhosNext? #seeyathere @WWE

— Bill Goldberg (@Goldberg) October 11, 2016
So, finally, something is definitely going to go down between these two behemoths. And personally, I'm wiling to bet that, even at the age of 49, Goldberg will come out on top in this match.
Now the question is, when will it take place? The next PPV, Hell in a Cell, is just a few weeks away. That would give them the opportunity to strike while the iron is hit, since there's been so much hype around this possibility for months.
Or, they could hold off for a bit, waiting until Survivor Series, the Royal Rumble, or even WrestleMania, to give the rivalry time to build, and this match the marquee placement it deserves.
What do you think Vince McMahon will decide to do? And who is your pick to win this clash of destroyers? Tell us your thoughts below!