New Spider-Man: Homecoming Footage Reveals Suit Similar To Iron Spider; Armpit Webbing
The Spider-Man: Homecoming panel at CCPX is underway and everyone is waiting for a Spider-Man: Homecoming trailer to drop.
When that happens, is anyone's guess, with rumors stating that it could be sometime today. Then again, it's been rumored to drop for some time now.
Any way, fans at CCPX were treated to some new footage from the upcoming film, and everyone else was jealous.
Here's a description:
Spider-Man's suit has the underarm webbing in! #CCXP2016 #SpiderManHomecoming

— Tom Holland Source (@tomhsource) December 2, 2016
a new clip Spider-Man was flying through the air. the suit is simlar to Iron Spider. #SpiderManHomecoming

— Tom Holland Source (@tomhsource) December 2, 2016
As for the rest of us, we'll just have to wait for the new trailer to be released, which will apparently be a few weeks – or today. Or never.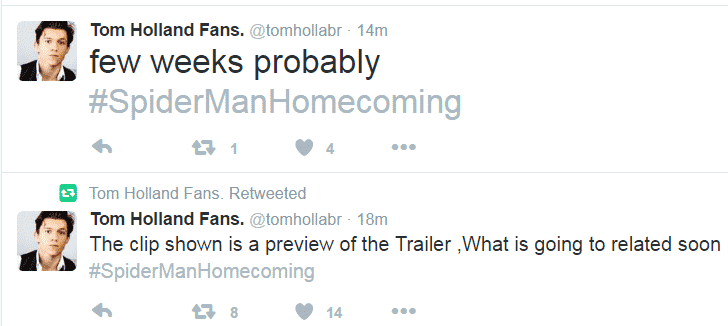 There was a pretty detailed description of the footage revealed at San Diego Comic Con this past July, if you happened to miss it:
Bad Reputation plays, and shots of high school. "Every Story" then shots of Tony, Rhodey, each character in high school. "Every journey. Has a beginning." Peter is walking through school, and a homecoming banner goes up. 9:30am Science. Peter's looking at footage of himself taking Giant Man down. Flash Thompson is an indian character. The Disney channel star Zendaya may be playing Liz Allan! In Chemistry, Parker works on his web fluid on the side. A girl is playing F, M, K with Avengers. Liz thinks Spidey is hot. One of his other friends is trying to figure out what he's hiding. Jump cuts of him running down a hallway zipping a hoodie over the costume, and climbing up a wall, and finally, he and the "Ganke type" doing a handshake. Then VULTURE comes down a tube, with crazy armor.
What do you think about the description of the footage? Does it have you more excited for the upcoming film? Do you think we will ever see a trailer? Be sure to sound off in the comment section below!