If you haven't been on the latest upkeep on what everyone is talking about, the horror film hit 'Get Out' had reached the rare level of 100% on Rotten Tomato. Things were looking great for the freshman film from first time director Jordan Peele when well known critic and all around asshole Armond White had something to say about that.
The former credible critic decided to put his incoherent two cents in on the film and drop the well deserved score for 'Get Out' down to 99%. In White's review for the conservative National Review, White labeled 'Get Out' as a "get whitey" film that is "tailored to please the liberal status quo". He went on to criticized Peele and actors Daniel Kaluuya and Lil Rel Howery for portraying their characters with just "attitudes, not complex beings".
I would give this more credit for his opinion but this is the same guy that has called the Transformer films a masterpiece and better than anything Christopher Nolan has ever done.
His last claim to fame, other than knocking down Pixar's 'Toy Story 3' and 'Up',  was making headlines in 2014 when he was kicked out of the New York Film Critics and was allegedly heckling '12 Years A Slave' director Steve McQueen.
White's criticism has already reached one of the cast members. Lakeith Stanfield who plays Andrew Logan King in the film came out on twitter and literally called White a bitch. So, I think Standfield wasn't looking for any subtly in his comments.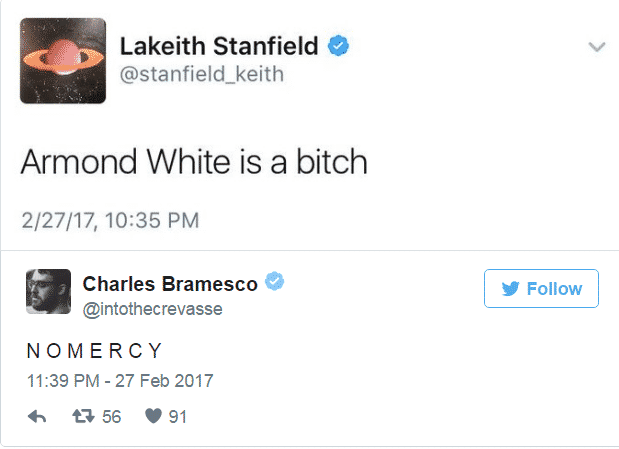 Check out the films that Armond White holds in high regards and you be the judge.
Yeah. Nothing else really to discuss – is there? Be sure to tell us your thoughts in the comment section below!