Arnold Schwarzenegger Terminated Troll Who Mocked Special Olympics
Last week I attended a local Comic Con, and whilst there I noticed a comic book fan in a wheelchair, but what really got to me was that he had chosen to come dressed as The Flash, from the CW show of the same name. It was the pure fact that this guy didn't let his disability get in the way of who we wanted to come as. So it makes me more angry to see someone, just this week, make derogatory comments towards the disabled community.
Luckily, Predator actor Arnold Schwarzenegger was on hand to set the guy straight.
The incident happened at the back end of last week on the actors official Facebook page. The actor had posted a video of himself meeting several of the Athletes participating in the Special Olympics World Games in his home country of Austria. It was in the comment section of this post that an incredibly inappropriate and downright offensive message was posted by some disgusting individual.
The exchange has since been removed, by a fellow user managed to grab a screenshot which you can check out below.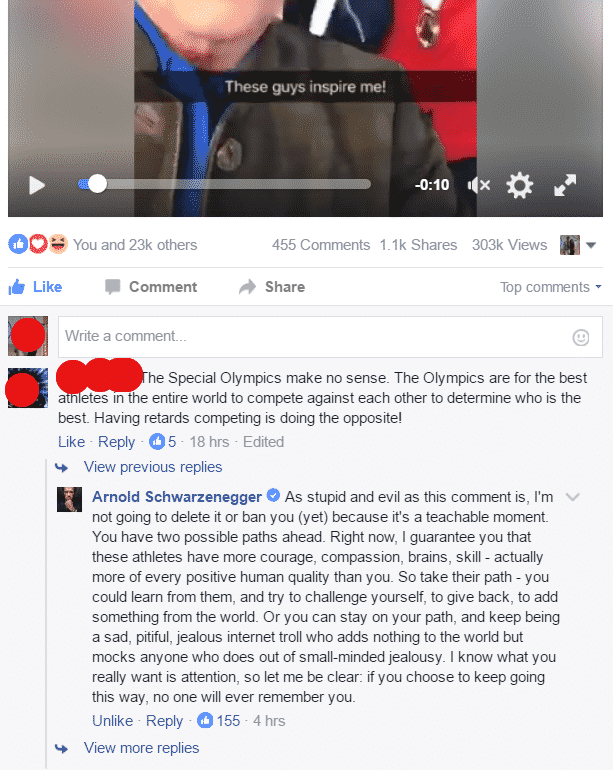 It wasn't long before The Terminator star responded to the scumbag, explaining why the Athletes in the video are far stronger and more inspirational than this 'Troll' could ever hope to be, something almost all of Schwarzenegger's other followers agreed with.
It's upsetting that in this day and age, people still have the same mentality that people did almost a century ago. You just need to watch the Special Olympics to see just how inspirational these individuals are.
Here's hoping this type of harmful abuse soon becomes a thing of the past.
What do you think? Let us know in the comment section below.
Source: Arnold Schwarzenegger's Official Facebook