Editorials
Do WALKING DEAD Fans Not Appreciate Good Storytelling – Or Are They Faking It?
AMC's The Walking Dead is going strong – though its had a drop in viewership according to many sources. BGR reported a season three popularity equivalent and there was a surge in viewers that reached 20.8 million during the season seven premiere where Negan made his debut, according to Coming Soon.
The Walking Dead Bandwagon
The psychology about all this is interesting, because I can tie this surge in popularity of the season seven premiere to that of those who only watch football when the Superbowl is on, most of which who just stick around for the funny commercials and movie trailers.
I even had a friend that's actually a horror fan, but thought TWD sucked. However, he admittedly decided to watch The Walking Dead season 6 finale and season 7 to see what the hubbub was about.
So the show has the ability to hook viewers either way. Just jumping on the bandwagon to see what the hype is all about.
As of now the viewership is still very strong. There was an interesting turn of events during Eugene's lengthy encounter with Negan, the Saviors, and the Sanctuary. The hit show still dominates on AMC compared to others according to TV By The Numbers.
I won't give the numbers, but the point here is to demonstrate the difference between someone who appreciates good story telling vs. those that want instant gratification. Many have complained about the lulls during entire episodes focusing in on characters and not going back to what's going on in the rest of the post-apocalyptic world.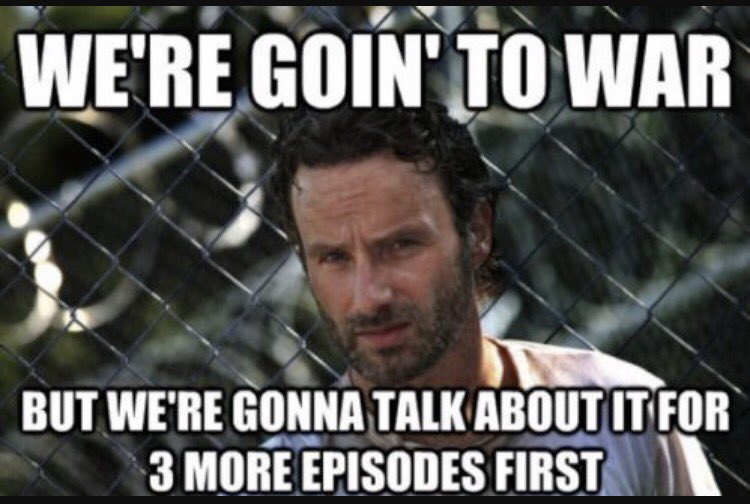 A True Fan Relishes In Lengthy Nuances
It seems we have categories of viewership here. You have your true fans, typically that had followed the comics and there are those that are just familiar with the TV series. Of course, you do have dedicated fans that are critical of things no matter what, but that's a different conversation altogether.
I'm talking about those who look for or have a keen eye for the nuances within the storytelling. A true fan relishes in The Walking Dead lore and usually prefers the slow build to the finale, be it mid-season or the actual season end finale.
Some fans grow impatient, citing that the show is dragging things along with soap opera-like arrangements and personal struggles. Memes about the show's criticisms reflect this.
The series can be made comparable to a Lord of the Rings movie or the Marvel Cinematic Universe which builds to a climatic event and then a change for the completely different. If the MCU has their "phases", why can't The Walking Dead have the same, but in its own way?
The reality of an appreciative fan of the franchise is rather proven by Robert Kirkman saying how currently close the show is to the source material and showrunner Scott Gimple has stayed true to it. Kirkman was at the Emerald City Comic Con and made good on this clarification, according to Comic Book Resoruces.
"Frank Darabont, the first showrunner, and Glen Mazzara, the second showrunner, delightful people, did not follow the comic book as closely as Scott Gimple follows the comic book, because they were not avid comic book fans and readers the way that Scott Gimple is. Scott Gimple started reading the comic book before the show ever existed."
That said, Gimple is a true dedicated fan and this goes to show how closely the series runs to the comic.
Some people who are readers may not be as averse to TV watchers as the latter seems to grow impatient and cannot give it time to soak it in and relish the content via the eyeballs. Would it seem that readers are at an advantage when it comes to appreciating a medium due to the theater of the mind?
Does TV take away that element when there are some fans that don't read the comics?
Who Is A True Walking Dead Fan?
Of course, who am I to say who is a "true fan", right? There's also the lot that's out there that tend to see things from a different angle. TV shows are taken off the air when they flop, but yet there's always some cult fan following that gets extremely disappointed when it was their favorite show.
Browncoats still yearn for another season of Firefly. Judge Dredd fans still desire another story and Karl Urban, who starred in the recent release of said movie, is desiring its return.
The only caveat with The Walking Dead is that even though viewership had gone down, it's still enough to sustain its longevity. AMC is seeing to it that it continues forward. The New York Daily News reported from the PaleyFest that Robert Kirkman sees his show rivaling the longevity of The Simpsons.
"We are trying to do twenty years. The ("Walking Dead") comic has certainly done it, and I look forward to every issue. The Simpsons' has been on 26, 27 years, so that's a challenge — so OK, challenge accepted. Done."
The Show's Predictability Is Appealing
Naysayers continue to say it's unrealistic or predictable. On the latter choice, does "unpredictable" mean it's a bad thing? I mean, when I would watch Walking Dead fan reactions, I'd hear them say something just before the scene and BOOM, it would happen. From the looks on their faces, they loved what they saw regardless of whatever was predictable.
Maybe it was because they wanted it to happen so badly?
Skybound put out a reaction compilation of those watching the series 7 finale. One reactor, Katie O'Shaughnessy, said, "Don't you say 'I am Negan!'" to the TV in response to Rick Grime's question to Eugene in regards to Negan's whereabouts.
"I am Negan", Eugene so solemnly says.
Katie is quickly silenced by her own forethought.
Is it in the nature of some viewers to play the hype down purposely? This reminded me of the scene in Back to the Future II where Marty McFly encountered a Jaws 3D sequel movie tease in front of the theaters in the future downtown Hill Valley.
"Shark STILL looks fake."
His reaction would say otherwise and chances are viewers are probably masking their enthusiasm for the show under the guise of, "Meh".
Not unlike when people who are looking to find romantic partners who try to pretend they're not interested to get the object of their desire interested in them.
Pretending NOT to enjoy something is a thing now apparently.
Fan And Celebrity Theories Fuel TWD Engine
Michael Rooker has demonstrated just that when he was at a Walker Stalker convention last year and had his own personal theory on how The Walking Dead show would end. He basically thought that Carl Grimes will be the sole survivor of the original group, according to Screen Crush.
Andrew Lincoln gave his own take at the PaleyFest, surmising how Rick would meet his demise…or not. He talks about an idea where The Walking Dead would go and surmised on his character possibly being the cure to the virus as Walkers avoid him, according to Vanity Fair.
Not unlike in World War Z where a wave sprinting zombies split around someone and don't attack a young boy.
There had been even fan art out there depicting a much older Carl with an exposed eye and relic weapons of a generations past.
Could the Walking Dead be a story about his dad told by Carl Grimes #WD4LIFE #carlgrimes #WalkingDead #amcwalkingdead #thedead pic.twitter.com/XyfeHdiskJ

— Knighthawk®™ (@77knighthawk) April 5, 2017
The latter of which has created an online buzz, according to Bloody Disgusting.
Noticing The Details And World Building
Anyone who can come up with an intricate theory in The Walking Dead storytelling process has to be a true fan that looks and sees what is really going on in a world quite lush with potential and imaginative content.
The season 6 to season 7 transition is a "reboot" if you think about it and not unlike X-Men: Days of Future Past which rebooted the franchise to X-Men: Apocalypse. But with The Walking Dead there is more than that, there's also world and community building.
Jesus even said this to Rick when he revealed to him there's a bigger world out there and that set the precedence for things to come and was one of the turning points of where the show was headed.
Maybe fans aren't thinking beyond their nose and already thought the show "jumped the shark"?
This could have been a moment that was likely the opposite of jumping the shark to me and was more of an "ah ha" moment knowing that the series was headed to bigger and better things.
Of course, that depends on who you ask.
Perhaps this epiphany of sorts is where it separates those who delve deep into the storytelling from those who just don't get it. World building is a thing believe it or not in a lot of franchises out there.
A true fan or a fan of good storytelling should have seen this, but it appears others have not. They kept referring to lengthy, boring episodes that extend to these finales and with a good population of the viewing community likely taken up by the instant gratification bug.
If they could only see it for where it's actually headed and put themselves into the visionaries of Robert Kirkman's mind. There's plenty of source content to be had since the comics are still running.
I mean, if the Simpsons can last 20+ seasons, why not The Walking Dead?
According to Kirkman, he feels it could have a finite time limit and even mentioned it could go as far as 12 seasons, according to ComicBook.com at the end of last year.
That being said, it looks like Kirkman and crew are confident in their planning process and may be already satisfied with where it's going.
What do you think? Upon reading the aforementioned can you be coerced into seeing it from a perspective of in-depth storytelling?Do you think watching television is a crutch to the theater of the mind that reading offers?