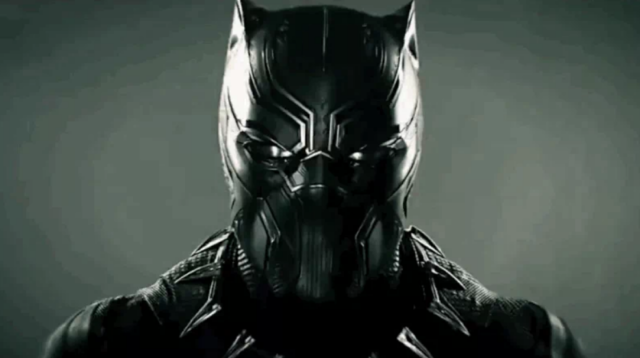 When we first met T'Challa in Marvel's Civil War, he protected his country as the Black Panther, a role passed on from generation to generation in Wakandan culture. Following his father's death during the ratification of the Sokovia Accords, T'Challa has risen to the throne as King of Wakanda. Now in his solo movie, aptly titled Black Panther, T'Challa must balance leading his country and his duty as the Black Panther but heavy is the head that wears the crown.
Marvel Studios recently held an event detailing the forthcoming film, showing off a behind-the-scenes featurette as well as unfinished footage. Nerdist detailed the scenes screened at the event, including a tense action scene in a casino as well as a few action scenes featuring Nakia (Lupita Nyong'o), a member of Panther's all female bodyguards.
"Nyong'o plays Nakia, a fierce warrior and member of the Dora Milaje, Black Panther's elite retinue of female bodyguards. Clad in a drab olive cloak, Nakia sneaks up on unsuspecting soldiers wielding assault rifles and beats them to a pulp quickly and quietly while their compatriots shoot at the darkness."
In a scene set at Warrior Falls, T'Challa is seen decked out in royal garb as he approaches site of his coronation as the new King of Wakanda.
"…his best look in the trailer was in his ceremonial garb as he approached Warrior Falls for his coronation as King of Wakanda. Bare-chested, T'Challa had panther-like markings on his pectoral muscles, shoulders, and back as he slowly approached a woman wearing pristine white robes. The woman was flanked by tiers of other Wakandan officials and VIPs imperiously staring down at T'Challa as he performed a brief ritual and bowed before the woman."
The final scene shown in the reel featuredstake-out turned shoot-out as Panther and his Dora Milaje spy on Ulysses Klaw (Anthony Serkis) and Everett Ross (Martin Freeman) before things turn ugly.
"'You've brought quite the entourage,' Ross remarks to Klaw. 'You got a mixtape coming out?' Clearly these remarks don't wind up going over super well with the smuggler because the next scene is a full-on firefight in the casino with T'Challa taking cover behind an overturned table."
This movie seems to be just the tip of the iceberg for Black Panther as Marvel Studios head honcho declared that "going forward, Black Panther will be a big part of the cinematic universe."
Black Panther, directed by Ryan Coogler of Creed and Fruitvale Station fame, will debut February 16, 2018.
Source: Nerdist
What do you think of this? Be sure to tell us your thoughts in the comment section below!