Arnold Schwarzenegger has played a variety of characters over the last several decades, but none will be as memorable as the characters he played in the 1980s.
The most famous of which is, arguably, the Terminator from the film of the same name. When the movie made its debut in 1984, Arnold helped captivate and shock audiences worldwide with his performance. He didn't only look the part, but he acted so superbly at it. He truly was the cold blooded killer known as the Terminator, and his part in the sequel from 1991 only made him even more iconic.
But there was one film in between those two with Schwarzenegger that could give The Terminator a run for its money, and that was Predator. Released in 1987, Predator was a massive hit which made the titular alien an icon for decades to come. It even led to a comic crossover between the classic Alien franchise, which unfortunately led to a less-than-stellar movie adaptation. But hey, the idea of these two alien icons coming together is pretty sweet, isn't it?
The idea also played a part in an arcade game titled Aliens vs Predator. What's interesting, however, is an easter egg in the game that potentially connects the crossover franchise with the Terminator series. It also answers a question regarding the Predator series. And truthfully, it's a fun theory that even I used to ponder as a young kid when I first saw these movies.
Arnold's character in Predator, Alan "Dutch" Schaefer, may have survived the film but seemingly disappeared from the franchise after that. There were a few callbacks which mentioned Dutch being treated for radiation or going missing, but beyond that, the character's subsequent status is unknown. Aside from the Aliens vs Predator arcade game.
In the game, there's eventually a certain cyborg character introduced with the name "Major Dutch Schaefer". The picture for the character certainly resembles Schwarzenegger, and the backstory adds up with Predator. It implies that Dutch could have been chosen as a cyborg candidate by the government after defeating the antagonist in Predator.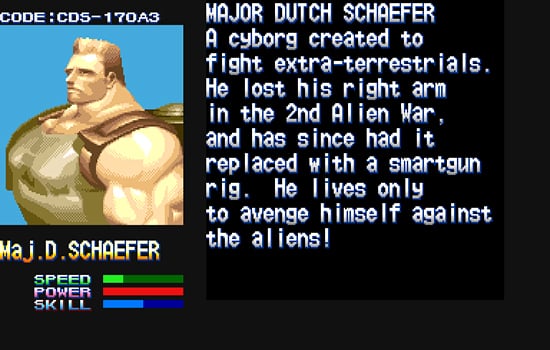 The Terminator connection, meanwhile, comes in from Dutch's serial number in the corner. "CDS-170A3". The CDS stands for "Cyberdyne Systems". It even matches up with the serial number given to Ash in Aliens. "Hyperdyne Systems 120-A/2", which when put into the arcade game format, says "HDS-120A2". It all adds up.
And so now it could very easily make sense that Dutch was turned into a cyborg, and later became the basis for the "Model 101" T-800. Thus, all three franchises can be connected, and it can be said that Dutch lives on as an endless array of time-traveling cyborgs.
Source: Cracked
What do you think, could these three franchises all coexist? Let us know in the comments section below!