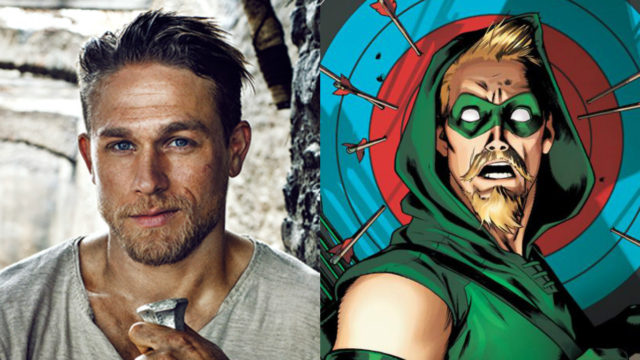 After a bit of time and some appeal from audiences regarding Oliver Queen, it seems fan-favorite choice Charlie Hunnam is willing to change his tune on playing a comic book character.
During an interview talking to Omeleteve about King Arthur: Legend of the Sword and his television work, the Sons of Anarchy actor was opened up further on being the fan choice for Green Arrow and asked a bit more insight on the reasoning:
Omeleteve: We were saying…talking to our readers about this one. "He has to play this one! He has to play this one!"

Hunnam: You know, I'm not a comic book fan, so I don't really know the Green Arrow, so why is that? Do I look like him?

Omeleteve: Yeah, a lot, a lot. Not just that, but your way of acting and all your roles, I mean people are going crazy about that.

Hunnam: But have they made a Green Arrow film?

Omeleteve: They had a TV series called Arrow, it was a different take on the character.

Hunnam: Okay.

Omeleteve: But the original character is a lot like you and he's blonde and, you know he has a beard…

Hunnam: Well then, c'mon DC, what's up?! Gimme a call, I'm here!
With that last line being aimed toward the camera, it seems he has officially made the call out himself and is willing to hear what's in store. You can check out the full interview below, specifically at 16:01:
You can see Hunnam in his latest film, King Arthur: Legend of the Sword, out in theaters now.
Source: Omeleteve
Who is your ideal Green Arrow? Let us know in the comments below!