The controversy surrounding the growth of streaming juggernaut Netflix in filmmaking has only grown over the past few months. Most notably causing a stir at this year's Cannes Film Festival among purists, many continue to be against the straight-to-Netflix release for many seemingly theatrical films, while others are in a strong support for the new means of distribution.
While this is all coinciding, Netflix has released one of their biggest projects yet in War Machine. Based on Michael Hasting's  The Operator: The Wild and Terrifying Inside Story of America's War in Afghanistan, the film follows General Glen McMahon's hectic tenure as the leader of the US Army in 2009.
Part satire of America's anemic war on the Middle East, part character study of a ra ra man fighting an uphill battle, War Machine is ambitious, but to a fault. Even with some well-done moments, the movie is mostly a muddled mess.
Similar to last year's Oscar miss Billy Lynn's Long Halftime Walk, there is a level of fascination about the film even as stumbles. War Machine feels like a film inspired by the Cohen Brothers idiosyncratic style, as it tries to attempt many different tones and genres in one cohesive experience. Some of these attempts work, although the experience is never a cohesive one.
Center stage is Brad Pitt as McMahon, and while its not among one of his best performances, Pitt never fails to be entertaining. His dedication to the role helps breathe the film a lot of life, with his unique mannerisms and general effort giving the film some comedy. War Machine is at its best though when its about who McMahon is, with the final third having some surprisingly effective character moments.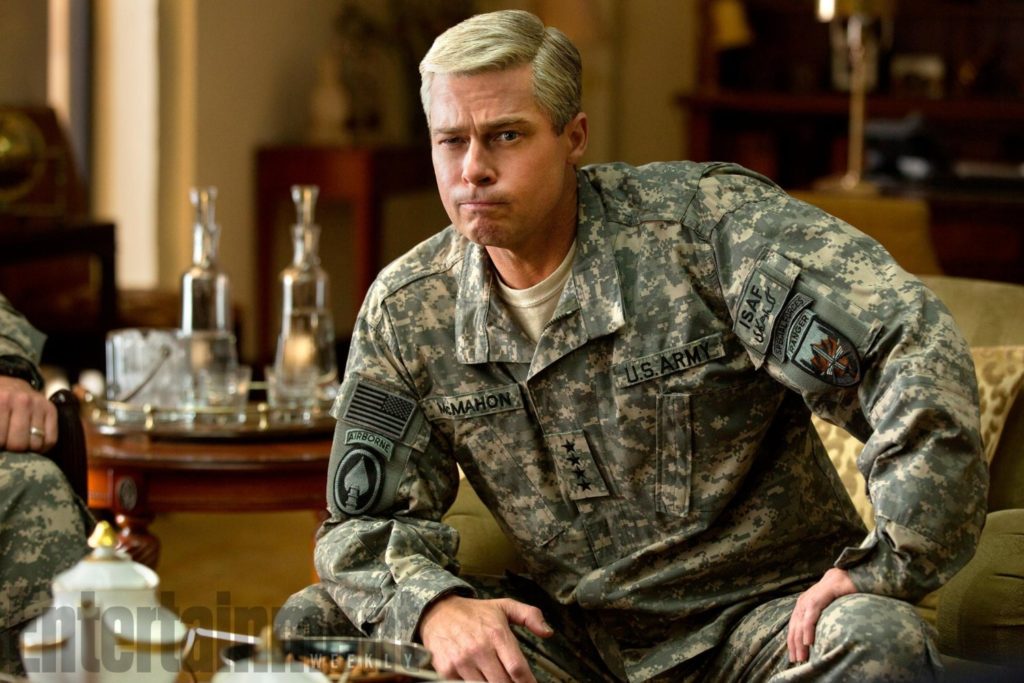 War Machine isn't without its fair share of highlight moments. There are a few successful comedic moments in the first half, touching on how out of touch the American war effort is. A surprising action set piece near the tail-end of the film is also effective, as its both technically impressive and adds weight to the problem.
However, this film seems far to scattershot to ever truly work. There are such drastic tone changes from scene to scene, from satire to outright broad comedy to later on a more dramatic approach. It all feels like a mess, with skilled writer and director David Michod (The Rover) seemingly having its ambitions out of his grasp. It takes a certain level of deftness for this tonal balance to work, something Michod sadly mishandles here.
What becomes even more frustrating is just how on the nose the film is. The first half of the film is drowned out with narration from Scott McNairy's journalist character, with all of it essentially spelling out how the audience should feel and think. It all feels unnecessary, and what could've been a thoughtful take on an overlong war ends up feeling cheapened.
War Machine isn't without its moments, but is a mostly misguided effort that fails to walk the complicated tonal balance it looks to achieve. I still credit all involved however, as their effort and good intentions are noticeable.
Grade: C+