Reviews
Review: Captain Underpants: The First Epic Movie
Even though the genre continues to be one of the most popular in film today, most animated films these day feel uninspired. Aside from a few notable exceptions, a lot of animated films are appealing to their family audience in the laziest possible way. The fact there is an Emoji Movie coming out is a prime example of the creative rut the genre is in.
One of the lone animated films that I've been looking forward to is Captain Underpants: The First Epic Movie. Based on the popular book series, the film follows two pranksters George and Harold, who keep their classmates afloat through their larger than life gags. When their principle threatens to put them in separate classes, the two hypnotize him to believe he is Captain Underpants, a dimwitted superhero the duo created.
As someone who grew up with the fun potty-humor based books, I was cautiously optimistic to see how the brand would be adapted to the big screen. Thanks to a talented team that honor the source material's silly roots, Captain Underpants: The First Epic Movie is an entertaining flick for kids and adults alike.
Despite having a significantly watered-down budget compared to most animated films (cost only 38 million to make), this is one of the most visually vibrant animated films. Director David Storen utilizes the versatile mediums the novels have used to tell their tale, including flip-o-ramma and sock puppets. All of these inventive touches are incorporated naturally into the story, while also creating some big laughs.
What makes this work above most other family adaptations is its dedication to the source material. Scribe Nicholas Stoller (whose done a mix of family films and raunchy comedies), does a great job of understanding what made the novels work, which is the colorfully silly gags. It's great to see an animated film that succeeds through jokes that will make both kids and adults laugh alike. To be honest, this film is probably funnier than most comedies that have come out this year, throwing so many gags at the screen that get a big reaction.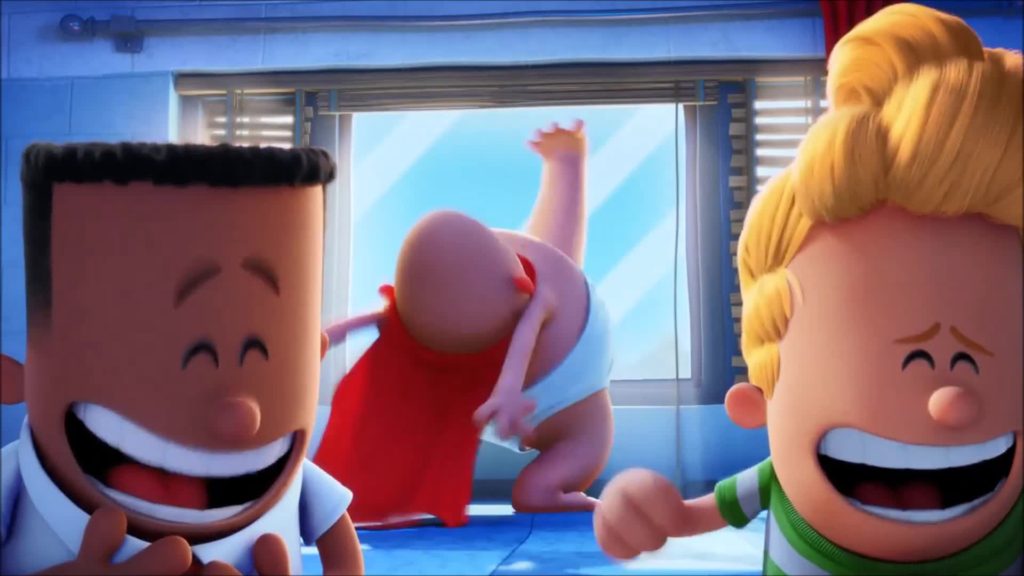 Bringing these characters to life is the impressive voice acting. Ed Helms is great as Captain Underpants, embracing the character's shameless heroic persona to full comedic effect. Thomas Middleditch and Kevin Hart disappear into their roles as Harold and George, putting their personas aside to deliver performances that capture the wonder and excitement the two kids have. Nick Kroll as always makes for a wonderful villain, owning the silliness of playing Professor Poopypants. It's great to see a celebrity voice cast who is involved not just because of their status to sell the movie.
Captain Underpants is hindered by a few noticeable issues. Even at a slight 89 minute running time, the film does run out of steam at points. When the film is working on all cylinders, its due to its great comedic energy, throwing dozens of gags at the screen a minute. When that energy dies down, the film takes a noticeable drop in entertainment.
While I admire the film's fast-paced approach, it does lack the substance to be one of the more memorable animated films. There is a vague idea about how George and Harold's antics play a vital role in bringing joy to their classmates, but it never really has an impact.
Captain Underpants: The First Epic Movie is a widely energetic and entertaining ride that does justice to its source material. It delivers an experience that both kids and adults can enjoy for the same reasons, which is rare in animation today.
Grade: B