What's shiny, forty-nine, and dotted all over? Josh Brolin's Instagram picture showcases dots all over his face for use in the motion-capture process for more life-like movement in CGI heavy animation. The caption simply reads "Dot day" with hashtag Thanos. The picture is from the Avengers: Infinity Wars set.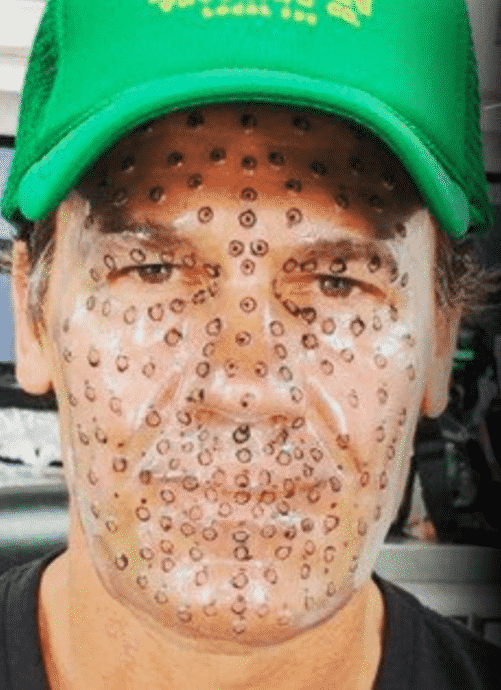 Thanos was revealed in Marvel's Guardians of the Galaxy Vol. 1 as his daughters, Nebula and Gamora, fought with each other over family matters on a huge scale. Director James Gunn has previously stated that he didn't think Thanos needed a larger role in the plot because his daughters' feud was important and didn't want it to be overshadowed by the character. He left a lasting impression in the film in spite of his scarce amount of time on screen. It set him up so that he could play a bigger part in Avengers: Infinity War.
In GOTG Vol. 1, Thanos was searching for the six Infinity Stones. He didn't have them all yet, but when their collection is complete, they make up the Infinity Gauntlet and grant their owner unstoppable power. Each stone has a name – Reality Stone, Mind Stone, Soul Stone, Time Stone, Space Stone, and Power Stone. In the Marvel Universe, there is nothing with as much power as the Infinity Gauntlet so keeping the stones separate from each other is paramount.
Since Iron Man released in 2008, Marvel has been building their different characters' films and plots to this point. That's quite an amazing feat for such a long amount of time and with so much happening in the MCU. We can't know for sure, without being told, what their next steps will be, but there will always be rumors and strong speculation due to the size and scope of the MCU.
With filming already underway, we'll find out more about Avengers: Infinity War and what Thanos's part will be sooner rather than later.