There are a plethora of great music biopics, but very few that are centered around rap. Considering the controversy the genre has created throughout its existence, its disappointing that audiences haven't gotten to see revealing portraits of key rap artists. Before recently, movies like Notorious and Get Rich Or Die Tryin' have been middling exploits of the genre on the big screen.
Changing the tide however was Straight Outta Compton, with the N.W.A. biopic finally giving audiences a satisfying biopic that also turned a huge profit at the box office. Riding off that film's success is All Eyez On Me, which follows the life of rap's most prominent figure Tupac Shakeur.
Considering Tupac's stature as a larger-than-life figure whose work transcended typical rap music, there was a lot of pressure for this film to work. All Eyez On Me however is a disappointing misfire, one that tells a cookie-cutter narrative with dysfunctional execution.
Holding their own throughout is the cast, who despite their lack of name recognition are able to make positive impressions. Demetrius Shipp Jr. resembles Tupac to a scary level, and he is able to carry this film on his shoulders throughout. Dana Guria and Kat Graham are also quite good in the movie, with both actresses have great chemistry with Shipp during their screen time with him.
Perhaps the lone shinning moments in this film is the concert sequences. Director Benny Boom is known for his work with music videos, and he is able to translate that ability nicely to the big screen. Each of the concerts here feels like an event, with the pulsing sounds and well-staged movements getting the audience excited.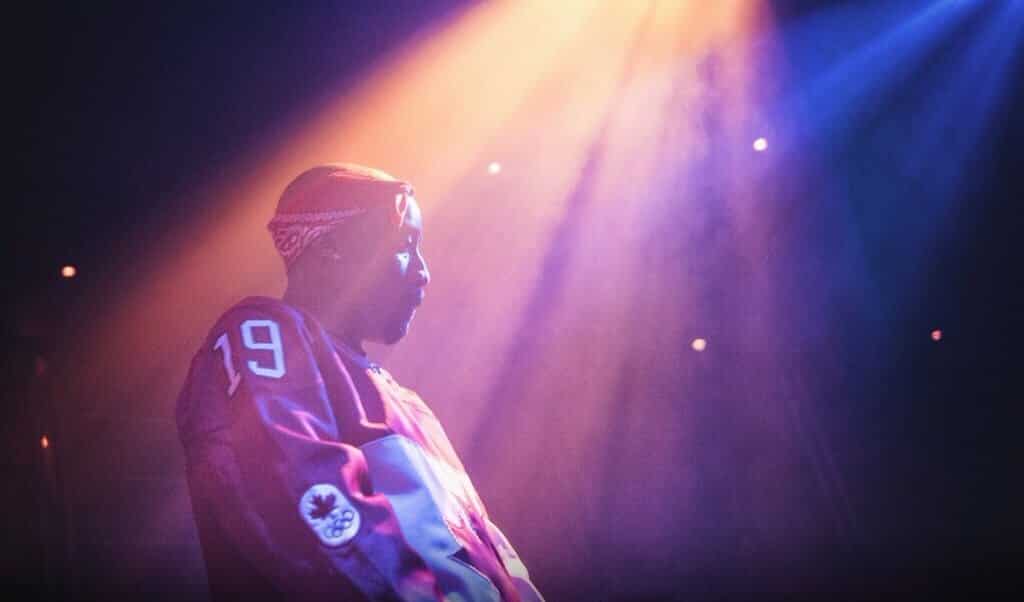 Aside from those sequences, Boom struggles as a director. All Eyez On Me has the look and feel of a made for TV movie, with rudimentary shots and generally unconvincing sets giving off a cheap vibe. Boom is never able to escape the common cliches of biopic filmmaking, with shockingly routine execution despite its bold subject matter. This movie needed a director who could've matched Tupac's bold energy with style and ingenuity.
Usually in reviews I don't discuss the editing, but Joel Cox's effort stands out for all the wrong reasons. The film is put together in a very discombobulated nature, wandering from scene to scene without much clear direction. Between weird transitions to other scenes to bizarre shots that serve no purpose, the editing is a noticeable distraction from start to finish.
Collaborated on by a trio of scribes (Steven Bagatourian, Jeremy Haft, Eddie Gonzales), the screenplay is a complete mess. Unlike a lot of successful biopics like Jackie and Steve Jobs that capture a moment in an important figure's life, this film tries to tackle Tupac's whole story. Everything feels like its moving in fast forward, with the film never taking a second to breathe with these characters. Every character, including Tupac, is ultimately illusive, as the movie fails to even show us the inspiration and creation of Tupac's music.
Its shocking to see a movie about such a bold figure like Tupac feel so dull. With a 140 minute running time, this film is a slog to get through, and never is able to justify its length. Instead of giving audiences a movie that has an actual perspective, All Eyez On Me is instead basic hero-worship, covering up a lot of his faults to make him more appealing. Its never actually interested in becoming something more than the most simplistic of biopics.
All Eyez on Me is a major disservice to Tupac, giving audiences a bland and surface-level look at a larger-than-life figure.
Grade: D+