While comedy can be one of the more hit-or-miss genres in film, this year in particular has been full of misses. After sitting through excruciating laugh-free affairs like Fist Fight, CHiPS, and Snatched, I've begun to lose interest in seeing mainstream comedies in theaters.
Looking to right the ship is the latest raunchy comedy Rough Night. The film follows a group of college friends who come back together for a bachelorette party. Things go from bad to worse however when they injure a male stripper in their home.
Rough Night is being compared to several other raunchy comedies, most notably The Hangover. While the film does dip into some familiar territory, its a brazenly funny ride.
In a genre dominated by male filmmakers, its great to see Broad City helmer Lucia Aniello directing this film. Fans of that series will be happy to know she delivers her comedic touch to this film in spades. Aniello in particular does a strong job subverting audiences expectations when it comes to certain cliches in the genre, with some funny touches along the way keeping audiences on their toes.
The heart and soul of this film is its ensemble cast. Scarlett Johansson, Jillian Bell, Zoe Kazan, and Ilana Glazer all have such good chemistry together and their bond feels very genuine. Even through forced scenes of sentimentality, I still liked and cared about the group. Stealing every scene she's in is Kate McKinnon, who hilariously dedicates herself to playing an Australian friend of the bride-to-be. I get how her offbeat energy could annoy people, but for me McKinnon continues to prove herself as a comedic standout in every movie she's in.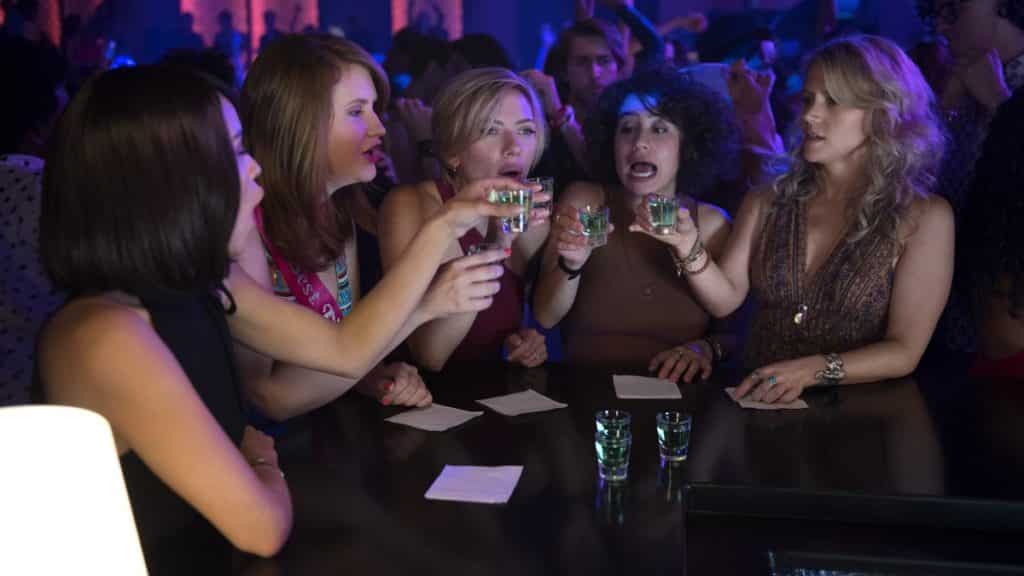 The script, collaborated on by Paul W. Downs and Aniello, does a good job providing the laughs. I appreciate how none of the characters here ever felt like cliches, having enough layers to subvert them from the typical characters we see in comedies. For the most part, the script deserves credit for keeping the audience interested to see where it goes next.
Where that disappoints however is in the middling final third of the film. After wondering where this film would go, I was disappointed that it seemingly settled with a very safe and predictable ending. Not only is the ending predictable, but it has a lot of the schmaltz cliches that have plagued the genre over the past few years. Considering how bold a lot of the film felt, this was a letdown, as I'm sure the film could have ended in a more interesting way.
Laugh-wise, the jokes here don't always fall consistently. There are stretches, especially towards the end of the film, where the film gets too caught-up in its premise that it forgets to tell many jokes. The second half is not nearly as strong as the first because of this.
Rough Night is certainly uneven, but its likable cast and big laughs more than make up from that. In a year full of weak comedies, it was nice to just be able to laugh again in the theater.
Grade: B-