Film & Television
Major Unexpected Marvel Characters Confirmed For Spider-Man: Homecoming
In the past, Marvel have managed to keep some big secrets in their films, including some notable additions to their cast. Often times, these secrets can be revealed through the information given out to the press. This was the case with Linda Cardellini's Laura Barton in Avengers: Age of Ultron and now it looks as though it may also be the case for Spider-Man: Homecoming, with it's release today revealing plenty of interesting tidbits.
Obvious SPOILERS ahead, as far as appearances go.
The official cast list was issued by Sony today to various outlets and as you can see from the image below, it puts a few names to faces as well as confirming a few long speculated rumors.
You can check out the list below: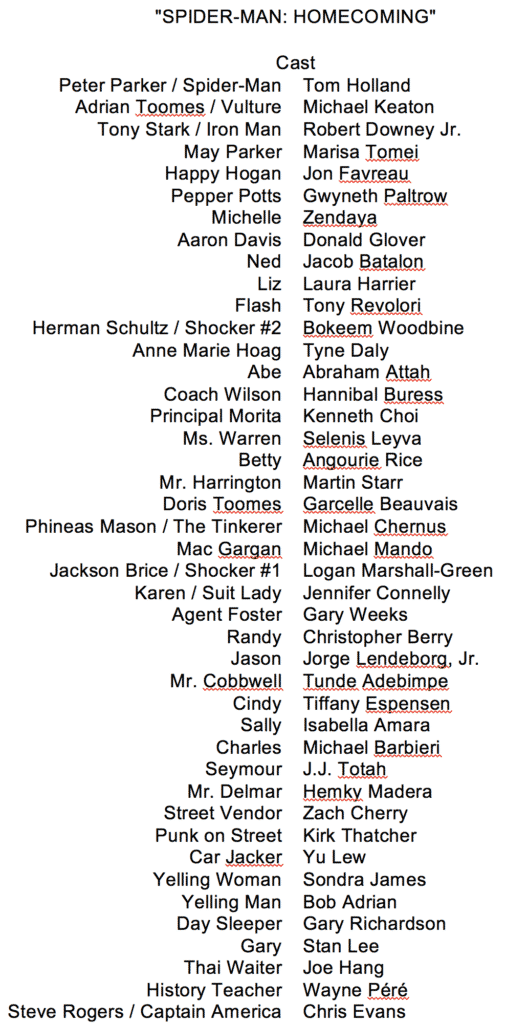 The most notable of these rumors is the inclusion of Gwyneth Paltrow as Pepper Potts, last seen in Iron Man 3. It was revealed in Captain America: Civil War that her and Tony Stark were taking some time apart. It seems like they may actually getting back together, or if not – we can expect some awkward scenes between the characters.
Another piece of speculation that has seemingly been confirmed is that Donald Glover is in fact portraying Aaron Davis, better known as The Prowler.
It also confirms that The Nice Guys actress, Angourie Rice, whose look on set looks a lot like Gwen Stacy is in fact playing Betty, who is assumed by many to be Betty Brant.
The list also confirms that Bokeem Woodbine and Logan Marshall-Greene are in fact both portraying Shocker, with Woodbine playing Herman Schultz/ Shocker #2 whilst Marshall-Greene is playing the Jackson Brice iteration, known in this as Shocker #1. But if you think that the end of the villains, you have another thing coming as the list has revealed that Better Call Saul actor, Michael Mando is playing Mac Gargan better known to comic book fans as The Scorpion.
We also get confirmation that Stan Lee will have his trademark cameo, this time as the classic character, Gary. Perhaps the most interesting part of the entire list? The inclusion of Betty Ross!
2003 Betty Ross that is.
Actress Jennifer Connelly as 'Karen/Suit Lady' who is assumed to be the voice of Parker's new Spidey suit. We have heard the voice in trailers in the past, but this is the first time that we know who is behind the voice. What's interesting about this is that Connelly's real life husband, Paul Bettany was the voice of Jarvis, the artificial intelligence inside Stark's Iron Man armor.
Of course, it could be that these names are still red herrings, especially since we still don't know whether Zendaya's Michelle is the characters actual name or just misdirection. We'll find out how accurate this is when the film swings into theaters July 7th.
What do you think? Are there any surprises on this list? Is there anybody you were hoping to see? Let us know below!
Source: CBM