For over a decade, Will Ferrell has been one of the most popular comedic actors in Hollywood. Unlike Adam Sandler though, Ferrell has actually had a run of critically successful films. Anchorman, Step Brothers, and Talledga Nights: The Ballard of Ricky Bobby have become modern comedic staples, with Ferrell's large than life comedic persona bringing the films to life. While he may not be in his comedic prime, I am still a fan of his work and his charismatic energy.
Ferrell is back, this time sharing with Amy Poehler in The House. The film follows a married couple who are burdened with the responsibility of paying for their daughter's college tuition when she loses a scholarship. Desperate for money, they team up with a friend and open an underground casino in order to make the money in time.
Set to under-perform at the box office and not even screening for critics, The House has the look of a major misfire for Ferrell and company. Despite the lack of enthusiasm surrounding the film, I surprisingly enjoyed it, thanks to its high-concept premise and bevy of charismatic comedic actors.
This film really would not be anything without its core stars. Despite never working as a comedic duo before, both Ferrell and Poehler have great chemistry. They are instantly believable as a married couple, sharing a lot of personable moments that help render their characters. Along with third star Jason Mantzoukas, the trio all play off each other so well, making even the weakest of jokes still have some spark. Supporting players Rob Huebel, Nick Kroll, and Lennon Parham all get their chance to shine as well.
Credit to Neighbors' scribes Brendan O'Brien and Andrew Jay Cohen for getting a lot of comedic mileage out of this premise. While the script may suffer in some noticeable areas, it succeeds at generating quite a few clever laughs.  The House is at its best when its at its most relaxed, with a lot of improvised moments having real comedic strength. I also appreciate just how wild this film gets with its comedic set pieces, going in some interesting and funny detours along the way.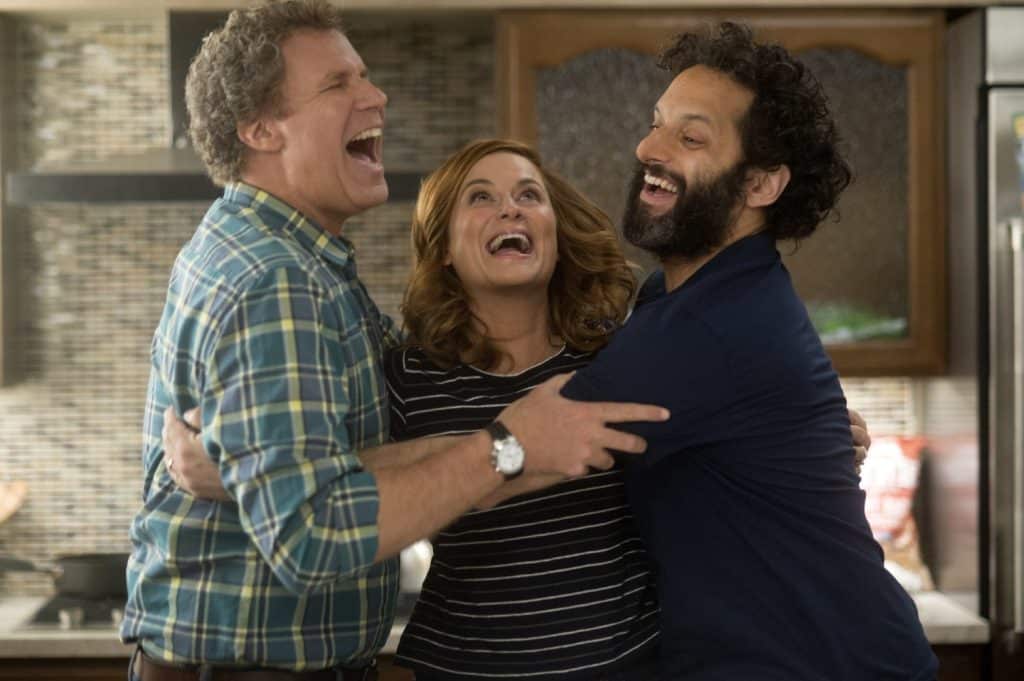 Compared to most other comedies, The House thankfully never takes itself too seriously. While most comedies try to hit the audience over the head with forced sentimentality, this film keeps that to a minimum. The few moments that do show some sentimentality are actually kind of sweet, with Ferrell and Poehler's naturalistic performances adding some authenticity.
This film, even compared to most comedies, is as thinly-written as it gets. Much of The House is drifting from set piece to set piece without much in plot to hold it together. What there is for story is about as formulaic as it gets, sharing similar characteristics to other studio comedies. The film itself feels slight because of this, with none of the characters ever developing as they do in more memorable comedies.
The House's not only is sporadic in structure, but also in laughs. Like a lot of comedies that are constantly throwing gags at the screen, some of them stick while others fall flat on their face. There are certainly moments where the film is trying too hard to make a laugh, with simplistic references and some brainless gags feeling a bit forced.
The House may not be among Ferrell or Poehler's best work, but their dynamic chemistry matched with a solid comedic premise makes for an enjoyable comedy.
Grade: B-