Theater Chain Could Be Prosecuted For 'Women Only' WONDER WOMAN Screenings
Back in May, popular theater chain Alamo Drafthouse had 'Women Only' screenings for Wonder Woman.
Per the theater chain's announcement:
The most iconic superheroine in comic book history finally has her own movie, and what better way to celebrate than with an all-female screening?

Apologies, gentlemen, but we're embracing our girl power and saying "No Guys Allowed" for one special night at the Alamo Ritz. And when we say "Women (and People Who Identify As Women) Only," we mean it. Everyone working at this screening — venue staff, projectionist, and culinary team — will be female.

So lasso your geeky girlfriends together and grab your tickets to this celebration of one of the most enduring and inspiring characters ever created.
This angered some – who went to Alamo's Facebook, in which they responded: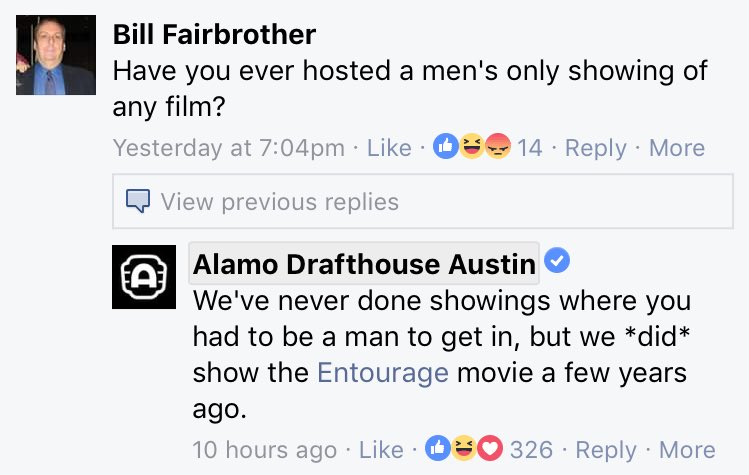 This angered more people, to which the theater chain contacted us directly with this statement:
"Obviously, Alamo Drafthouse recognizes 'Wonder Woman' is a film for all audiences, but our special women-only screenings may have created confusion – we want everybody to see this film."
Well, it didn't end there.
Stephen Miller, a writer for Heat Street, bought a ticket for the showing:
I have some personal news I'd like to share pic.twitter.com/v9HrOSObBX

— Stephen Miller (@redsteeze) May 26, 2017
(That's my ticket receipt on the right)

— Stephen Miller (@redsteeze) May 26, 2017
This, obviously, set the internet off:
You are such a gargantuan cock. What really is he matter with you?

— Jordan Hoffman (@jhoffman) May 27, 2017
Cinema: We're hosting a women-only screening of Wonder Woman.

Man: No, I'm not having that.

Everyone: ? https://t.co/OOicNegW55

— Mike P Williams ? (@Mike_P_Williams) May 27, 2017
Imagine getting this triggered over something that doesn't effect your life in any way shape or form.

— TechnicallyRon (@TechnicallyRon) May 27, 2017
How like a man to take something women want to celebrate and pitifully make it about himself. https://t.co/NhubltLrvB

— Beth Elderkin (@BethElderkin) May 27, 2017
I hope this story ends with a lifetime ban from Alamo theaters. https://t.co/JqBMJGvVLG

— BenDavid Grabinski (@bdgrabinski) May 27, 2017
If a dudebro's compulsive show of masculinity is now protest-purchasing tix to women only screening of Wonder Woman, maybe we'll be ok. https://t.co/fCTCmFDG2H

— Shannon Coulter (@shannoncoulter) May 27, 2017
Alamo then issued a clarifying tweet:
Want to clarify these WONDER WOMAN screenings include any of our guests who identify as women as well.

— Alamo Drafthouse NYC (@AlamoNYC) May 25, 2017
It turns out, however, that the theater chain was in violation of anti-discrimination laws, to which Albany law professor Stephen Clark filed a complaint. An anonymous man also filed a complaint.
Per MyStatesman:
Promoting female-only "Wonder Woman" screenings was a violation of Austin's equality laws, the Alamo Drafthouse acknowledged in a letter to the city last month…

The city processed two formal complaints against the theater for the two female-only screenings in June, one from Albany, N.Y., law professor Stephen Clark and the other from an unidentified man, claiming sex discrimination. City equality laws ban a public accommodation such as a movie theater from limiting its service, or indicating through advertising that it will limit it, based on race, sex, sexual orientation or other factors…

City records indicate one of the men with a complaint pending offered to settle in exchange for the theater changing its discrimination policies and publicly apologizing on Facebook. The other complainant asked the Drafthouse to pay him $8,892 — roughly three times the estimated value of tickets and concessions for the women-only screenings.
The chain was eventually forced to respond to said complaints, saying the following:
"Respondent did not realize that advertising a 'women's only' screening was a violation of discrimination laws," they said.
"Respondent has a very strict non-discrimination policy in place, but this policy did NOT include a specific prohibition against advertising."
While speaking to MyStatesman, Clark said:
"I'm a specialist in anti-discrimination law, so I was fairly certain this was not lawful."
Clark, who is openly gay, continued:
"If they were trying to do a gay-only 'Brokeback Mountain,' I would feel the same way."
Clark then took part in another interview with The Washington Post back in June, saying:
"It's the principle of the thing," he said. "I'm a gay man, and I've studied and taught gay rights for years. Our gay bars have long said that you do not exclude people because they're gay or straight or transgender — you just can't do that for any reason."
He also talked about how the theater chain mocked him when he contacted them:
"But when the theater responded to complaints, they were pretty snide about it and willing to mock anyone who had a complaint and that really struck me."
He added:
"There is also the fact that what they were doing is illegal."
Speaking on behalf of the theater chain, Missy Reynolds, director of real estate and development said that it was only a "tongue in cheek moniker" and that they wouldn't have actually denied men who purchased tickets.
Alamo Drafthouse is yet to apologize on Facebook. The company has instead made a counter-offer to update advertising policy to prevent future discrimination, and to allow each complainant to write a letter that would be shared within the company.
And a free Wonder Woman DVD.
If no conclusion is agreed upon, Alamo Drafthouse could be prosecuted by the city.
What do you think of this? Be sure to tell us your thoughts in the comment section below!