After years of receiving hate from comic book fans around for his lackluster takes on Green Lantern and Deadpool (the latter not quite being his fault), Ryan Reynolds has now become one of the most beloved actors by fans. While somewhat device, Deadpool was a picturesque adaptation of the Merc with a Mouth for fans, giving his career a major boost.
Looking to build off that success, Reynolds co-stars with fan favorite Samuel L. Jackson in The Hitman's Bodyguard. The film follows a former top-rated bodyguard must protect an adversarial hitman in order to testify against a criminal world leader.
Trying to energize action cliches with a more humorous approach, trailers for The Hitman's Bodyguard sold me on a potentially solid buddy action flick. Despite the talent on screen, the film fails to ever surpass its bevy of cliches or choppy execution.
Sharing the screen throughout most of the film, its clear that the both Reynolds and Jackson are wonderfully charismatic. Despite playing characters who have some loathsome qualities, both actors shine with their sharp wit and naturalistic chemistry. It's one of those movies where the actors are playing their greatest hits, executing a performance that is synonymous with their personality. For an action movie like this, that is effective, with both stars' larger than life personas taking center stage.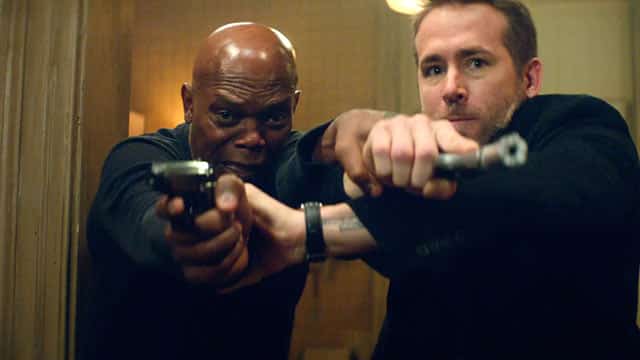 Compared to other action films, The Hitman's Bodyguard is funnier than most. Tom O'Connor's dialogue is often times hit or miss, but when it works its surprisingly effective. Much of the humor derives from the effort of its stars, with both selling their vulgar lines with plenty of spunk. It's also always great to see Samuel Jackson say motherfucker either way.
Sadly though, most of O'Connor's script is uninspired. With only one other writing credit to his name (the direct-to-DVD Fire with Fire), it's a shame to see how the script feels like a script recycled from the 90's. The story is as formulaic as it gets, and the film is at its worst when it takes itself too seriously with melodramatic character moments. These characters are never as interesting as the script believes them to be. It also fails to utilize the talents of both Gary Oldman and Salma Hayek, relegating them to middling roles.
What shocked me most was just how cheaply made the film was. The budget may not be at the level of other actioners (just shy of 30 million), but there have been plenty of action films made for that price that deliver some solid sequences. Director Patrick Hughes crafts action scenes in the most cliche way possibly, with bland camerawork being matched by noisy score. There is no inventiveness or craftsmanship to these sequences, as they mostly feel like forced breaks between story moments.
The Hitman's Bodyguard isn't a painful experience, but at nearly two hours it runs out of steam way before the finish line. The cast certainly is able to make this experience bearable, but they honestly deserve much better.
Grade: C