It's turning into a hell of a year for fans of Marvel's Punisher. Following an impressive debut in Season 2 of Marvel's Daredevil, Jon Bernthal's Marvel Cinematic Universe incarnation of the character is finally due to reappear on our TV screens in his own series in November – but that's not the only new version of the character we're going to be seeing.
At the same time as The Punisher show will be arriving on Netflix, Marvel's new 'Legacy' series will also be landing in comic book stores. This is the latest attempt by the company to reverse their falling sales, and is this time focusing on rebooting their main players and fan favorites, rather than instead trying to raise the profile of new and lesser characters.
The enduring popularity of Frank Castle and his eternal crusade against crime means that he's consistently played a very visible part in all of Marvel's previous relaunches, and 'Legacy' is no exception. What is significant is that the company has made the brave decision this time round to combine Castle with another one of their existing heavy-hitters, as the imprint sees Marvel's most notorious vigilante evolve into their new War Machine (via Newsorama):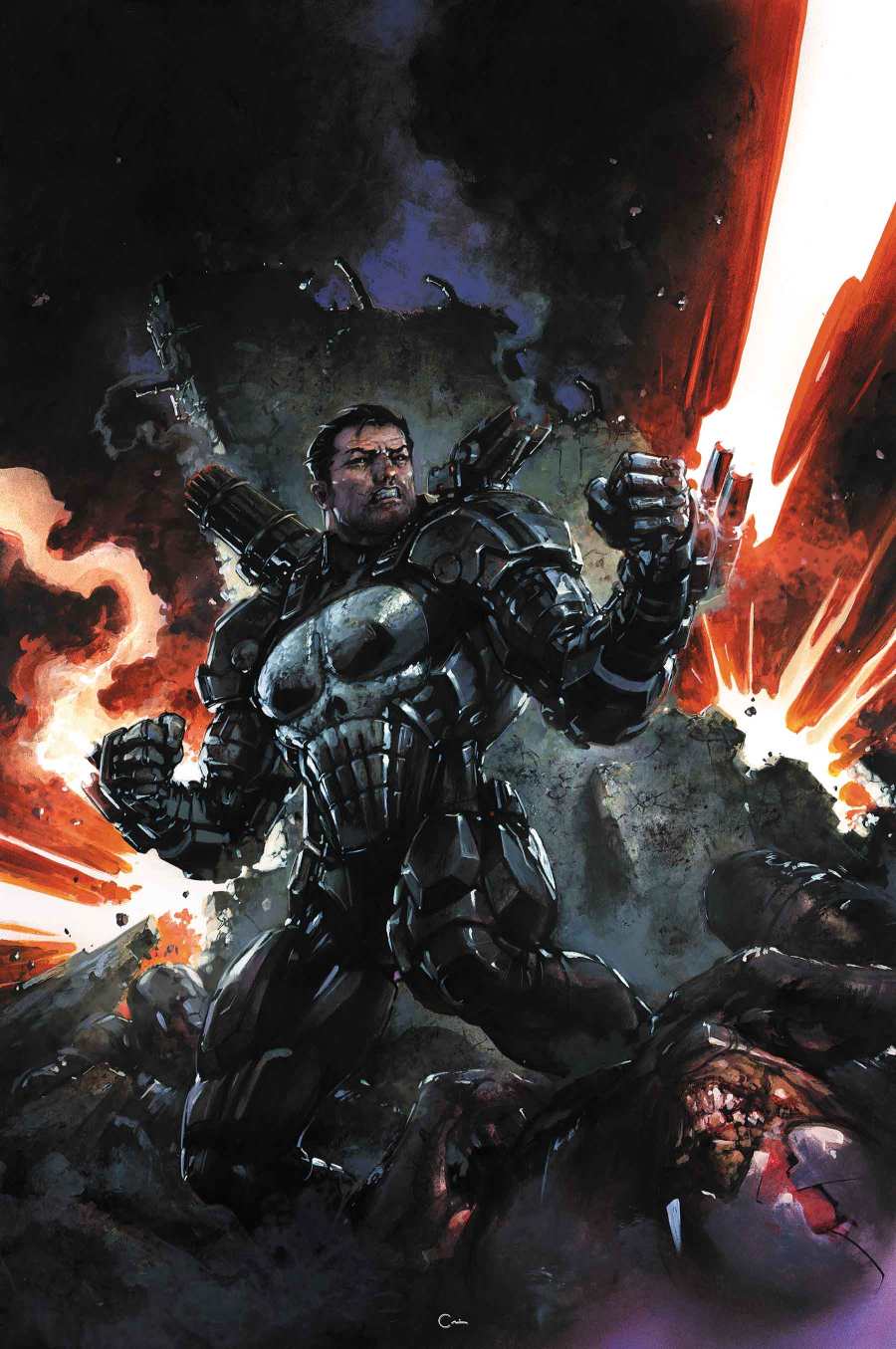 In a somewhat sharp contrast to the upwards career trajectory that Castle is currently enjoying, things have never been worse for the character of James Rhodes. In the comics, he was brutally slain as the Avengers tried to capture Thanos in the 'Civil War II' storyline.
In the MCU, Don Cheadle's version now finds himself broken and paralyzed for deciding to help Tony Stark take Steve Rogers into custody.
Of course, The Punisher is no stranger to using the powers and weapons of other Marvel legends in order to get the job done. The 'Dark Reign' storyline saw him using a whole host of very recognizable gadgets, including Cap's shield, Pym particles, a Doc Ock tentacle and even a Goblin Glider to take down gangland boss The Hood.
He's also no stranger to a Stark suit of armour either. The 'Enter The War Zone' run saw him hijacking one of Tony's suits in order to spring Rachel Alves from her trial, and one of the companies most memorable 'What If?' runs saw a version of Frank Castle gifted the War Machine armour as a means or replacing a slain Steve Rogers as the new Captain America.
In a USA broken by the recent events of 'Secret Empire', the exact means by which Castle inherits his armour remain under wraps, and it will be interesting to see how much, if any, control over his activities the authorities will be able to exert over him. Either way, this will be a War Machine unlike any the fans have seen before. Despite the varied crises of conscience Jim Rhodes has experienced, he's never crossed the line to the extent that Castle is prepared to do every day he wakes up.
The results are going to be EXPLOSIVE…
Marvel Legacy #218 (The Punisher) will arrive in stores this November.