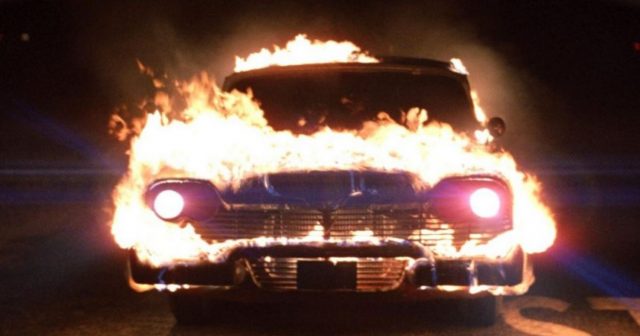 John Carpenter is back, and he's brought an old friend with him.
Carpenter has directed a new music video based on Stephen King's Christine – 34 years after directing the adaptation of the same name.
This October, Sacred Bones Records will be releasing a compilation album entitled "John Carpenter Anthology: Movie Themes 1974-1998". The album consists of nearly John Carpenter's entire musical work as well as his own version of Ennio Morricone's music for The Thing.
In order to promote the album, Carpenter has decidedly created a music video featuring his theme for Christine. If you're a fan of the original adaptation, then you'll love this.
The video plays out like some kind of sequel, and Carpenter himself features in a role not unlike LeBay from the novel. LeBay, of course, being the evil spirit that possesses Christine and in extension Arnie for most of the novel. Carpenter dropped the LeBay character for the film but I can't help and feel like his role in this short is to convey the same sinister ownership over this iconic Plymouth Fury.
It's brilliant and shows that no one has an understanding of visuals quite like Mr. Carpenter.
Carpenter will take the album on tour this October, and you can find a list of dates and locations on his website.
You can also pre-order the album on Standard LP, Limited Edition LP, Deluxe Limited Edition LP, or CD for its release on October 20.
What did you think of the Christine music video? Are you happy to see Christine still driving through the city streets at night? Let us know in the comments section below!