Let's face it, since Funny People back in 2009, Adam Sandler has been in a severe funk. Aside from the critically-overlooked Men, Women, and Children, the last eight years has mostly seen Sandler mucking it up in comedies the vary from just ok to terrible. Who better to re-energize Sandler's career than the master of dysfunctional family dramas in Noah Baumbach?
Sandler is dipping his toes again into dramatic (or in this case semi-dramatic) material with The Meyerowitz Stories. The film follows an estranged family that has a web of complications between them. When they all reunite in New York to celebrate the artistic work of the family's patriarch, these dynamics become even more complicated.
Noah Baumbach has been a personal favorite of mine since his 2005 breakout The Squid and the Whale, creating diversely nuanced dramas that also pack a wonderfully acidic comedic bite. His latest film may not stand up to his best work, but is yet another reminder of his talents, as well as a much needed reminder that yes, Adam Sandler can act.
And boy does he impress here. Sandler delivers a Oscar-worthy supporting role as the eldest brother of the Meyerowitz clan, with a performance that equals in both heartbreak and real comedic effect. The wonderfully idiosyncratic details he adds, like his noticeable limp or stuttering conversations, makes the character so well-rendered. I was so happy more than anything to just see Sandler in his element here, as a return to more dramatic roles like this would be a huge win for everyone.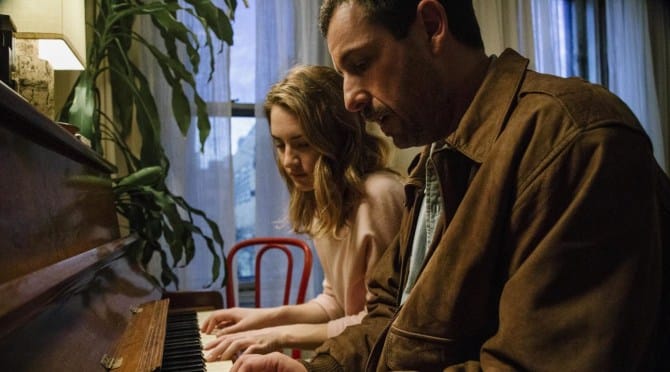 That's not to say the rest of the supporting cast isn't good, as Baumbach as essentially assembled his all-star team of quirky actors. Ben Stiller shines in one of his most dramatically compelling performances to date, and Dustin Hoffman steals many of this film's best moments as the family's patriarch. Elizabeth Marvel, Emma Thompson, and Grace Van Patten are all also quite good in the film.
The Meyerowitz Stories thrives where most Baumbach films do, creating a character or group of characters that's oddball tendencies are thankfully matched with grounded and emotionally-challenging depth. Any scene where this family is sharing the screen is delightful, as they bounce one-liners off them while re-discussing the same topics they did the day before. Baumbach also continues to become more confident as a director, shooting these chaotic family scenes with dynamic stylistic techniques. I loved his sharp edits from scene to scene, as well as the way characters interplay overlaps one another, it all further extenuates a lot of the film's humor. Even for all this family's dysfunction and aggravating tendencies, Baumbach thankfully never judges these characters for who they are.
Where this film suffers compared to others is its ambition. Due to this film trying to develop six or seven characters, it does stretch itself thin at times with certain arcs. Much of the time spent on Sandler's artistically-driven yet misguided daughter (Baumbach makes a funny statement on the young generation of "auteur" filmmakers) is not nearly as engaging as the main Meyerowitz clan. At the same token, Marvel's sister character Jean proves to be one of the film's more interesting characters who at points feels woefully under-written. I appreciate the narrative ambition, but it made some of the film's more dramatic moments less poignant than they could've been.
The Meyerowitz Stories is yet another successful foray into family dysfunction, with its talented cast and thoughtful execution delivering another memorable Baumbach film.
Grade: B