First Reviews For 'Suspiria' Remake Suggest It's Not For Everyone
The upcoming Suspiria movie remake has certainly gotten people talking, as fans are curious as to what this new version of the film will offer. According to the newly revealed first reviews of the film, it's not a film for everyone. That doesn't mean, however, that the reviews aren't good – because the majority of them are positive.
According to Rotten Tomatoes, the film has 26 good reviews and 9 bad ones, with a Critics' Consensus that reads:
Suspiria attacks heady themes with garish vigor, offering a viewing experience that's daringly confrontational – and definitely not for everyone.
The Good:
AV Club: A two and-a-half-hour wallow in the primal recesses of the human psyche that's alternately calculatedly subdued and completely… crazy.
Vulture: Suspiria is a gorgeous, hideous, uncompromising film, and while it seeks to do many things, settling our minds about the brutality of the past and human nature is not one of them.
SlashFilm: Like the blood-red costumes tightly bound around the girls' bodies, Luca Guadagnino's adaptation weaves brutality and beauty together in devilish style.
Daily Dead: It feels like we'll still be discovering new intricate details in Guadagnino's Suspiria for years to come.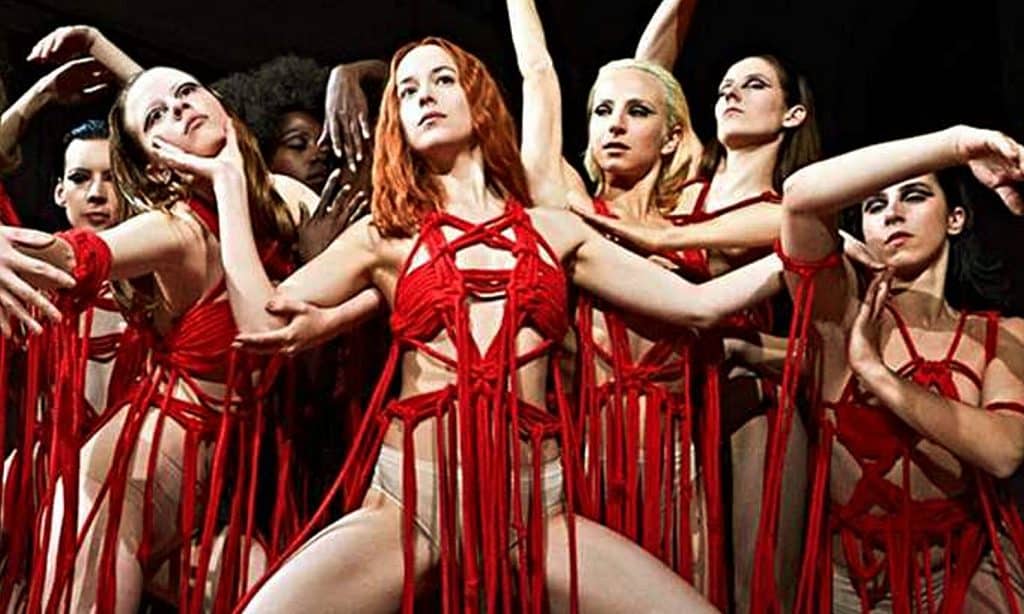 The Bad: 
Variety: By the time it drags itself to the finish line, you may think, "Okay, now we know what 'Suspiria' looks like as an art film. Can we please go back to when it was just a garishly flamboyant piece of bat-house trash?"
TIME: This new Suspiria is bland, grisly, boring and silly. There is nothing poetic or erotic about it.
BBC: I expected to be peering at the screen between splayed fingers, but instead I was peering at my watch.
The Wrap: The frights aren't frightening, the political subtext never connects with the rest of the movie, and even Guadagnino's generally unfailing visual sense isn't enough to put this over.
Other reactions:
SUSPIRIA is an orgasmic fever dream. Luca Guadagnino's command of space and movement intertwines with the ethereal whispers of Thom Yorke's stellar score to make a dynamic orgy of emotion and pain. It's neck and neck with HEREDITARY for best horror film of 2018.#FantasticFest

— Anyabelle: Creation (@BookishPlinko) September 24, 2018
I don't know what to say about #Suspiria because I'm utterly speechless. All I know is that I'm madly in love with both versions now & I think it truly ranks up there as one of the best genre remakes of all time (along w/The Thing & The Fly). Just a stunning experience.

— Heather Wixson (@thehorrorchick) September 24, 2018
#Suspiria is a fucking masterpiece. Full review coming tomorrow when I've had time to process how Luca Guadagnino just ripped me apart and stitched me back together in all the best ways. I genuinely don't know the words to express what this film did to me but it was true magic.

— Haleigh Foutch (@HaleighFoutch) September 24, 2018
So there you have it. You'll be able to judge the film for yourselves when Suspiria hits theaters on October 26th.