As the Halloween season continues to develop over the course of October, many festive people are excited to begin planning and wearing costumes. However, for the students at Michigan State University, it seems the school has some strict guidelines regarding what makes students' costumes politically correct and how they should be worn.
The school's Residence Education and Housing Services began sharing posters which asked the question, "Is Your Costume Racially, Culturally, or Ethnically Based?" The poster most notably features an imagine captioned "Costume #Fails" with examples of people's costumes which weren't politically correct. For example, there's a man dressed as a mariachi, women dressed as a "sexy" Native American and in a Japanese kimono, and, perhaps the only universally baffling costume in question – a space alien that somehow represents "illegal aliens".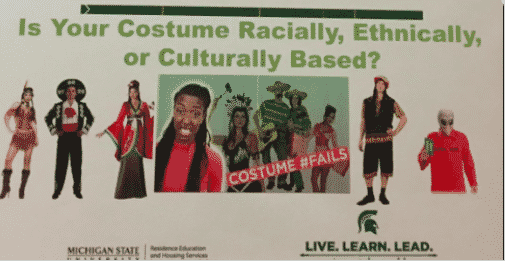 The Residence Education and Housing Services also gave a specific listing of what shouldn't be worn:
"Sombreros and mustaches, Nazi gear, Rastafarians, illegal aliens, Middle Eastern attire, and other 'racially, culturally, or ethnically based' costumes," should not be allowed.
Apparently, however, these guidelines aren't forced upon the students. According to MSU spokesperson Emily Guerrant, the school "is not saying students can't dress that way," but is just trying to inform the school's students "how their costumes can be portrayed."
Of course, not everyone involved with the school feels that way. One student in particular, freshman Clara Peters, doesn't believe her fellow students should be labeled for what they choose to dress up as:
"I do not think MSU has a role in determining what students should avoid wearing for Halloween," Peters told The Morning Watch. "Just because a student chooses to wear a costume based on a race or culture does not mean that they lack respect for diversity and inclusion."
It's definitely an interesting debate, and although the school doesn't enforce these particular guidelines – they should still make some good discussion for what is and isn't acceptable as Halloween draws closer.
How do you feel about the posters and guidelines suggested by Michigan State University for Halloween? Do you agree with the suggestions for how students should or shouldn't be dressing up? Let us know in the comments section down below!
Source: TheAmericanMirror