Ridley Scott has come back into the sword and shield genre with his latest movie, The Last Duel, but adds a bit more than epic battles scenes and sweeping landscape shots. The true story that is played out during the film dates back to 1386 but much of the topic can easily resonate with today's audience. The plot that follows closely to stories related to the Me-Too movement is expertly displayed by Scott but it's the message powered by writers Nicole Holofcener, Matt Damon, and Ben Affleck.
During a recent press junket for The Last Duel, Holofcener, Damon, Affleck, with actor Jodi Comer, discussed what it took to bring an old tale to the big screen for modern moviegoers.
One thing that cannot be ignored from The Last Duel is the acting energy from Comer. Her performance in the film will undoubtedly bring in award nominations. Comer talked about what it took to bring her character to life and how she explored her role.
Comer states:
"I felt like I could play around with the other versions.  I was kind of afforded a lot of freedom in what I wanted to explore.  We kind of played around with the subtlety and how far we wanted to push it. 'Cause, it's so important that when you're in each perspective, you're really kind of invested in what that character is telling you."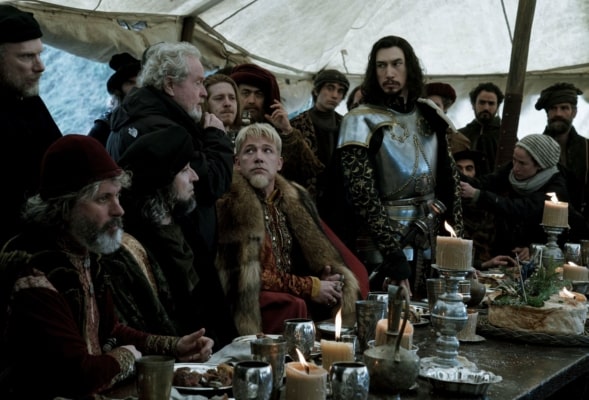 One of the biggest draws to the film is the Damon and Affleck writing collaboration. The last time we saw them team up was back in 1997 with their award-winning Good Will Hunting. Of course, the big question was what brought the duo back into the writer's room?
"I think we were just kind of afraid of writing.  'Cause we were so inefficient," Damon declares. He continues, "It was so time-consuming the first time we did it 'cause we didn't know what we were doing.  And it took us, literally, years.  And we wrote thousands and thousands of pages that we, basically, scrunched into a 130-page screenplay.  But I think by just doing movies for 25 years, just kind of by osmosis, we figured out structure.  So, it turned out to be really efficient, the process."
Damon even began giving a lot of credit to Holofcener by mentioning her talent as an incredible writer and that how good an idea it was to bring her on board.
Holofcener's work includes many projects such as Orange Is the New Black, Unbreakable Kimmy Schmidt, as well as indie flicks like Can You Ever Forgive Me? and Enough Said. Her gift for writing intimate dialogue between characters was something that caught the eye of Damon and Affleck as the two felt they need another perspective in the writing room.
When asked about her involvement with the script, Holofcener responded, "Matt and Ben had already started writing and had decided to write it in this three-part point of view kind of way.  And they asked me to come and write the last part.  And I was thrilled."
Affleck chimes in to mention how much they begged her to join in on the writing process which Holofcener playfully disagreed with.
She continues:
"And then I would send pages to them and we'd sit down together and work.  We'd work on each other's scenes.  Like, I basically wrote the third act, but they also had a hand in it.  Because it had to be a part of the whole movie.  And when smart writers have ideas, one should take them.  And so, between Jodie and them, it was really collaborative.  Really collaborative with all the actors too."
Damon adds in the fact that "Nicole really had to create Jodie's world, Marguerite's world, out of whole-cloth."
The Last Duel is now playing in theaters across the nation.