Disney Plus has become the ultimate hub for most things Marvel, with the streaming service distributing content both old, new, and exclusive. This now includes Eternals, one of the newest Marvel Cinematic Universe films to have been released last year. With a variety of new MCU films and shows being added to the streaming service, Disney Plus has released a timeline – featuring Eternals – to better illustrate the chronology of these events.
As explained by The Direct, Disney Plus has now arranged 28 MCU titles including Eternals in a chronological timeline. Unfortunately, it isn't quite a complete timeline. It does exclude The Incredible Hulk, which lies with Universal, and the three Spider-Man films that are stuck with Sony. Nevertheless, it is a fascinating list of titles to see spelled out.
Here they are in the chronological order arranged by Disney Plus:
Captain America: The First Avenger
Captain Marvel
Iron Man
Iron Man 2
Thor
The Avengers
Thor: The Dark World
Iron Man 3
Captain America: The First Avenger
Guardians of the Galaxy 
Guardians of the Galaxy Vol. 2
Avengers: Age of Ultron
Ant-Man
Captain America: Civil War
Black Widow
Black Panther
Doctor Strange
Thor: Ragnarok
Ant-Man and the Wasp
Avengers: Infinity War
Avengers: Endgame
Loki
What If…?
WandaVision
The Falcon and the Winter Soldier
Shang-Chi and the Legend of the Ten Rings
Eternals
Hawkeye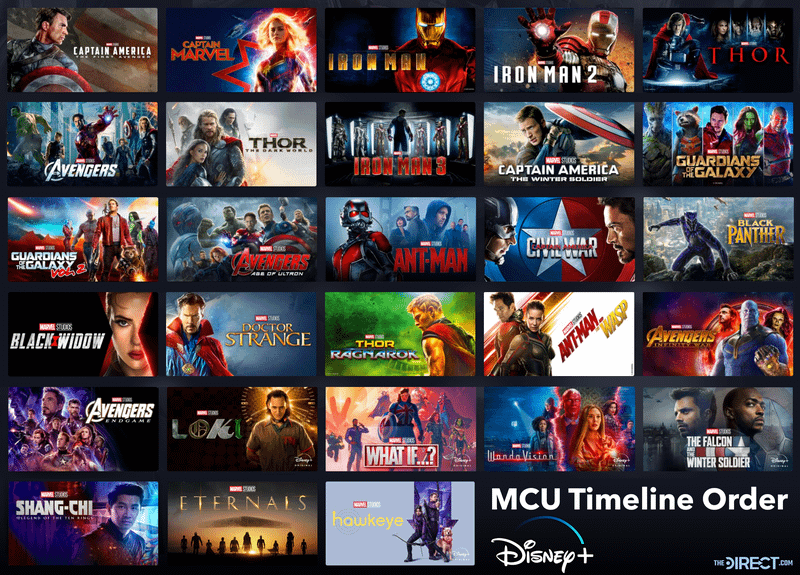 It's definitely interesting to see all of these titles listed in an official chronological order, even if it's missing a few due to rights issues. Nevertheless, it's nice knowing that most of these films and shows are still available for fans that are looking for a simple way to stream them in one place. It's also great to see that Eternals and Hawkeye are lined up just as Disney previously said they would be. Eternals takes place around the same time as Spider-Man: Far From Home, and Hawkeye takes place at the tail-end of the currently released titles.