As comic book properties go on, new incarnations of fan-favorite heroes are a given. Now none other than Marvel's very own Iron Fist has been given this treatment. Indeed, Danny Rand is no longer the Iron Fist as he's traditionally known for. Instead, Marvel has chosen to introduce a different version of the Iron Fist character in a new comic. Find out who he is below, but beware of spoilers.
Now, fans are well-aware of character Danny Rand who is often most associated with the Iron Fist brand. Over the years, however, many individuals have felt that Danny Rand is problematic – particularly because he's a white character that enters a foreign culture only to leave a leader or overall hero. Many have felt this is appropriation, and now Marvel has responded. Specifically, they've introduced a different Iron Fist: Lin Lie.
Fans will remember Lin Lie as Sword Master, a separate character. But in this Iron Fist comic book run, he's saved from nearly dying and given the power of the Iron Fist by the ancient dragon protector of K'un Lun. This happens after Shou-Lao saves him for the aforementioned near-death experience, and puts him on a journey to find pieces of his decimated sword.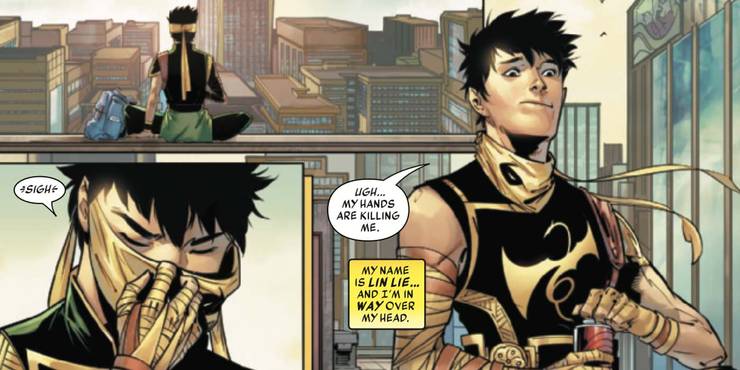 Because his sword is destroyed, Lin Lie has no other choice than to become the next Iron Fist. It's an interesting way to evolve not just one but two characters, and in a way that should be considered less problematic by fans. Hopefully they continue to respond positively to the new comic book run, especially after recent disappointing takes on the character. Specifically, the Netflix series Iron Fist was rather negatively received by audiences. This could be the first step in making the character more acceptable by audiences.
As for the setup of this incarnation of the Marvel superhero…
"WHO IS THE NEW IRON FIST?! After giving up his power to save the world, DANNY RAND believes he's seen the last of the IRON FIST… …But when DEMONS begin to attack cities around the world, a MYSTERIOUS NEWCOMER in a FAMILIAR MASK appears, hands blazing with the CHI OF SHOU-LAO THE UNDYING! Who is this NEW IRON FIST? And does his power really come from the DRAGON OF K'UN-LUN… Or from something far more sinister?"
Iron Fist #1 by Alyssa Wong, Michael YG, Jay David Ramos, and Travis Lanham was released on February 16, 2022.