Horror films are plentiful in this day and age. You can throw a stone out the window, and it'll hit the latest Blumhouse-produced movie. That said, it's really about the next bat-s**t crazy horror movie that'll grab audiences' attention. Case in point, Feed Me by Adam Leader and Richard Oakes is just such that horror film.
The premise of XYZ Film's Feed Me is somewhat based on reality. The story follows Jed, played by Christopher Mulvin, suffering from losing a loved one. Jed meets Lionel Fleck, played by Neal Ward. A s**t-kicking Texan who simply wants to eat Jed. If that sounds oddly familiar, it's because the filmmakers gained the idea from a German newspaper story on cannibalism published in 2001.
Leader and Oakes took the idea and ran with it to form the world of Feed Me, resulting in a story featuring friendship, loss, comedy, and a lot of blood. We were able to speak with the lead actors and directors about the concept of the movie, their character development, and the possibility of a prequel.
So Feed Me is based on actual events. How much research did you guys do to depict it somewhat accurately?
Adam Leader: Well, it was inspired by the Armin Meiwes story. The story is about the guy who willingly let a cannibal eat him. In terms of recreating that story, no, this film does not do that. It was just inspired by that. We just were chatting mundane, me and Rich [Oakes] about, "How mental would it be to actually make a film about a guy who willingly gives himself up to a cannibal to eat him." And, as usual, our very dark sense of humor and strange tastes got the better of us. So we ended up creating the world of Feed Me.
I totally get that. I mean, I would have to understand that you guys took a lot of liberties with the story because I'm sure I didn't hear anything about wild cannibalism like that going on
Richard Oakes: But shouldn't that be?
*We shared a collective laugh at Richard's comment.*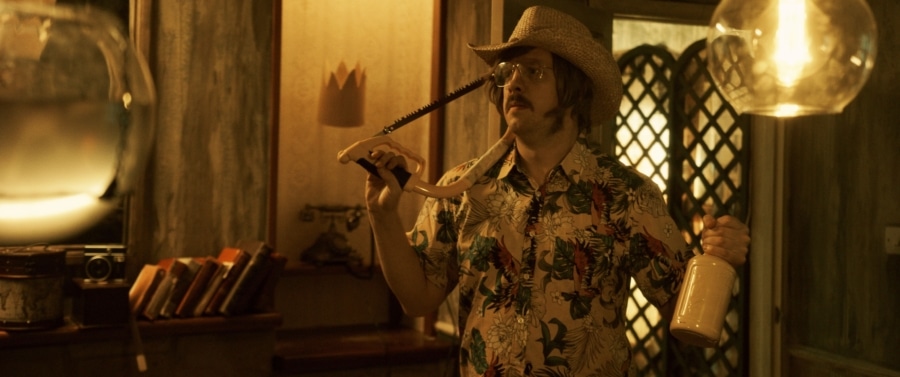 Who conceived Lionel Flack? His whole personality and everything, who came up with that idea?
Richard Oakes: It was a mix of all of us. There are definitely elements of all three of us in Lionel, which is the beauty of him. Cause I don't think any of us can truly own him in that kind of way. Visually I had a lot of input–his mannerism and dialogue-wise. Adam had a lot of input, and the situations he does and the mess he gets into is both me and Adam [Leader] working that out. Then the mannerisms and the way he is and there's ticks and everything was very much Neil [Ward]. Yeah. Neal, do you want to add anything to that?
Neal Ward: Yeah, I suppose it's pretty much an amalgamation of everybody. The guys came up with who he was, and the script turns up, and I read through that and go, "Right, this is what they kind of want." And then feeding them back ideas, "Is it like this?" He has a sort of limp hand that points when he is a certain way in the film. His walk was created; it's always bouncing back off them. It was literally the icing on the cake. I suppose it just came from what I had brought in each scene. But that was very much worked out throughout the process before passing it back between the guys. But yeah, it was a fun one to create, put it that way.
I feel like the character is a cross between Hank Hill from King of the Hill and Leatherface ramped up on speed
Neal Ward: Yeah, he started as something very serious, then turned into something goofy. The initial onset idea was to keep him very cool, calm, a collective deep South Texan Tommy Lee Jones-esque kind of guy — Jon Bernthal. But my take on the end where it went to was Eugene from The Walking Dead, Foghorn Leghorn, and Beetlejuice amalgamation. Because so different from what I first thought it would be. But yeah, it became Lionel Flack.
So, Neal, the character, sometimes gets pretty wild, especially during the third act of Feed Me. Did you have to pull back on your interpretation of the character, or were you just given free rein to go as far as you could?
Neal Ward: I think that from the direction the guys have given me, all those bits, I mean the final third is very much Lionel losing it. His desperation to sort of rectify the situation he's found himself in. I think what's great about working with the guys is how they allow me to bring something forth. First, refine if it's something that doesn't quite match.
Adam would constantly come over and give me little things in the ear that no one else would hear just to pull something else out. That final third is — I  had to go so deep with it for it to work, and they sort of, "Yeah, you can do what you wish to appoint with that." It has to go somewhere, obviously. But I just let all hell loose in my brain, and then they've done a good job editing it.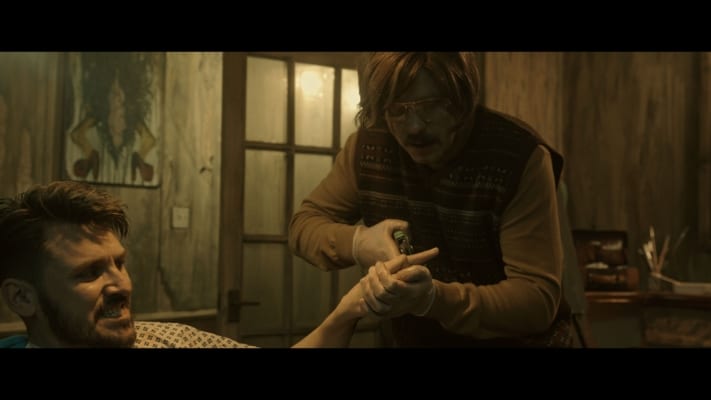 Neal and Chris. Since you guys have a "relationship" in Feed Me, how closely did you have to work together to ensure you got that chemistry right?
Christopher Mulvin: Well, I mean,  me and Neil have worked together beforehand. So we've already got quite a good relationship before — quite comedic characters. Throughout my process, itself, I was really sort of struggling to identify the sort of depressed side, having a look into the dark elements. I've done a majority of comedic performances.
So Neal and I were working on the scripting itself and seeing these different elements of what I can bring out as the character and stuff. Then also, while we were on set, Adam and Richard gave us our directions. We would always lay out on the plate, no pun intended, the idea of what our character was and what we were trying to go for. Then we would always get the sort of guidance, the correct guidance to sort of portray that well.
There are a lot of elements of comedy where we've got that hype all the way through and stuff. But there are also the depression sides where we have to sort of bring everything to a good level. So we were both bouncing off each other back and forth for that. Helping each other out as well on these different elements where it's —
Neal Ward: It's a good buddy movie as well. We still have that relationship you speak about, and it does help that we're friends in real life. We don't hate each other outside of work. *Laughs* But we did bounce nicely and brought our friendship into it instead of those moments.
Christopher Mulvin: That's it. It was like cause we were actually staying on location, Neil and me as well. So in the evenings and stuff, for the next day, working on different bits and seeing how we can tackle that for the day. So yeah, it was just — again, 'cause we all know each other and stuff. It was just like working with a family–absolutely amazing.
Everybody giving each other the correct guidance and stuff, really flowed for me anyway. Just in that kind of process, instead of "Ooh, stressful. I'm not really too sure if people are liking this and stuff." Everyone was like, "Oh no, we're helping each other out in all aspects, which is good.
Well, my follow-up is for Chris. Since you were talking about your process, how much did you have to prep for those emotional gut punches?
Christopher Mulvin: Yeah, so, essentially, I kind of struggled to maintain the character all the way through the element. Even after filming and stuff, I don't like the idea of having to stay in that sort of mindset. Cause obviously, with that oppressive sort of segment with each scene we were doing; it would be a case of me going into a room.
Bless the crew for going like, "Okay, we're now going into quite a difficult segment of the film." You know, with the depression and the darker side of things. They gave us all that amount of time for us just to get into those places and stuff. I would go into my room, and Neil is just listening to different music. That's how I prepped for quite sad and emotional moments.
And then these guys had already set up and ready to go. But, of course, that takes a bit of time. So that gave us that time to get into those elements, and it was a case of how long you needed. I remember Adam and Richard saying, "Just take your time now. We are ready to go, but we want you to be in that kind of place where you are ready. You are ready just to walk straight out and then go." So that was a really nice sort of process for me.
Feed Me gets into cannibalism pretty quickly; I think 10 minutes into the movie. Was there ever a point in the original script where Adam and Richard had stretched the beginning further into the grieving part of Chris's character?
Adam Leader: Well, there was a lot more. I guess we can call it meat and potatoes to Jed's story from the start to when he gets to Lionel's department. But it was in the editing process when we looked through it, and we felt we didn't need to show as much. We don't need to keep hammering it at home that he's depressed, having another drink, or doing this now. So it was kind of like, "Right, we get it, let's get to the actual meat of the potatoes of the film quickly." And because this film is going to be sold to an audience that will want to see the horror of this film and the bad shit craziness and stuff.
We really did feel like we were trying to hammer her on too much. What you see in the film now is enough time to establish Jed, what he's going through, and the loss and grief he's feeling. That's a testament to Chris for being able to portray that and bring that to the table. It's hard to do. And also the same with Neil when it comes to Lionel. Yes, he's this larger-than-life character and stuff.
It was done fantastically, but then those moments in the film, those dark moments where you see Lionel's real side and the sadness he carries with him. It's a testament to him and both of them — the cast was just amazing. We could not have asked for a better cast for this film.
So there are a couple of scenes in Feed Me where the cops are dropping the ball, so to speak. Was that an intentional commentary on the British Police Force or just cops in general?
Richard Oakes: Well, it was a few things, but I think we just found it funny that they were just so incompetent. It's just incompetence is my favorite type of humor. It just makes me laugh. We were worried that people might initially go in and say, "Oh, that's unrealistic that they would do that." But it's a comedy, and I just love the incompetence of it. *Laughs*
So as we mentioned earlier, the third act of Feed Me gets pretty wild. Did you have pullback on that, or were you guys able to shoot everything you wanted, and it ended up in the film?
Adam Leader: Pretty much. I mean, everything you see is the most extreme the actors took it to. There are a few deleted scenes. Some of them are actually quite funny, but as we said, there was some stuff we had to cut for the sake of the final cut of the film. But perhaps we'll be able to release those deleted scenes as a bonus feature at some point in the near future. But some of them are quite funny. One involves Jed getting fired, and another involves Lionel in his underpants at a dry cleaner.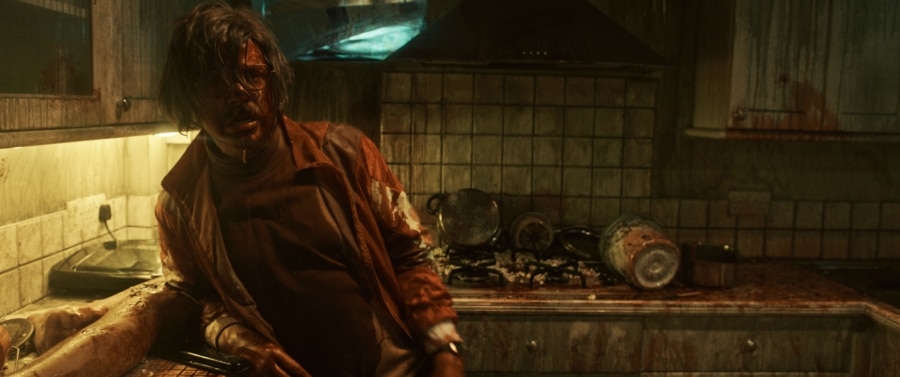 Neal, this is a ridiculous question, but I'm just so curious about it. How many side businesses do you think Lionel has? Because there's that scene where he's pulling out all these business cards and hands the girl "dry cleaner."
Neal Ward: I think the three that are there and, I think, there were three. I think every time he does one of these things in every time he does those actions in the film, every new person is introduced. I think when he gets outed, I suppose, is the way to say it without giving too much away. He goes and finds another one and survives that way. Like, your house burns down, you get another one.
If your dog dies, you go a couple of months later and get another one. You go and just collect these personas. I think that's pretty much what he does. So I reckon it is a good 15, 20, let's keep it there. I guess where I created that, he would've done these people. I think he treats these like trophies or caricatures he's created.
I'm very curious if there's a prequel idea because there's so much to explore with the Lionel character. Especially with his feelings toward his mother.
Richard Oakes: Well, we wrote another quite similar film. It was only after we nearly finished writing this that we were like, "Actually, that could really work as a prequel to this." And we started putting elements from that into this, but whether we ever go there, I don't know. But it did serve to pull in and pull from ideas of where he's coming from in certain ways. And whether that's continued to be canon in our minds, I dunno. But it definitely has ideas there that could definitely work pretty cool-wise.
Adam Leader: It's a possibility for sure.
Oh, I hope so. I'd love to see the world of Feed Me expand. 
Feed Me is now streaming on VOD services, and this writer highly recommends that you check it out.