Writer, producer, and sometimes actor Kenya Barris has been one of the focal points in current Black entertainment and entertainment in general. Barris has used his talent as a writer and producer on hit shows like the Black-ish franchise and BlackAF to make a statement on African-American culture and how other cultures view this group. Many of the films he's worked on continue to share the same sentiment with movies like Barbershop: The Next Cut and Coming 2 America. However, his directorial debut, You People, fails to bring anything new to the table  and causes the comedy to land with a sad thud.
You People stars Jonah Hill (Ezra) and Lauren London (Amira) as two Los Angeles natives that meet by chance, fall in love and take their relationship to the next step by getting hitched. Amira's parents are played by Eddie Murphy (Akbar) and Nia Long (Fatima), who is presented as loving but a bit overbearing. Ezra's parents, Julia Louis-Dreyfus (Shelley) and David Duchovny (Arnold), share the same domineering attitude as Amira's father and mother. The movie could potentially be a great comedy that makes clever observations on mixed relationships – but instead uses low-grade comedic situations and an overabundance of social commentary.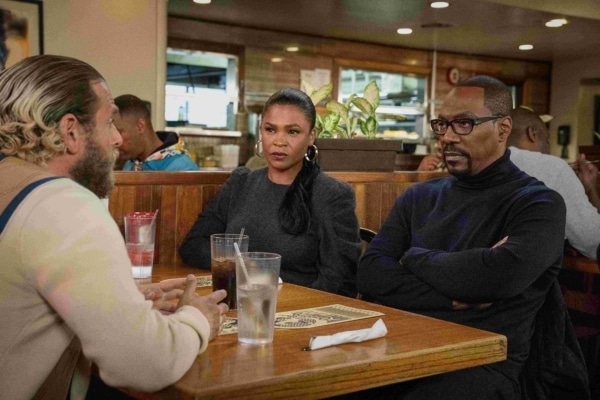 The direction by Barris starts to hit a snag at the first ten to fifteen minutes of You People. Barris showcases parts of LA locations not commonly shown in some movies using the city as a backdrop. The direction takes the route of displaying the beauty, culture, and character of Los Angeles. It started to warm my heart as a fellow LA native, but Barris takes these weird directorial turns layered with many shots with an Instagram or TikTok filter. Barris uses this several times during the movie that tries too hard to connect with a GenZ audience and feels dated by the time the end credits roll.
The lack of a clear vision doesn't stop there.
Barris has been known to tackle topics about how society views Black culture. The movie starts engaging with the characters' conversations but is mishandled when the awkward-situational comedy kicks in. For example, Barris uses this trope to mix it up, but it comes off as uneven and cheap. It's like two different minds wrote the script, couldn't find a balance, and no lesson was learned during the filming process—that lack of stability follows into writing.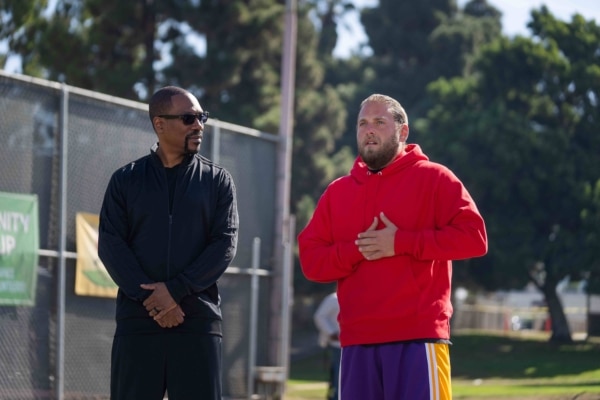 The script written by Barris and Hill starts strong with banter between several characters. I found myself at least chuckling at some of the jokes. However, the comedy eventually devolves into moments where it hits me over the head and yells, "YOU SHOULD BE LAUGHING!" Nevertheless, there are several times when Murphy and Hill can make the script work.
Their comedic timing and joke delivery work for some scenes in You People, but it does not save the movie. Even Louis-Dreyfus is reduced to this unfunny "ignorant on race relations" character that only deserves eye-rolling from me. Plus, Nia Long is wholly wasted. Her presence is relegated to an afterthought and could've added more to the plot.
The only thing that makes this movie genuinely tolerable is the chemistry between Hill and London. Their meet-cute situation is genuine and starts the film in the right direction. There are several scenes when the two interact in a loving matter that's easily relatable. They're illustrated through scenes of the two joking around, discussing their polar opposite parents, and moments of appreciating one another. You can almost assume the two made a strong connection behind the scenes and applied it to their interaction in front of the camera.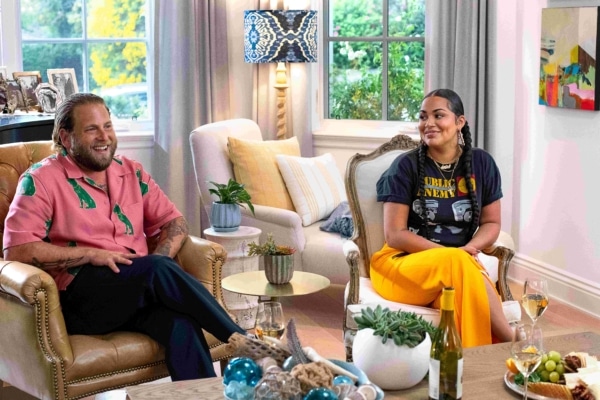 I went into this movie with an open mind as someone who has been in the same situations that Ezra and Amira encounter. Unfortunately, the presence of comedy legends, some of the acting, and chemistry between the leads can't save You People. There are poor directing choices and a script that could've gone through more rewrites stop the movie from becoming at least enjoyable. The ending is entirely predictable, and social commentary is heavy handing in a nauseating way. Hopefully, Barris fine-tunes his directing skills and tries to evolve his writing style.
Grade: D