The latest DC comic book film, Shazam! Fury of the Gods, is currently playing in theaters. Now that fans have had the chance to see the post-credits scene for the film, however, some behind-the-scenes drama is being reported. Now actor Zachary Levi supports the claim that Dwayne Johnson denied certain Black Adam characters from appearing in the Shazam! Fury of the Gods post-credits scene.
As shared via The Wrap, members of the Justice Society of America were intended to appear in Shazam! Fury of the Gods. Likewise, Shazam himself was originally slated to appear in Black Adam. Obviously neither of these appearances worked out – and the report claims that Dwayne Johnson is responsible. Now, as noted via THR, Zachary Levi supports the claim that Dwayne Johnson denied these cameos from happening.
Zachary Levi shared the report from The Wrap on his Instagram story along with the following caption:
"The truth shall set you free."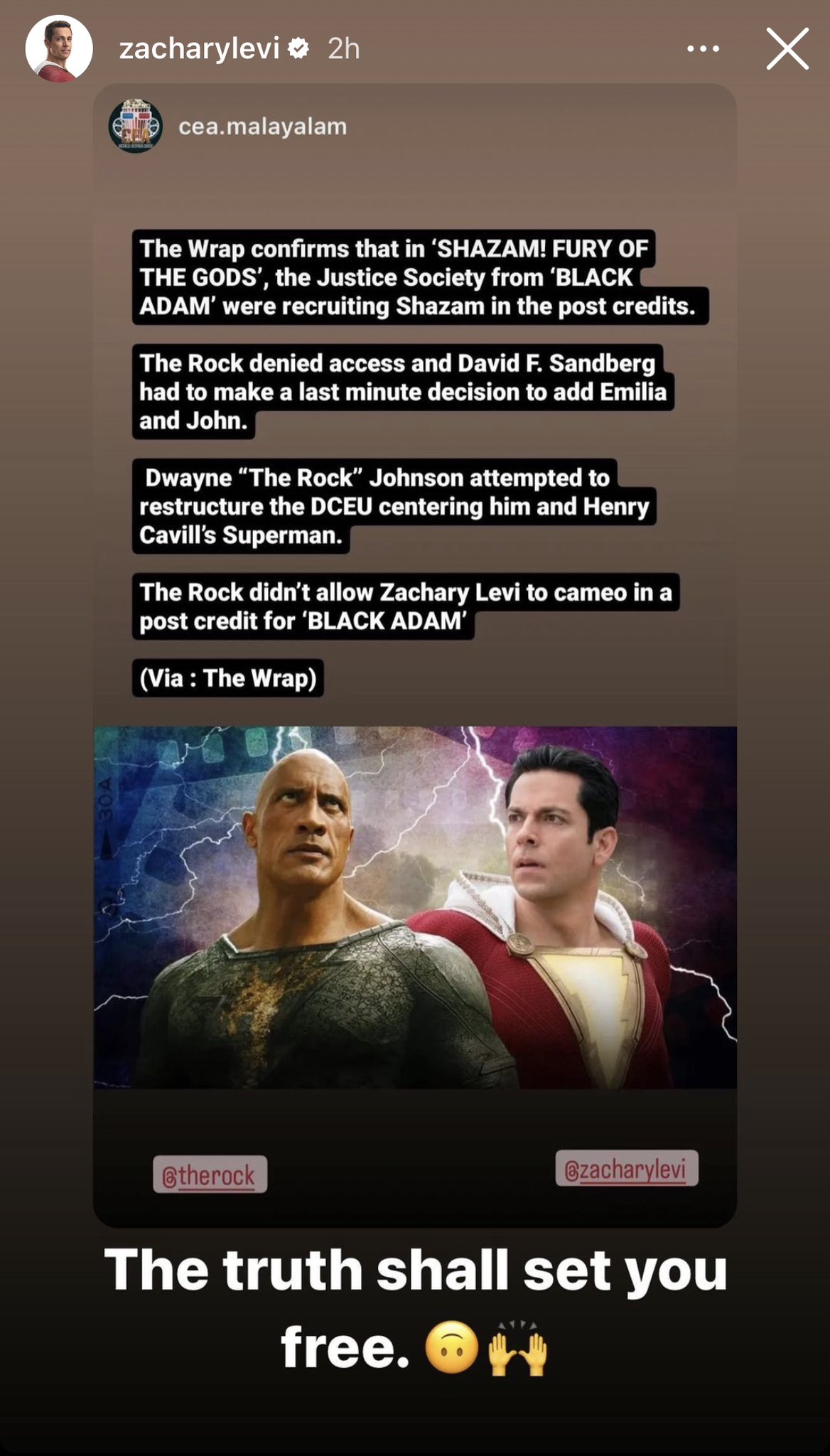 It's been confirmed that Black Adam, being a passion project of Dwayne Johnson's, was intended to restructure the live-action DC franchise around Superman and Black Adam. This was teased when the post-credits scene for Black Adam had Henry Cavill make his long-awaited (and short-lived) return as Superman. Though the plans were cut short when James Gunn made it clear that his DC Universe would no longer be using Henry Cavill as Superman.
There's no doubt plenty of behind-the-scenes drama behind most of these DC films so far. Nevertheless, one can hope that the newly-forged DC Studios, with James Gunn and Peter Safran as co-heads, will rectify most if not all of these issues going forward. It's just a shame seeing what had to happen beforehand.
David F. Sandberg directed Shazam! Fury of the Gods. The screenplay for the film was penned by Henry Gayden and Chris Morgan.
The cast for the film includes Zachary Levi, Asher Angel, Jack Dylan Grazer, Rachel Zegler, Adam Brody, Ross Butler, Meagan Good, Lucy Liu, Djimon Hounsou, and Helen Mirren.
Shazam! Fury of the Gods is currently available for fans to see in theaters. Stay tuned to ScreenGeek for any additional updates regarding the film and the DC Universe as we have them.