1993 was the last time anyone saw the Mario Bros. – or any other Nintendo property – on the big screen. Super Mario Bros., directed by husband-and-wife Rocky Morton and Annabel Jankel, was a feature-length live-action film based on the video game. Unfortunately (not really), the movie bombed hard at the box office, and critics pummeled it so severely that it scared the prominent gaming company from trying again. Yet, here we are in 2023, and Nintendo has put their faith in the hands of Illumination and The Super Mario Bros. Movie, and the movie is passable or just "OK" at best.
Directed by Aaron Horvath and Michael Jelenic, the duo tries to make Matthew Fogel's script into an entering feature for kids and the kid in all of us who grew up with this franchise. Starring Chris Pratt (Mario) and Charlie Day (Luigi), the two share voice acting duties with Jack Black (Bowser), Anya Taylor-Joy (Princess Peach), and Keegan-Michael Key (Toad). The simple premise of The Super Mario Bros. Movie would be nothing new if anyone took more than five minutes on the NES game.
Plumbers in a magical kingdom…check. The plumbers must save the princess and the magical kingdom from a giant evil turtle…check. The plumbers use a series of powers to accomplish the mission…check. Horvath and Jelenic have all the parts; they must make it fun to watch. The thing that should undoubtedly be recognized is the design of VFX.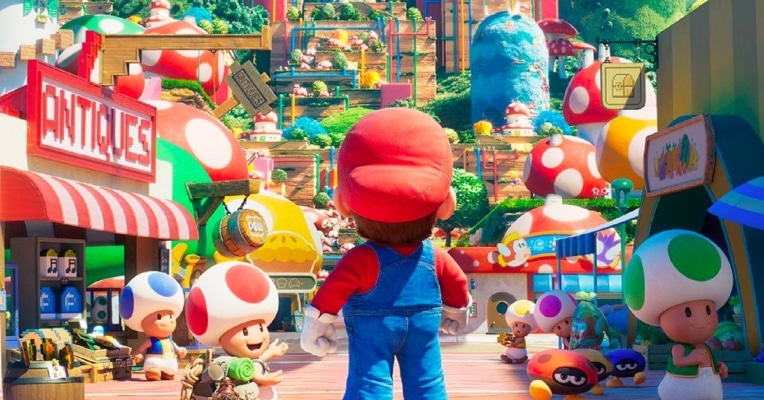 For lack of a better word, The Super Mario Bros. Movie is absolutely beautiful. Every dollar is well spent to make this magical kingdom come alive on the big screen. It surpasses any cut screen that has come out of the latest Super Mario game. Illumination has been known to make their movies' color palettes vibrant in their eye-gasming glory. You can take every shot in the film, screenshot it, apply it to your monitor or poster, and admire it. That goes on par with some of the directions.
Horvath and Jelenic had much on their hands regarding first-time feature directors and the art direction to keep people engaged. The Super Mario Bros. Movie can't survive on how pretty it is alone, but Horvath and Jelenic make a series of entraining art directions. I'll be the first to admit that the duo point to many references to the Super Mario video games. They sprinkle that notion around the movie, but this type of movie calls for it.
For example, the use of Mario Kart's famous Rainbow Road is the setting of a playful action chase scene. Many video game players know how to get ahead of other players on this level – jumping off the road at the right spot – and directors have fun with that cheat. Another well-done action scene is Mario's confrontation with Donkey Kong, played for comedic effect and Seth Rogan's character. Unfortunately, however, this movie's callbacks to Super Mario games and VFXs are insufficient to save the film. An issue that makes a dent against The Super Mario Bros. Movie is its inability to make something of the plot and plays it a little too safe to digest. However, that depends on your preference.
It's much like the popcorn I had while watching the movie, empty calories. There's butter and salt; it's packed with flavor but doesn't amount to anything filling. Many animated films have an underlying message that adults can consume but are unnecessary for children. Movies like Soul, Onward, Wendell & Wild, and Turning Red fits the bill. Despite this, The Super Mario Bros. Movie doesn't need that type of writing. Instead, it's just a "surface" level plot.
Mario must save the Mushroom Kingdom and Princes Peach from the clutches of Bowers…much like the game. There's no need to look at this movie and try to find a message on the hardship of chasing your dream, the unfair competitive profession of plumbers, or even a statement on female empowerment – that last part was there, but it works. My mind was set that I was not the 5–11-year-old targeted audience. I grew up in the early generation of Super Mario world, and this movie is just enough nostalgia to have me enjoy it.
The voice acting is passable, with a few expectations. Charlie Day leans hard into his well-known schtick, but it works in the context of the movie. Day does his Charlie Kelly character from It's Always Sunny in Philadelphia but drops it to a PG rating. Keegan-Michael Key is unrecognizable but has fun with his role, and Jack Black utilizes his heavy metal persona to become one of the movie's best parts.
The only misstep is Anya Taylor-Joy, who comes off as wooden, and Chris Pratt is not bad as Mario, yet his voice work is lazy. The actor did a great job in The Lego Movie as Emmet Brickowski, but it seems like all the voice-acting energy has dwindled in Pratt.
People shouldn't expect much from the studio behind Despicable Me, three Minions movies, and two Sing films. However, The Super Mario Bros. Movie is great for kids who are and are not into the Super Mario games. Hopefully, with the success of this movie, Sonic the Hedgehog film series, and Pokémon Detective Pikachu, we're one step closer to finally having the Super Smash Bros. movie we've been dreaming about.
Grade: C