Ari Aster is one of those directors who come to mind when mentioning "elevated horror." Truthfully, the idea of horror being used as art and making a thought-provoking statement is nothing new – look at George Romero's Night of the Living Dead. However, Aster's previous topics in films, like family, grief, and surviving trauma, are used as a backdrop in his visually stunning horror movies. Beau Is Afraid is a comedic spin where the director hits the gas on insanity and only presses harder.
Beau Is Afraid, directed by Aster, features Joaquin Phoenix (Beau Wassermann) as a paranoid and anxiety-ridden man with an overbearing mom. Beau goes on a journey to reach his mother when he receives shocking news, and lots of weird sh*t happens in the process. The film uses horror and dark humor like a road trip comedy version of Alfred Hitchcock's Psycho. That might sound odd, but it hits the nail on the head with the many themes of Beau Is Afraid.
The script by Aster is filled to the brim with intriguing topics. Much of the movie holds three from start to finish. Aster covers the subjects of manhood, a toxic relationship between a mother and her son, and a love lost. Primarily, these areas are written well with great visuals and metaphors – more on that later.
Consequently, the other "thousand" commentaries weigh down Beau Is Afraid.
For instance, Aster uses a portion of Act II to remark on the TikTok generation in a way that hasn't been showcased in movies but dropped the topic with little to no resolution. I understood that Aster just wanted to make a quick mention but didn't fully grasp how he wanted to incorporate it in Beau Is Afraid. There are several more times when the director does this throughout the film to the point where the script feels overstuffed. Yet, among the minor subjects, the writing is brilliant.
The notion of an unhealthy manipulative relationship between mother and son – primarily from the former – is when the script reaches its high marks. Aster has often shared his thoughts on family relationships, and Beau Is Afraid has it in full swing. It proves that the director's writing has only gotten better. The several scenes where the script calls for these intense metaphors in the dialogue can still fit a love story that matches nicely into the insane narrative.
Yet, the visual style of Beau Is Afraid helps emphasize the deep level of writing.
Aster's direction for the film feels like a Truman Show-esque setting with LCD pumped into it. The paranoid nature of Beau's mindset is displayed in how he views the world. The streets are littered with chaos, and the directing brings that to the next scene throughout the movie. It includes a level of high anxiety from Beau's point of view, yet, there's a method to the madness from Aster.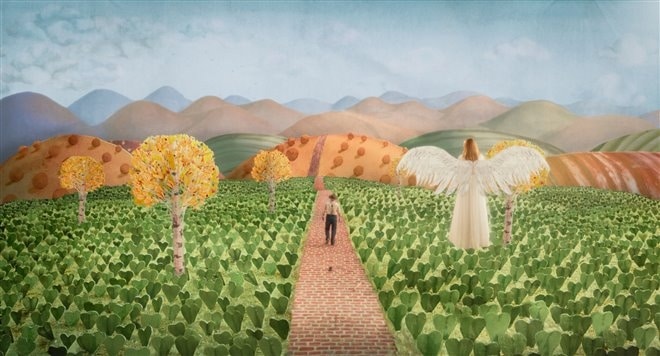 It's anarchic, hectic, and often beautiful at times. Near the end of ACT II, this stunning set of scenes gave me an idea of Beau's hopes and dreams of a better life. It's a fantastic sequence filled with radiant colors that had me begging for more. Alternatively, Aster does this again later in Beau Is Afraid in a way that reminds me exactly how f*cked the director's mind is. I really can't begin to describe it other than the fact that it caused my jaw to hit the floor.
Joaquin Phoenix and fellow cast members Amy Ryan (Grace), Nathan Lane (Roger), and Patti LuPone (Mona Wassermann, Beau's Mom) take the script and run with it amazingly. Phoenix has essentially two modes, afraid and perplexed, but does it in ways that never get tiring. He's the perfect surrogate for several WTF moments; the cast adds so much to those moments. For example, Grace and Roger are a loving married couple who help Beau and do it with a smile. In contrast, that smile and welcoming hand distract from the other hand behind their back, holding an axe.
Even LuPone is on the top of her game in Beau Is Afraid. The demonstration of abuse was so convincing that it actually brought back memories of my youth. It accurately portrays gaslighting, and the actress should be applauded for her work – even though Parker Posey's (Elaine Bray) acting is on par with Phoenix.
There's chemistry between the two characters present throughout the movie – thanks to the aid of Armen Nahapetian (Teen Beau) and Julia Antonelli (Teen Elaine). Phoenix and Posey carry it over, and the build-up to the two meetings is a warranted moment. Their interaction nails it and ends disturbingly and comically in a way that only the actors could've pulled off.
Beau Is Afraid is Aster's first foray into the Horror-comedy genre, and the director came out on top. Besides the needless plot threads and a runtime that could've been shaved down by 30 minutes, the director is now 3 for 3. The film is not for everyone, but everyone should come into the movie with an open mind. Prepare yourself for one of the most WTF movies of 2023.
Grade: A