Marvel Comics have introduced a number of iconic and memorable villains over the years. However, there's one villain specifically that seems to have been met with more controversy than most. Now this particular Marvel character is making their big return.
The character was reintroduced as the true identity behind Captain Krakoa. The Captain Krakoa suit was initially used by the X-Men, until it got into the wrong hands. The anti-mutant organization Orchis began using the suit for themselves to commit acts of terrorism. Now, we now know who's behind the Captain Krakoa suit.
The reveal is made during "Uncanny Avengers" #4, when Captain America unmasks Captain Krakoa. Captain America is then shocked to discover that Krakoa is none other than Hydra's Captain America from the "Secret Empire" event in 2017.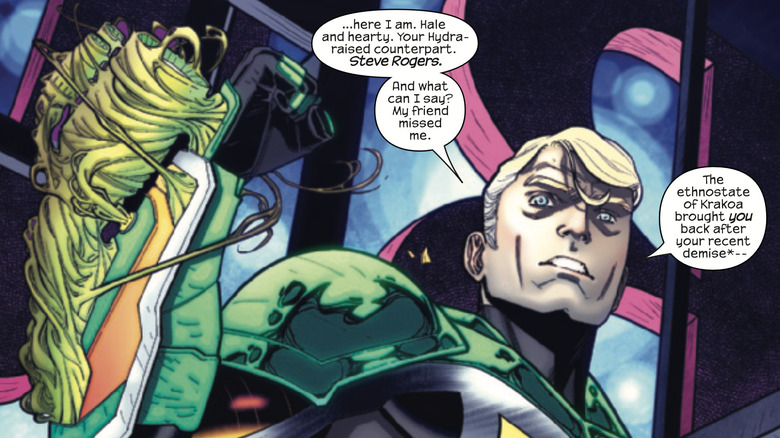 Of course, "Secret Empire" didn't make it clear that Hydra's Captain America was actually an alternate version. In fact, fans spoke out against the book's writer because they thought it meant Captain America was a Nazi all along. Fortunately, that wasn't the case, and the real Captain America was revealed to have been imprisoned elsewhere.
He ultimately breaks back into reality, while Hydra's Captain America was likewise imprisoned before being killed. But now it looks like he wasn't killed off permanently – he's simply acquired a new identity. One that now allows him to cause trouble for the X-Men, the Avengers, and the real Captain America.
It also suggests that Hydra could make a big comeback in Marvel Comics. After all, the group seemingly quieted down during the events of "Secret Empire" and the death of Hydra's Captain America. But if this is any indication – then the evil organization could be preparing one of their biggest plots yet.
As such, we'll have to see what Hydra's Captain America has planned now that we know he was the Marvel villain Captain Krakoa all along.