Arnold Schwarzenegger to Appear in THE PREDATOR?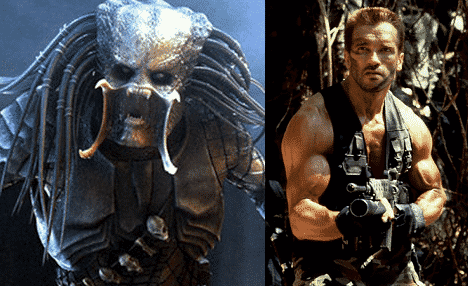 Much like a Predator uncloaking out of thin air, more and more details about Shane Black's The Predator are coming to light.  Last month, a teaser poster dropped revealing the titles and tagline of the film (You'll Never See Him Coming).  Now, we have another morsel of information concerning a potential cameo.
In an interview with TheArnoldFans.com, Schwarzenegger, the original Dutch himself, said that he's meeting with Shane Black soon to discuss the film:
"I haven't talked with him (Shane Black) yet but I'm going to meet with him for lunch sometime soon. Just as soon as I'm finished with this (Arnold's Sports Festival) and 'The Apprentice' and all this stuff. But I will get together with him. If there is any news, we'll of course let you know right away."
Now, this is far from a confirmation that Arnold will be doing battle once again with the Yautja (it's what they're called LOOK IT UP), it isn't hard to imagine.  Schwarzenegger was originally supposed to appear in 2010's Predators, but that fell through, and the character of Dutch was only sort-of mentioned in the movie.
The Predator's release date is TBD.