News
Could We Be Getting A GREEN ARROW Movie With Stephen Amell?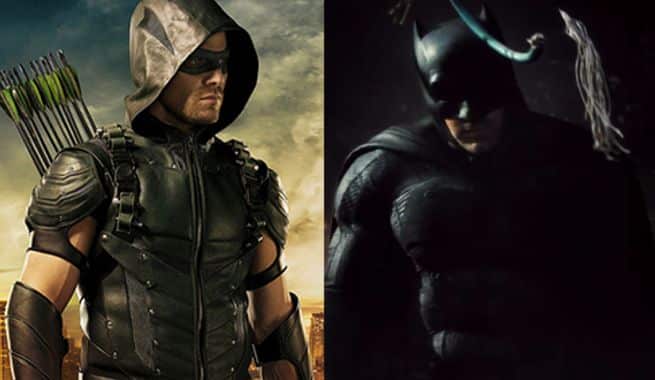 DC has decided to keep their movies and TV shows separate from each other in different universes. All the movies from Man of Steel on, live in the same universe. That includes Batman v Superman: Dawn of Justice, and the upcoming Suicide Squad.
Arrow has built itself up quite the universe, with its spin-offs Flash and Legends of Tomorrow, and it has acquired other properties that have crossed over into this Arrowverse, such as Constantine and Supergirl. There is even an animated show, Vixen. Yet, there are DC shows, like Gotham, that exist in even yet another universe.
DC's multiverse plan was made apparent when Ezra Miller was hired as The Flash of the movies, and not Grant Gustin, who is the hero on the TV show. You can get your first hint at Miller's take in Batman v Superman. Though, while the multiverse is now apparent, there are still those who either don't understand, or rather don't care for it. Tom Cavanagh, who plays Harrison Wells on The Flash show, has expressed his opinions on the matter.
Recently, Larry King interviewed Stephen Amell, who plays the Green Arrow of the TV side. It seems that King doesn't understand the multiverse either.
King: "The guy who plays The Flash wasn't cast in the movie right?"
Amell: "No, the cinematic universe and the television universe are separate."
King: "So you might not be cast if it were a movie."
Amell: "I might not be."
King: "Does that bug you?"
Amell: "Ummm, I've spoken with people within DC and they've said there's no plan to bring the Green Arrow character to the cinematic universe, but things change."
I am one of those who enjoy different takes on a subject. While some people don't enjoy cover tunes, expressing that they are a disgrace to the original, I welcome them. So I like that there are two Flashes running around. I liked that there were two Quicksilvers running around. So to hear that there probably won't be a Green Arrow in the movies bums me out. However, there is rumor that there might be a Black Canary in the Flash movie. It's a shame they had to kill the TV version off to do so. But if there was a cinematic Green Arrow, I would choose Walking Dead's Norman Reedus to play him. Maybe with Geoff Johns in charge now, as he is also a big shot on the TV side, things will change.
Check out Larry King's full interview with Stephen Amell here
Source: Larry King